An essential part of a healthy natural hair regimen is regularly oiling your hair with plant-based vegan oils. They contain the necessary nutrients and emollients that nourish the hair and lock in vital moisture to prevent dryness, dullness, and frizz. (1)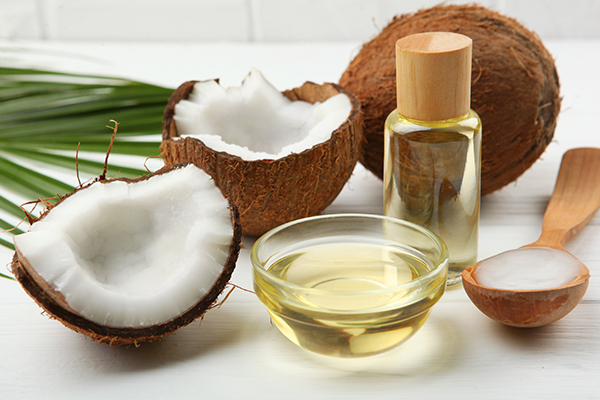 Hair oils can provide adequate hydration from the roots to the tips so you can eliminate hair breakage and loss. Oiling the hair also helps to strengthen the hair follicles, enhance blood circulation, and nourish the scalp.
Benefits of Vegan Oil for the Hair
Here are some benefits of using vegan oil for the hair.
1. Hydrates the scalp
Your hair and scalp are regularly exposed to the outdoors, which can result in dry hair and hair loss. You can prevent these problems by oiling your hair a few times a week.
Hair oil applied the day before and washed the next day will hydrate your scalp, which is one of the most significant advantages of hair oiling. (2)
2. Prevents scalp disorders
Healthy hair usually indicates a healthy scalp, but this is not always the case. Sometimes, products (especially those with silicone) can make hair look healthy even when product buildup or other problems prevent the scalp from functioning optimally.
According to recent research, using coconut oil, in particular, can help the scalp microbiome flourish and prevent dandruff. It is because this oil delivers essential vitamins and amino acids that your scalp needs to grow healthy hair. (2)
3. Promotes hair growth
Various nutrients in hair oils keep the sebaceous glands functioning properly, thus encouraging natural hair growth. (3)
When you massage your scalp with vegan hair oil, the pores are opened, and oil absorption is enhanced. Blood circulation is also increased, making you feel relaxed and at ease.
In addition, oiling strengthens the hair roots and encourages healthy hair growth.
4. Repairs hair damage
The sun's harsh UV rays make your hair dry and brittle and can also cause hair discoloration. If you want soft and glossy hair, apply vegan hair oils such as coconut oil and almond oil to your hair as they are full of vitamins and essential nutrients. (4)
List of Vegan Hair Oils
Hair oils, including vegan oils, contain vitamins, antioxidant compounds, and fatty acids. Hair oils nourish the scalp by containing certain nutrients that promote hair growth. (1)
Here are the most popular vegan hair oils.
1. Coconut oil
Coconut oil is believed to have various effects on the scalp, including improving hair follicle health, keeping the scalp free of dandruff and infections, softening the hair, and protecting it from heat and UV damage.
Coconut oil contains tocopherols (vitamin E), essential fatty acids, and around 16 phenolic compounds, including flavonoids, myricetin, and quercetin.
Your follicles will be healthier, new hair will develop, and your hair will grow longer as a result of using coconut hair oil. (4)
2. Rosemary oil
Due to its diverse hair-beneficial properties, rosemary oil is so effective at promoting hair growth and slowing hair loss.
It contains antioxidant and anti-inflammatory properties that increase blood flow to the scalp, resulting in robust and long hair. It also has antifungal properties that help control scalp microorganisms such as Malassezia, which causes dandruff, and relieves itchy scalp. (5)
3. Almond oil
Almond oil contains monounsaturated fatty acids, polyunsaturated fatty acids (linoleic acid), and oleic acid. It also contains linolenic acid, stearic acid, palmitic acid, and vitamin E.
The double bonds in the fatty acids of almond oil have been shown to offer UV radiation protection.
Almond oil also has emollient qualities and may be applied to moisturize dry hair. You may therefore use it to soften and moisturize dry hair. It has been shown to increase the hair's elasticity by filling the gaps in the cuticle cells.
The oil does not have an impact on protein loss since it is unable to penetrate the hair shaft. (4)
4. Sesame oil
Sesame oil is extracted from sesame seeds and contains vital minerals, vitamins, phytosterols, tocopherols, sesamin, sesamolin, etc. These bioactive components are rich in antioxidants and essential vitamins and minerals for the hair.
Because sesame oil is a powerful source of vitamins and nutrients, it has been used for hair root strengthening in addition to its moisturizing and healing properties. (6)
5. Castor oil
Castor oil is a popular vegan hair oil that contains 90% ricinoleic acid, 4% linoleic acid, 3% oleic acid, and 1% stearic fatty acid. (7) These nutrients are responsible for its natural hydrating effects.
The fatty acids in castor oil have excellent penetrative properties and are suggested to nourish the hair follicles. Castor oil is also abundant in vitamin E, proteins, and minerals that give your hair a stunning sheen.
Using castor oil to massage your scalp helps to increase blood circulation in the area, which helps to promote hair growth. This oil is ideal for dry and flaky scalp because it satisfies all of its nutritional needs. (4)
6. Amla oil
Amla is a fruit native to India and Bangladesh and has been used to treat hair loss for ages. Amla oil is rich in vitamins C, minerals, and antioxidants and can be used on all hair types, regardless of their condition.
Amla oil hydrates the hair shaft by nourishing it and calming scalp irritation. This oil can also control oil production and prevent hair damage. (8)
7. Avocado oil
Avocado oil can be used to attain healthy and robust hair because it contains nutrients, amino acids, essential fatty acids, and vitamins A, B, D, and E. They moisturize deeply and condition the hair well.
Besides these benefits, hair strength and shine are both improved by using avocado hair oil. (2)
General Queries Related to Vegan Hair Oils
Can I go out with oiled hair?
Oil your hair when you can stay indoors for an extended period as oils absorb dust and dirt quickly. Going out with an oily head will cause more harm than good for your hair.
Is a hot oil massage more effective, and why?
Using warm oil to massage your scalp is more effective than using oil at room temperature as the heat increases the blood circulation to the area, allowing the oil to be absorbed by the scalp and hair better.
The oil shouldn't be too hot, or it will cause burns. (9)
Final Word
Vegan oils can nourish the hair follicles and stimulate hair growth, thanks to their active ingredients that can penetrate the scalp effectively. Thus, vegan oils are ideal for your hair and scalp.
If you want healthy and strong hair, consider adding some of these oils to your hair care regimen.