The answer to this question is more inclined toward "no" because it gets mixed with hair dyes. Using benzyl alcohol topically can trigger the release of histamine, which leads to eye irritation or scalp itching. (1)
A 2017 research reported that benzyl alcohol with a 10% concentration was safe for hair dyes. (2)
The latest report talks about exposure to benzyl alcohol through dermal absorption or inhalation that can lead to metabolic acidosis and impaired patient consciousness due to acid buildup. (3)
Note: Benzyl alcohol for topical use is not available in the United States. So, if you are using the same, discuss switching to other treatments with your doctor.
Read further to know more about benzyl alcohol.
What Is Benzyl Alcohol and Its Topical Usage?
Benzyl alcohol is a naturally occurring product in snap beans, cranberries, honey, apricots, mushrooms, cocoa, and some teas. It is also found in the essential oil of several plants such as ylang-ylang, hyacinth, and jasmine. (4)
Benzyl alcohol is used topically to treat head lice (small insects attached to scalp skin) in adults and kids aged 6 months or older. It should never be used in kids below 6 months of age.
Benzyl alcohol belongs to a class of medications known as pediculicides. It can kill the lice but not the lice eggs; therefore, it is advised to use benzyl alcohol twice to kill the hatched lice. (5)
How Should Benzyl Alcohol Be Used?
Topical benzyl alcohol is used as a lotion for hair and scalp application and must be applied in two or three treatments. The second treatment must be a week apart from the first one. A third treatment may be needed.
Follow the steps prescribed on the label, and use the benzyl alcohol lotion as mandated. Always ask your doctor for any part you cannot understand. Use the specified amount at most.
Be sure to use the lotion your doctor prescribes to thoroughly cover your hair and scalp.
It is crucial to ask your doctor for a copy of the manufacturer's details for the patient. Read and follow these instructions carefully.
Avoid getting benzyl alcohol lotion in your eyes. It is meant for scalp and hair usage only. (5)
The Perks of Benzyl Alcohol for Your Hair
Benzyl alcohol can have some benefits when used in moderation.
1. It can eliminate head lice
Benzyl alcohol can be applied to the dry hair of children 6 months old or older to treat head lice. Rub it on the entirety of your hair and scalp. (2) Then, rinse it off thoroughly. Comb your hair to remove the nits before using this medicine.
Note: Benzyl alcohol only kills lice but not their eggs. Therefore, repeating the treatment in 7 days is essential. Breastfeeding or pregnant women can treat head lice using this medicine. Irritated skin is the most common side effect. (6)
2. It can help your hair retain moisture
Use a shampoo with small amounts of benzyl alcohol if you're bothered with dry and dull strands.
Many alcohols are known for stripping away the natural oil from hair, but not benzyl alcohol. It contains elements that allow a dry scalp to get moisture in small amounts.
3. It promotes product longevity
Benzyl alcohol is a preservative. A shampoo containing it can work as a hair cleansing agent for extended periods without worrying about its quality or shelf-life.
The Drawbacks of Using Benzyl Alcohol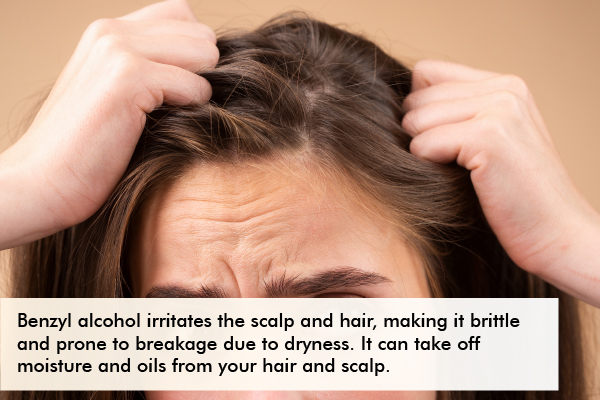 There are some drawbacks to using benzyl alcohol for your hair, depending on the amount and frequency of use.
1. It can dry up your scalp and hair
Benzyl alcohol can make your scalp and hair irritated, brittle, and prone to breakage due to dryness.
Benzyl alcohol is a short-chain alcohol with the potential to take off moisture and oils from your hair and scalp. It can also evaporate quickly and interfere with the hair's protein structure, making it curl and lose elasticity.
2. It can cause scalp buildup
Benzyl alcohol can weigh down your hair and make it greasy because it combines with waxy or oily ingredients such as lanolin or cetyl alcohol.
It creates a thin film on the surface of your hair and attracts dirt and reduces shine. Moreover, it can lead to clogged pores, which may affect your hair growth cycle.
3. It can lead to harmful diseases
If a shampoo or any other product contains benzyl alcohol, always do a patch test before its application. Discard the product if the percentage is very high.
Apart from drying out your strands, it can pave the way for severe and incurable diseases such as dermatitis, eczema, and psoriasis. It can further lead to temporary hair loss.
Thus, excessive usage of benzyl alcohol in high concentrations can lead to dryness, hair damage, greasiness, and other scalp issues.
Limitations and Safety of Benzyl Alcohol in Hair Care Products
Benzyl alcohol is an aqueous soluble preservative and is present as a preservative in some hair care and cosmetic products. (7)
A 2017 research concluded that benzyl alcohol does not harm your hair. (2) So, using a product containing it will not affect the texture of your hair. However, you should keep safety measures in mind, as high amounts of benzyl alcohol in a particular hair product can damage your scalp.
According to researchers, benzyl alcohol with up to 5% concentration is considered safe for cosmetic formulations and has minimized risks and benefits. It is used safely at up to 10% concentration in hair dyes. (2)
Researchers also mention applying products containing benzyl alcohol only to the scalp or hair attached to the scalp. Please keep it away from your eyes as it may lead to redness and irritation. (8)
Note: Researchers advise keeping benzyl alcohol usage away from kids younger than 6 months. It can cause some serious heart, respiratory, or brain-related adverse conditions such as coma, seizures, and death. (8)
Thus, products containing benzyl alcohol are considered safe when used in moderation, in prescribed amounts, and under medical supervision.
General Queries
What is the function of benzyl alcohol in shampoo?
What type of alcohol is terrible for your hair?
Alcohols such as propanol, isopropyl alcohol, propyl alcohol, denatured alcohol, SD alcohol, and ethanol are the ones you should avoid. These are short-chain alcohols, and you can find them in hair care products. 
Final Word
According to the researchers, benzyl alcohol has some potential side effects, but it is not harmful to your hair. If you see benzyl alcohol mentioned in your product's ingredient list, don't worry, this is one of the suitable alcohols.
The bad ones are short-chain alcohols, which make your hair brittle and dry with time. Long-chain alcohols (such as cetyl or lauryl) are appropriate; they can leave your hair moisturized and soft.