Hairspray is a sought-after product used by stylists and people to keep hair in place. It also adds volume and shine to hair. (1)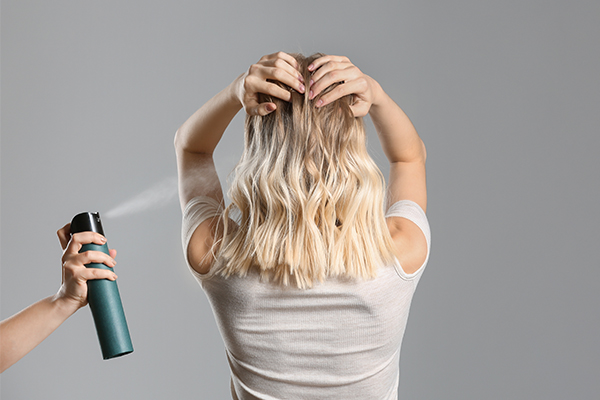 A common question that a lot of people ask is, does hairspray lead to hair loss? Especially people with thin hair or those experiencing excessive hair shedding!
The myth surrounding hairspray causing hair loss is a fallacy. According to researchers, indulging in long-term usage of hairspray can lead to hair damage issues but not hair loss. (2) Thus, hairspray does not cause hair loss but can result in damaged hair due to its harsh nature.
Read further to know the truth behind the myth encircling hairspray and how you can use it effectively.
Does Hairspray Contribute to Hair Loss: The Truth According to Experts?
According to the myth, using hairspray can cause hair loss. However, the truth is hair loss does not happen by using hairspray or from any of these activities: frequent washing, shampooing, or using other styling products.
The reason for hair loss lies within the scalp surface when the root of the hair follicle is damaged. This could be due to hormones, illness, genetics, stress, medication, or aging. (3)(4) However, there may be some indirect hair loss due to damage to the hair shaft (a visible part of the hair sticking out of the scalp and skin). (5)
Excessive usage of hairspray can weaken your hair follicles (an opening on the skin's surface that allows hair to grow) (6) and make it brittle over time. This makes hair fall out more than usual and prone to breakage.
Moreover, hairspray can cause buildup (7) and can lead to itchiness and inflammation, which lead to the urge to scratch the scalp, which can further damage the scalp and then cause hair loss.
According to experts, hairspray use is not directly related to hair loss. However, if hairspray is used excessively, your hair may get brittle and hard, causing damage to hair fibers. This can cause your hair to fall out, but it does not lead to permanent hair loss.
Too much of anything can bring about damage. So, it is advised by experts to use hairspray in moderation, followed by a thorough hair wash.
What Are the Risks of Overusing Hairspray?
The risks of overusing hairspray may not be permanent, but excessive or improper use of hairspray can contribute to temporary hair loss in some cases and to poor scalp and hair health.
Some possible effects of overusing hairspray are:
Product buildup on the scalp and hair – Hairspray leaves a sticky residue on the hair and scalp. (7) It suffocates the scalp by clogging the pores, which can lead to irritation, itchiness, and inflammation. It can cause scratching, which can further damage your hair and scalp.
Dryness on the scalp and hair – Hairspray that contains harsh chemicals or alcohol causes dryness to your scalp and hair, making the hair brittle and prone to breakage and split ends. The scalp's natural oil production can be disrupted by dryness, resulting in scalp infections or dandruff.
Tension on the hair strands – Creating tight hairstyles or updos using hairspray can cause hair tension. With this constant stress, your roots may weaken over time and can lead to traction alopecia (hair loss caused by excessive hair tugging or pulling).
Tips and Tricks on How to Use Hairspray Safely and Effectively
When used properly and in moderation, hairspray can be an effective styling tool for your hair.
Here are some tips on how to use hairspray safely and effectively:
1. Go for a hairspray that suits your hair type and needs
There are different varieties of hairspray available including light hold, medium hold, strong hold, moisturizing, and volumizing. Pick one that matches your needs, style (sleek, natural, textured, etc.), and hair type (fine, thick, curly, etc.).
2. Spray from a distance
Hold the spray bottle at least 12 inches away from your hair. Spray in short bursts as it prevents buildup and overspraying. Do not spray directly on your scalp or root.
3. Spray in small amounts
When it comes to hairspray, less is more. So, use as needed to achieve a style. Do not use too much or re-apply throughout the day.
4. Give your hair a regular wash
To eliminate any buildup or residue from hairspray or other styling products, wash your hair regularly. (8)
Use a mild and gentle shampoo to cleanse your hair without stripping off the natural oils. Use a clarifying shampoo once a week to give your scalp and hair deep cleansing. (9)
5. Protect your hair from heat damage
Using hot hairstyling tools such as flat irons, hair dryers, or curling irons can damage your hair, making it weak and dry and eventually causing breakage, thinning, and shedding. Therefore, make sure to use heat protectant spray before styling. (10)(11)
You can also use a serum or a leave-in conditioner to give your hair heat protection and environmental and chemical damage protection. (9)
6. Always condition your hair
It is crucial to condition your hair after every hair wash if you use hairspray as it makes your hair dry and brittle. Use a conditioner that not only hydrates and moisturizes your hair but also restores its shine and elasticity. (8)
7. Avoid tight hairstyles
Constant use of hairspray on tight hairstyles can cause tension and weaken your hair. To avoid this, stay away from making tight buns, ponytails, cornrows, or braids.
Instead, choose a hairstyle that's loose and does not put any stress on the roots. To secure your hair, gently put clips and pins without pulling it too hard.
8. Give your scalp a massage
Scalp massage promotes blood circulation and nourishes your hair follicles. When you massage your hair, it reduces itchiness and inflammation and relaxes your scalp muscles.
You can use your fingertips or a scalp massager tool along with some natural oils (jojoba oil, coconut oil, or olive oil) to massage your scalp. (12)
9. Eat a balanced diet
Your hair's health and growth depend on your diet. If you want stronger hair, have a balanced diet with essential nutrients (biotin, vitamin A, vitamin E, vitamin C, zinc, iron, protein, and more). These nutrients prevent hair loss by nourishing your hair follicles.
Some foods to add to your routine that are good for your hair are spinach, beans, nuts, avocado, broccoli, eggs, seeds, lentils, berries, and more. (13)(14)
General Queries
Should you put hairspray on wet or dry hair?
It is recommended to put hairspray on dry hair. Applying hairspray on wet hair can make it stiff and difficult to manage, and its hold is less effective.
So, it is recommended to style your hair first and then apply a light mist of hairspray for hold. 
What does hairspray contain?
Hairspray contains ethanol and/or isopropanol (isopropyl alcohol), solvents (such as volatile silicones and acetone) polymers, resins, additional ingredients (UV filter and vitamins), antimicrobials, preservatives, perfumes, and more. (1)
Is hairspray harmful?
When used in small amounts and as directed, hairspray can be beneficial for your hair health.
You may experience minor irritating effects if there is unintentional inhalation, ingestion, or eye contact. Immediately wash your eyes or mouth, or get fresh air. But doing these things deliberately can be harmful. 
Can I use hairspray every day?
Daily hairspray application can lead to dry and damaged hair. It can also irritate your scalp. Therefore, use it in moderation and choose the one that suits your hair best. 
Final Word
Using hairspray excessively and improperly can lead to temporary hair damage, but it does not cause permanent hair loss. Therefore, use it correctly and in moderation, keeping your hair type and needs in mind.
Deep cleanse your hair and scalp with a mild shampoo after using hairspray and follow a well-balanced diet. Following these tips can allow you to have a merry hairstyling session without worry.