Yes! "Cold air drying is good for all hair types," but it is particularly great on naturally rough textured hair prone to heat damage.
Many people use the hottest setting on their hair dryer to dry their hair faster and better. But did you know there's another way to improve your hair's overall health and appearance? It is by switching to a cold air setting or a cool shot button on your hair dryer.
The cold air setting is not an unknown or optional feature on your hair dryer. It has a lot of perks for your hair that you might be oblivious to.
Heat can damage your hair, (1) and this is where cold air drying comes into play with its less damaging effects.
Cold air drying takes time to dry and style damp hair but is great for touching up dry hair or setting a heat style.
Read further to explore the advantages and proper usage of cold air dryers.
What Are the Benefits of Cold Air Dryers on Hair?
There are multiple benefits of using a cold hair dryer on hair:
1. It reduces heat damage
Heat drying causes moisture loss, which can make the hair brittle and easily breakable hair. (1)
But a cold air dryer doesn't strip away moisture and natural oils from the hair due to its gentle nature. It protects your hair from damage and frizz by sealing your hair cuticles.
2. It locks in your hairstyle better
If you want your hairstyle to stay in one place and last longer, you should finish your styling with a blast of cold air.
Cold air gives your hair texture and shape by locking in the moisture and closing the hair cuticles. It makes your hair look soft and shiny.
3. It may retain moisture in your hair
Moisturizing your hair is crucial to keep it hydrated and healthy. (2) Blow-drying with hot air evaporates water from the hair, causing dullness and dryness. (1)
In contrast, cold air allows the hair shaft to absorb the water during the wet wash and the leave-in conditioner. This results in hydration and moisturization of the hair while giving it a polished appearance.
4. It may help your hair look silky, glossy, and frizz-free
Lustrous, soft, and frizz-free are the three features you'll notice in your hair after cold drying. These features are acquired by smoothening out the hair cuticle by cold drying.
The primary cause of frizz is humidity and lack of moisture in the air. It can also be hereditary. (3) Cold air can get rid of flyaways and static electricity, further preventing frizz.
5. It may prevent color fading
Avoid hot air drying on colored or dyed hair. It opens up the hair cuticles and lets the color molecules escape, leading to color fading. (4)(1)
On the other hand, cold air seals the hair cuticles and preserves the hair color by holding onto the color molecules.
How to Use a Cold Air Dryer on Hair?
You can use a cold air dryer in the following ways:
Gently pat your hair dry with a microfiber towel or a T-shirt to absorb the excess water.
Switch your dryer to the cold setting.
Keep the dryer 6 inches away at all times, and blow-dry your hair.
Move the dryer in different angles and directions for even coverage.
Note: According to researchers, continuously moving the hair dryer 15 cm away from your hair causes less damage than drying hair naturally. (1)
How to Choose a Cold Air Dryer for Your Hair?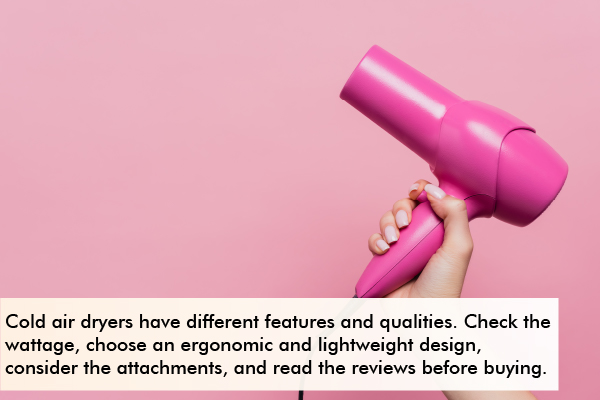 Cold air dryers have different performances, features, and quality. To get the best cold air dryer, do the following:
Check the wattage: Wattage indicates the speed and strength of the hair dryer. If the wattage is high, the dryer will be fast and have a hot air flow. Since you'll mostly use the cool shot button, you don't need a very high wattage; 1,000–2,000 watts should be enough for most hair types.
Look for an AC motor: The AC motor defines the durability, reliability, and inaudibility of a hair dryer. The airflow is more powerful and consistent in an AC motor. An AC motor is found in professional hair dryers. You can find some affordable hair dryers with AC motors in them.
Choose a design that's ergonomic and lightweight: A cold air dryer, as opposed to a hot air dryer, takes some time to dry your hair. So, find one that's easy to hold and comfortable. It can prevent strain on the wrist and hand fatigue. For portability and convenience, look for a long cord and foldable handle.
Consider the attachments: The most common attachments that come with a hair dryer and can help you try different effects and styles on your hair are a diffuser and a concentrator nozzle. A diffuser distributes even airflow over larger areas of your hair. It is useful in enhancing your natural waves and curls. A concentrator nozzle directs the airflow to specific areas of hair. It is useful for smoothening or straightening your hair.
Read the reviews: Reading reviews is the best way to know whether the cold air dryer is worth buying. Reviews also mention pros and cons, quality, performance, and durability. You can compare different models and brands based on prices, features, and ratings.
Can You Mix Air-Drying With Blow-Drying?
Yes, according to experts, you can mix air-drying with blow-drying.
Method 1
Start with 15–20 minutes of T-shirt or towel plopping.
Do 1–1.5 hours of air-drying.
Do 5 minutes of blow-drying with long-finger diffusion on the cold setting. Your hair should be dry.
Method 2
Let your hair dry 80% in the air.
Blow-dry on the cold setting for the rest of 20%.
Take 1 drop of serum on your fingers.
Apply on your scalp and massage gently and lightly brush over the top of dry hair completely. A little application goes a long way. Overapplication may make your hair greasy or oily.
Keep your fingers out of the hair, no matter how wonderful it feels, to prevent fuzz and frizz.
General Queries
When should I use a cold air dryer?
Lower the heat and speed setting of the dryer when your hair is 75%–80% dry. Switch to the cold setting in the dryer. Always use cool to warm settings on children's hair.
What is the best way to dry hair?
The best way to dry your hair is to air-dry it. Nevertheless, combining air-drying and blow-drying is healthier than air-drying alone. It's best to let your hair air-dry 70% and blow-dry the rest until completely dry. 
What should I put on my hair before using a hair dryer?
Apply a heat protectant (cream, serum, or spray) on damp hair before using a hair dryer. Although cold air does less damage than hot air, it is still advisable to shield your hair from any possible heat damage from the dryer or other heat styling tools. 
Final Word
Cold air dryers can have several health benefits for your hair and can make them better looking. It can lock in moisture, reduce damage, enhance shine, and stop frizz.
Use a cold air dryer on damp, towel-dried hair instead of wet hair. Use a heat protectant before blow-drying (cold or hot) as well. You can put the heat setting at low or medium to remove hair moisture and switch to cold air to give a final touch of shine and smoothness.