Haritaki (Terminalia chebula Retz) is a plant used in Ayurvedic medicine to prevent and treat diseases.
It has been called the "king of medicines" due to its many therapeutic benefits (1) such as purification, rejuvenation, and stress relief, (1) and its antifungal properties can help with hair fall.
But due to a lack of science-backed evidence, it cannot be labeled as an agent that can improve hair loss.
However, it can certainly prevent dandruff, which is one of the causes of hair fall, according to Ayurveda. This ancient science says that dandruff is a kapha vata-predominant disease with symptoms that includes kandu (itching) and kesha chyuthi (hair fall). (2)
Benefits of Using Haritaki for Hair
Here are some hair benefits of using haritaki.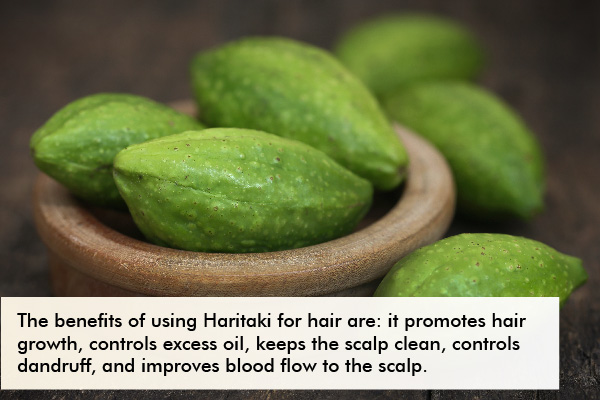 1. Promotes hair growth
The benefits of haritaki have been recorded in ancient Ayurvedic texts. It is rich in iron, essential vitamins, manganese, selenium, and other compounds needed to promote healthy hair growth.
2. Controls excess oil
Haritaki has astringent properties. When you apply it to an oily scalp, it can help in controlling excess sebum secretion and oily scalp problems, which cause buildup that is a deterrent to hair growth. (3)
3. Keeps the scalp clean
Haritaki is helpful as an antidandruff remedy as it prevents excessive sebum production, improves dry scalp, and reduces inflammation, giving you a clean and healthy scalp that is ideal for hair growth. (3)
4. Controls dandruff
Haritaki plant has antimicrobial properties that prevent Malassezia yeast from causing dandruff on the scalp. Hair oils, shampoos, or hair packs that contain haritaki as an ingredient keep dandruff and dry scalp issues away. (3)
5. May prevent premature hair graying and hair loss
Haritaki is used as one of the components in triphala.
Triphala, a popular triherbal drug, has been utilized traditionally in the Indian subcontinent to treat a wide array of disorders since ancient times. It comprises three herb fruits: Phyllanthus emblica (amalaki), Terminalia chebula (haritaki), and Terminalia bellirica (bibhitaki).
Amalaki contains biologically active secondary metabolites including vitamin C, polyphenols, flavonoids, glycosides, terpenoids, and, which help to stimulate hair follicles and eliminate oxidative stress (4) that causes premature graying and hair fall.
Haritaki, also due to its antioxidant nature, may help to prevent premature greying of hair but works best as part of triphala and when used with amla, as amla also helps in controlling premature graying of hair and hair loss. (5)
6. Improves blood flow to the scalp
Haritaki is rich in iron, (6) which helps in hemoglobin production in the blood. Proper blood flow to the scalp helps in the growth of hair follicles and repair of hair cells.
Iron deficiency has been observed in people suffering from alopecia (an autoimmune disorder that causes hair loss). (7)
How to Use Haritaki for Hair Growth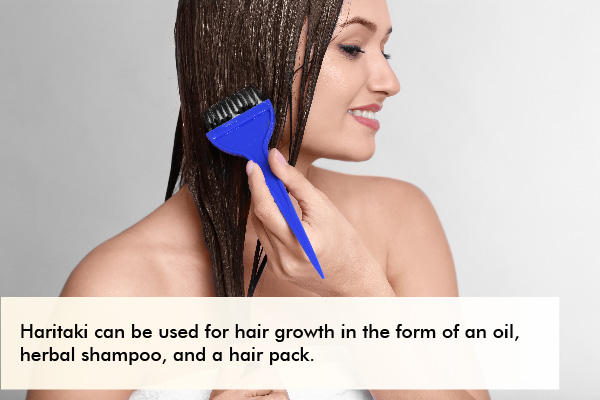 Here is how you can use haritaki for hair growth.
1. Haritaki oil
Haritaki can help eliminate dandruff and hair fall. Dandruff is caused by the fungus Malassezia furfur. Haritaki contains gallic acid, which possesses antifungal properties that can keep the scalp skin clear from dandruff and can help in hair growth.
How to use:
Add 2–3 tablespoons of coconut oil or almond oil to a cooking vessel, and add 1 teaspoon of dried haritaki powder.
Simmer for a few seconds, and put the flame off.
Allow it to cool off overnight.
Strain the oil and massage it on your scalp and hair for 5–6 minutes the next day.
Wash it off with natural shampoo after 1 hour.
2. Haritaki herbal shampoo
Reetha and shikakai are rich in natural saponins, which work well with haritaki. Together, they gently cleanse your hair to induce growth, prevent aging and scalp infections, and add shine and bounce to your hair.
How to use:
Add 1 teaspoon of dried haritaki, 1 teaspoon of dried reetha, and 1 teaspoon of dried shikakai powder to 2 cups of water.
Boil this mixture for 20–30 minutes, strain the liquid, and let the herbal water cool off.
Use this herbal water once a week as a shampoo to cleanse your hair without removing its natural oils.
3. Haritaki hair pack
Haritaki powder has a massive role in Ayurvedic medications as it improves the hair condition and its astringent properties help retain hair moisture.
How to use:
Take 1 teaspoon of amla powder, 1 teaspoon of dried haritaki powder, 1 teaspoon of bhringraj powder, and 1 teaspoon of curry leaves powder in a steel bowl.
Add 1 tablespoon of water and combine well to make a paste. Add more water if needed.
Press the mixture with a spoon to release the nutrients.
Keep this mixture out overnight.
The next day, apply the pack to your scalp and hair, and leave it on for 2 hours.
Wash your hair with tap water.
Squeeze two lemons in half a bucket of water and rinse your hair with it.
Apply this haritaki hair pack once a week.
To naturally color your hair, add henna or indigo or both to the haritaki pack to get your hair colored.
How Haritaki Can Prevent Hair Loss
Haritaki is an ingredient of the ancient Ayurvedic treatment called triphala, or three myrobalans. In ancient Ayurvedic and Tibetan medicinal systems, haritaki was used considerably; in both systems, there were seven accepted types of haritaki.
However, only two types of haritaki that are available – the big and small varieties. The big vijaya variety is easily available and used in proprietary Ayurvedic medicine for rejuvenation and purification.
The small chetaki type is also mentioned in ancient medicine and is the immature, unripe, small, stoneless fruit that is used for purgative (laxative) purposes. (1)
Haritaki for Hair Loss, According to Ayurveda
Hair fall in Ayurveda is called khalitya roga, under the classification of kshudra, or minor disease, and shiroroga, or diseases of the head and scalp.
Hair fall results from many reasons, including leading a sedentary lifestyle, a stressful schedule, and having an improper diet. If you can manage these issues and practice Ayurvedic therapy, you can prevent them. (8)
Haritaki's hair benefits have been mentioned in various Ayurvedic texts. It promotes healthy hair growth as it is rich in iron, vitamins, manganese, selenium, and other essential nutrients.
Haritaki has astringent properties that help balance kapha dosha issues, as it helps control excessive sebum secretion and oily scalp problems. Using haritaki-infused hair oil, shampoos, and hair packs can help prevent dandruff and dry scalp issues. (3)
Hence, if you are facing hair loss and you want to get rid of dandruff and rejuvenate your dull and damaged hair, then use this excellent herb as part of your hair care regimen.
General Queries Related to Haritaki for Hair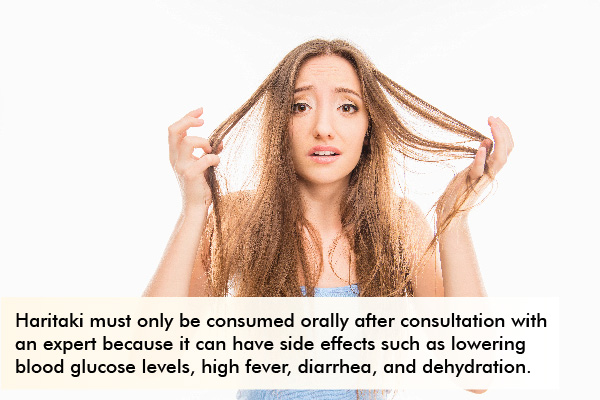 What are the side effects of haritaki?
Haritaki must only be consumed orally after consultation with an expert because it can have side effects such as lowering of blood glucose levels, high fever, diarrhea, and dehydration.
Pregnant women, new mothers, infants, and those with prior medical problems must not consume haritaki without consulting their physician.
How does haritaki help to control dandruff?
Haritaki is rich in gallic acid, which has antifungal properties that can help manage dandruff.
According to Ayurveda, dandruff is caused by an imbalance in the pitta and kapha properties, and using haritaki hair oil regularly (2) can help manage them.
Also, the astringent properties of haritaki can keep excess sebum at bay, which causes a dirty scalp.
Can haritaki be consumed daily?
Yes, you can consume haritaki on an empty stomach for better absorption or between meals. The prescribed dosage varies between 500 mg and 1 gram a day. But before you start consuming it, do consult your doctor.
Final Word
Haritaki is a well-known herb used to rejuvenate, regenerate, and improve hair because of its antioxidant properties. It has many benefits when applied to the hair and scalp, but it can lead to some side effects when consumed orally.
You can apply haritaki to your hair as hair oil, shampoo, or mask without adversely impacting your health.