Beautiful, luscious hair is a goal of every woman and man, and henna oil is the best ingredient to achieve the hair of your dreams.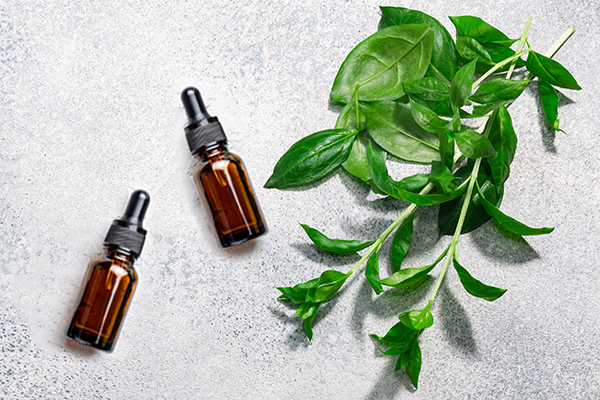 Instead of spending money on expensive hair care products, go for natural products that are inexpensive and can be found in the kitchen.
Henna oil is an ideal ingredient for hair care. It helps you with several hair- and scalp-related issues, such as controlling sebum secretion, (1) relieving an itchy scalp, (2) eliminating head lice, (3) and dandruff, (3) reducing hair loss, (1) and promoting hair growth. (2)
Henna oil also strengthens the hair (4) and makes it silky, manageable, and glossy. (5)
There are several pros of using henna oil, but there are some cons, too, as it can cause hypersensitivity, allergies, skin irritation, and life-threatening hemolysis. (6)
Continue reading to learn more about henna oil.
What Is Henna?
Henna is a small tree or a branched glabrous shrub with axillary panicles of white flowers and small opposite leaves. It is generally cultivated for its leaves, but its seeds, flowers, roots, and stems are also used in traditional medicine. (7)
Henna grows in dry, subtropical regions where the temperature at night doesn't go below 11°C. Henna can survive at a 45°C daytime temperature and 50 mm of rain annually. (7)
As a major commercial crop, henna is cultivated in the hot and dry climates of the northwestern states of India. In Punjab, Madhya Pradesh, and Gujarat, henna is farmed to be sold as hair dye. In Rajasthan, henna is produced for body art. (7)
Benefits of Henna Oil for the Hair
Henna oil is an ancient hair care remedy that protects and moisturizes hair and fights dandruff and lice. Its benefits are as follows.
1. It regulates oil secretion
The scalp produces oil naturally in the sebaceous glands, but environmental factors affect natural sebum production, (8) leading to hair loss and constant itching.
Researchers claim that henna powder reduces excessive oil in the scalp and conditions it well. (1) It also manages and treats oily hair and scalp. (9) Thus, it helps in oil regulation.
2. It fights dandruff, head lice, and itchy scalp
Henna's antibacterial and antifungal properties (10) fight head lice, (2) dandruff, (2) and itching, (2) providing cooling and soothing effects. Moreover, according to a 2022 study, henna prevents itchiness on the scalp. (2)
Henna also inhibits the growth of Malassezia species (dandruff-causing organisms).
3. It strengthens and repairs hair
According to experts, henna forms a protective layer on the hair shaft from damage. (11) It repairs damage caused to the hair and scalp, thus strengthening the hair. (9)
Also, a 2018 research reported that henna oil strengthens the hair (4) and prevents the cuticles from splitting. (7)
4. It promotes hair growth and reduces hair fall
A 2022 research reported that henna stimulates hair growth, (2) and a 2018 research noted that henna balances the scalp's pH levels (1) and controls premature aging.
Thus, henna oil promotes hair growth and reduces hair fall.
5. It makes hair soft and manageable
A 2020 research reported that henna conditions the hair, giving it bounce and improving its manageability. Additionally, henna oil adds shine, luster, and volume to the hair and boosts hair growth. (5)
Side Effects of Using Henna Oil on the Hair
People allergic to henna should not use henna as it can cause unpleasant reactions.
Henna is dangerous for people with glucose-6 phosphate dehydrogenase (G6PD) deficiency, (12) which is an inherited disorder with a G6PD enzyme shortage. G6PD enzymes allow the proper functioning of the red blood cells. (13)
For children with a deficiency of G6PD, applying henna topically can lead to life-threatening hemolysis (the destruction and rupture of red blood cells). (6)
Black henna contains p-phenylenediamine (PPD), which can lead to skin allergies and irritation. (6)
Red henna is generally safe, with rare instances of type 1 hypersensitivity and contact allergy reactions. (6)
Ways to Use Henna Oil for Hair Care
Henna is a flexible ingredient that can be used with other ingredients, such as aloe vera and castor oil for better results.
The following hair treatment recipes for fighting hair loss and treating receding scalp lines employ henna oil. Using these henna hair care products can help improve hair growth.
1. Henna oil
Follow these steps to use henna oil on your hair.
Massage henna oil on your scalp and hair for at least 10 minutes before showering.
Keep the oil in your hair for at least 2–3 hours.
Wash it off with a mild shampoo.
You can also apply lightly warmed oil. Men who use hair gel daily should apply henna hair oil to back-pedal the damages caused.
2. Castor oil and henna oil
Castor oil is an excellent ingredient for hair nourishment and protection from fungal infection. (14)
You can treat baldness effectively by combining henna with castor oil. This treatment can give you flawless and silky hair in no time.
How to prepare:
Heat ½ cup of henna oil and 250 ml of castor oil in a vessel.
Mix the oils well.
How to apply:
Use gloves to protect your hand from spillage.
Part your hair in sections and apply the oil mixture evenly.
Cover your hair with a shower cap and leave it on for 30–45 minutes.
Rinse it off with lukewarm water.
Repeat this once or twice a week for best results.
3. Olive oil, coconut milk, and henna powder
With a high protein and natural fatty acid profile, coconut oil can strengthen and moisturize your hair. It is a powerful conditioner for dry, damaged hair and scalp. (15)
With natural conditioning properties, henna can moisturize and soften your hair and scalp, improving their condition. (5)
Both coconut milk and henna can hydrate and nourish the scalp to prevent drying, while olive oil traps moisture to protect the scalp and hair from sun rays. (14)
This hair mask nourishes the scalp and can lead to softer, thicker, and smoother hair.
How to prepare:
Warm 2 cups of coconut milk in a saucepan.
Add 1 tsp of olive oil and 10 tsp of henna powder.
Stir and combine the ingredients well, leaving no lumps.
How to apply:
Part your hair in sections.
Apply the mask evenly on your scalp and hair.
Let it rest for an hour.
Wash it off with a mild, sulfate-free shampoo.
Use this mask once a week for best results.
How to Make Henna Oil at Home
Follow these steps to make henna oil at home.
Wash 10–15 henna leaves and grind them to make a thin paste. You can add water to make it consistent.
Make small balls and let them dry.
Add 500 ml of coconut oil and the henna balls to a small pan. Let it boil.
When the color of the coconut oil changes, transfer it to a small container.
Let the oil cool, and then strain it.
Store the henna oil in an airtight container, and it is ready to use.
General Queries
What are the medicinal benefits of henna?
The medicinal benefits of henna are abundant, including antimicrobial, antidiabetic, antioxidant, antiparasitic, anticancer, antidermatophytic, anti-inflammatory, antiviral, tuberculostatic, wound healing, immunomodulatory, antifertility, immunomodulatory, and protein glycation inhibitor properties. (16)
What are the different types of henna?
There are three types of henna: neutral, red, and black. Red henna gives a reddish-brown color to the skin. Black henna (a combination of p-phenylenediamine and red henna) gives a black color and is used for temporary black henna tattoos. Neutral henna has no color. (17)
Does henna oil darken hair?
No, henna oil doesn't darken hair or directly affect your hair color. However, it lets the existing dye color stay longer in the hair and prevents molecules from getting released from the strands.
Final Word
Henna oil has multiple benefits for your hair than just acting as mehndi on your hands. It can make your hair longer, stronger, and shinier.
Henna oil can improve your scalp health, and when combined with other oils, it can nourish your hair significantly.