Ferulic acid and retinol are two well-known ingredients in skin care products, mainly antiaging products, (1)(2)  but they are very different from each other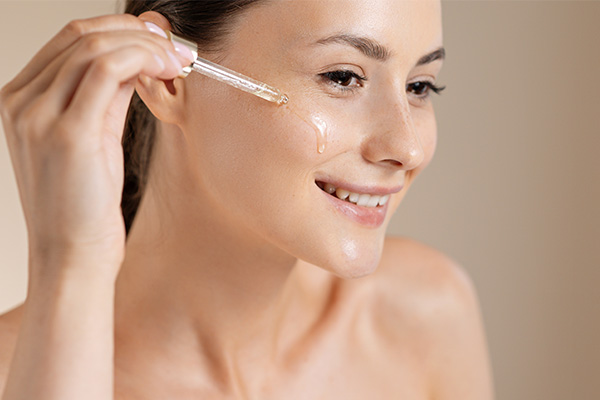 Ferulic acid is a plant-derived antioxidant compound. (3) In contrast, retinol is derived from vitamin A. (4) 
Ferulic acid provides nourishment to the skin and shields it from sun damage (5) and aging. (1) Retinol, on the other hand, resurfaces the skin (2) and reduces and reverses current aging signs.
Most skin types can tolerate ferulic acid, which is also considered safe, whereas retinol can cause sensitivity, irritation, and dryness in some people. (6) Retinol is more abrasive and potent and is not advised for every skin type.
Read further to learn more about retinol and ferulic acid.
What Are the Differences Between Ferulic Acid and Retinol?
The following are the differences between ferulic acid and retinol.
Sources
Ferulic acid is a plant-derived natural compound. Orange, corn, broccoli, rice bran, carrot, and tomato are rich in ferulic acid. (3)
Retinol is a vitamin A-derived synthetic compound. (4) It is found in animal sources such as fish oils, dairy products, and eggs. (7) It is not a natural compound and is not found in plants.
Sun protection
Ferulic acid's antioxidant property neutralizes free radicals and controls sun damage. Ferulic acid shows its efficacy and stability when mixed with other sunscreens such as vitamin C and E. (5)
According to researchers, retinol is unstable when exposed to UV and visible light; thus, it is not effective when exposed to sunlight. It is used only at night as an ingredient in broad-spectrum sunscreen. (8)
Retinol increases cell turnover and repairs sun damage, but it cannot be relied upon for increased photoprotection. 
Stability
Ferulic acid is unstable in skin care formulations, and you must keep it in a cool and dark place in airtight containers and use it within its shelf life. (3) With time, it can degrade when exposed to heat, air, or light. 
Retinol is stable in skin care formulations, but heat, light, or air exposure can cause quick oxidization. Therefore, you must also keep it in a cool and dark place in airtight containers and use it within its shelf life. (4) 
Retinyl palmitate, a newer type of retinol, is more stable than pure retinol.
Anti-inflammatory properties
Ferulic acid's anti-inflammatory properties (9) can soothe skin redness, irritation, and other conditions such as eczema, rosacea, psoriasis, and acne. 
Retinol's anti-inflammatory properties help modulate the expression of inflammatory mediators in the skin. (10) However, excessive and incorrect usage of retinol can lead to inflammation. 
Availability
Ferulic acid is present in several skin care products such as creams, masks, lotions, and serums, and it is combined with other antioxidants such as vitamins C and E. (11)
Retinol is also present in several products for skin care, such as masks, serums, lotions, and creams. (2) 
The concentration of retinol in cosmetic products is between 0.0015% and 0.3%. Retinaldehyde and retinyl palmitate (forms of retinol) are used in lower concentrations than pure retinol but have similar effects. (4)
Side effects
When used topically, ferulic acid is well tolerated and safe on the skin. Some people may show sensitivity or allergic reactions to ferulic acid or other product ingredients; therefore, a patch test is always recommended before its application to the face. 
Retinol has multiple side effects on the skin, including redness, itching, dryness, irritation, flaking, stinging, peeling, and burning. (6) Its topical use may increase skin sensitivity. (12)
Side effects are common and could be severe when you use retinol for the first time or in high concentrations. Thus, increasing the amount gradually as tolerated by your skin is advised, and make sure to use sunscreen or a moisturizer with retinol. 
Use in the eye area
Ferulic acid can effectively and safely treat periorbital hyperpigmentation, also known as dark circles. (13)(14) Thus, it can be used around the eyes to treat puffiness and dark circles. 
According to researchers, retinol can be used around the eye as well.  Retinol-based eye creams are also widely available. (2)
Some people may be sensitive to retinol and experience skin irritation; thus, it should be applied carefully and sparingly. Some people prefer using retinaldehyde or retinal palmitate (a gentler form of vitamin A or in lower concentration) around the eyes. (15)
Researchers share that the direct application of retinol around the eyes can lead to conjunctival irritation. (15)
Research results
According to research, ferulic acid contains antimicrobial, anti-inflammatory, antioxidant, and antiaging properties. Several studies have supported its safety and efficacy for topical use. (3)
According to research, retinol has antiaging properties on the skin. Several studies also support its safety and effectiveness when used in moderation. (16)(17)
Compatibility
Ferulic acid shows compatibility with several ingredients in skin care. It boosts the effects of antioxidants such as vitamins C and E. (18) Hyaluronic acid, alpha hydroxy acids (AHAs), peptides, and niacinamide are some antiaging ingredients used with ferulic acid. 
Retinol, however, is not compatible with all skin care ingredients. It can be used with antioxidants such as vitamins C and E but not with other vitamin A by-products such as adapalene or tretinoin.
Hyaluronic acid, peptides, and niacinamide are antiaging ingredients used with retinol. Exfoliating agents such as benzoyl peroxide, AHAs, and beta hydroxy acids (BHAs) are not used with retinol.
Skin type
People with sensitive skin or allergies should not use ferulic acid. Apart from this, it can be used on most skin types. Sun-damaged, matured, or dry skin may benefit from it.
Avoid using retinol if your skin is inflamed, reactive, or sensitive. Other skin types can apply retinol. If your skin is acne prone, oily, or aging, retinol may be helpful.
Similarities Between Ferulic Acid and Retinol
Anti-aging properties
Ferulic acid can reverse aging signs and prevent wrinkles, skin flabbiness, and sagging. It does so by boosting collagen synthesis and hunting down free radicals. It also restricts enzymes from degrading elastin and collagen. (1)
Retinol boosts collagen production, increases cell turnover, smooths out wrinkles and fine lines, and evens skin texture and tone. To reduce signs of aging, use retinol. (2)
Can You Use Ferulic Acid and Retinol Together?
You can use ferulic acid and retinol with the proper advice and supervision of a dermatologist. When used together, ferulic acid can assist retinol in going deeper into skin layers and boost collagen production. 
Use ferulic acid and retinol in low concentrations and increase their amount gradually, as they can cause dryness, peeling, irritation, and redness.
Retinol causes skin sensitivity in the sun; therefore, it is advised to use retinol at night and ferulic acid in the morning.
General Queries
What percentage of ferulic acid should be used for the skin?
The concentration of ferulic acid in cosmetic products ranges from 0.5% to 1%. (19) It is used in face masks and in protective, antioxidant, and nourishing lotions or creams. 
Can I use ferulic acid and retinol on my hair?
Yes, ferulic acid and retinol can be used on the hair. Ferulic acid is found in coffee seeds and brown rice, and according to researchers, it is a crucial antioxidant for preserving hair strength, color, and growth. 
Retinol prolongs the anagen (growth) phase of the hair growth cycle, thus boosting hair growth, and converts baby hairs (vellus) into terminal hair. It also works with different hair growth solutions to promote dense hair growth. 
Final Word
Retinol and ferulic acid are very different and have distinct perks and disadvantages in skin care ingredients. Although they are effective when used together, caution must be exercised as retinol can cause side effects on the skin.