An oily scalp is a problem that most people will experience. An oily scalp can lead to clogged hair follicles and sebum buildup on the scalp, which can increase hair fall.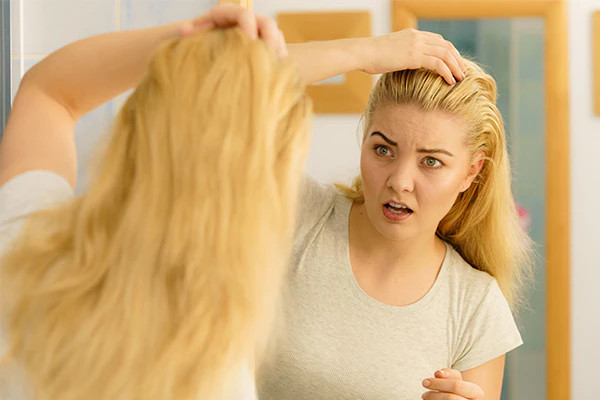 Read on to learn more about the relationship between an oily scalp and hair fall and how to control it.
How Can You Control Hair Fall Due to an Oily Scalp
Here are some measures you can take to reduce hair fall due to an oily scalp:
1. Wash your hair regularly
Daily hair washing is needed to eliminate the excess sebum from the scalp and to keep it clean and healthy. Use a good-quality shampoo containing ingredients that fight against bacteria and fungi, such as coconut oil and onion juice, to keep your scalp and hair free from microbes and infection. (1)
2. Apply a green tea mask at home
You can add green tea extract to your shampoo or hair mask and use it as usual. Green tea has been shown to lower scalp sebum when used regularly.
In one study, 20 volunteers applied a hair tonic with green tea extract for 28 days. Results showed that the hair tonic helped lower the greasiness of the scalp. (2)
3. Change your diet
Your diet plays a vital role in controlling the overproduction of oil in your scalp. Diet patterns high in the glycemic index (GI) can cause excess sebum production.
One study that compared the diet of healthy Korean men and women revealed that a diet comprising beans, vegetables, meats, fats, and oils was beneficial in slowing down scalp oil production. (3)
4. Avoid deep conditioners
As the hair and scalp are already oily, you can use a light conditioner and apply it only to your hair.
Do not apply conditioner to your scalp as it can cause buildup. Moreover, avoid using heavy and leave-in conditioners as they make your hair oily and limp. (4)
5. Rinse your hair thoroughly
To avoid any buildup on the scalp, rinse your hair and scalp thoroughly after shampooing and using conditioner. Not rinsing them properly can cause greasiness. (5)
6. Avoid styling products
Using styling products can cause humidity in the hair and scalp, which causes more sebum production leading to greasy hair. Thus, avoid using styling products if you have oily scalp and hair. (6)
7. Clean your hairbrush often
Clean your hairbrush often if you have an oily scalp as brushes accumulate a lot of dirt and bacteria. If you don't clean them regularly, the microbes will multiply further.
Moreover, using dirty brushes on your oily hair will induce hair fall and make your hair oilier. (7)
8. Avoid touching your scalp
Frequently running your hands on your scalp increases sebum production and causes oiliness and hair fall. Instead, detangle your hair gently with a brush as suggested by a team of health promotion specialists from Columbia University.
What Causes an Oily Scalp
An oily scalp is due to many factors including your genes, consuming junk food, not washing your hair frequently, stress, and the use of inappropriate hair care products.
1. Genes
Your genes can determine whether you will have an oily scalp or not. If your parents and grandparents had oily hair, then most likely you too will have oily hair and scalp too. (8)
2. Diet
If you are eating high-carb, oily, and spicy foods, you will end up with an oily scalp and hair. Add beans, vegetables, fruits, and healthy fats and oils to your diet to lessen the grease from your hair and scalp. (9)
3. Stress
If you're leading a highly stressed-out lifestyle, the sebaceous glands on your scalp can become overactive and produce more oil, leading to greasy hair. (10)
4. Hair care products
When purchasing hair products, always choose those that don't contain harmful chemicals such as sulfates, phthalates, and parabens.
Opt for shampoos and conditioners with natural ingredients that nourish and protect the scalp from bacteria and fungi, including coconut oil, onion juice, curry leaves, and fenugreek. (7)
General Queries on Controlling Hair Fall Due to an Oily Scalp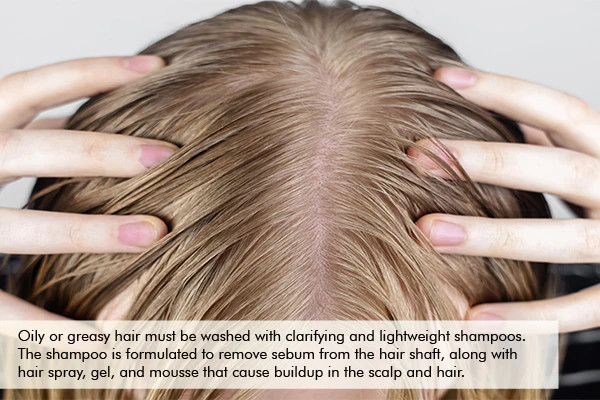 Why does my hair look so greasy after washing it?
Oily or greasy hair must be washed with clarifying and lightweight shampoos to remove the excess oil from the scalp and hair. They are formulated to remove sebum from the hair shaft, along with hair spray, gel, and mousse that cause buildup in the scalp and hair.
I have oily scalp and hair. Can I oil it?
Oiling your hair will add more oil to your already oily scalp and hair, so avoid it. Moreover, don't use oil-based or alcohol-based cleansers on your oily scalp as they can irritate it further.
What essential oils are best for oily hair?
The best essential oils for oily hair and scalp are rosemary, tea tree, and lemon. You can add a few drops of them to your shampoo and use it to wash your hair to get rid of the excess oil.
Can I use apple cider vinegar on my oily scalp?
While no research studies have proven the efficacy of apple cider vinegar for oily scalp-related hair fall, several users swear by its effectiveness in dealing with a greasy scalp and achieving a clean and fresh scalp.
So you can try it, but do a patch test on your skin to avoid allergic reactions.
Final Word
Having a little oil on your scalp and hair is not bad, but it becomes a problem when there is excess sebum production, which makes your hair greasy all the time.
Aside from following the measures mentioned above, you might need to change your lifestyle and diet to control the excess oil production on your scalp.