Getting hair on your face can be a frustrating thing to experience whether you are working out at the gym, playing soccer, running the trails, or just sitting idle at home.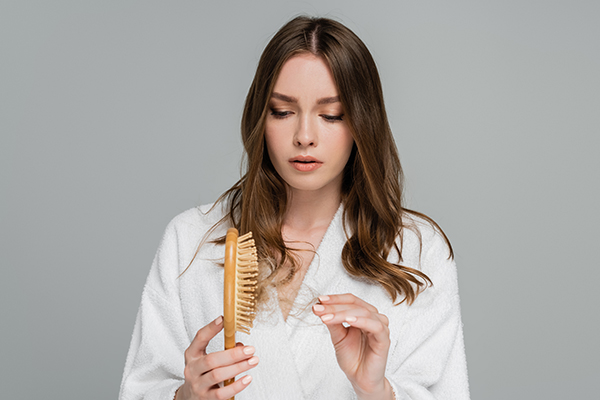 To avoid this, you can use headbands as they are a stylish solution and keep your hair in place. With headbands, you don't have to get rid of the loose strands from your eyes now and then.
You can wear a headband while putting on your makeup or if you are having a bad hair day. However, when headbands are used regularly, there's a concern of them causing hair loss, called traction alopecia.
There's a chance of getting pressure alopecia (hair follicle damage caused by continuous tension for longer periods, resulting in hair loss) and traction alopecia by wearing any accessory or headbands tightly for extended periods. (1)(2)
Read on to know whether headbands cause hair loss and under what conditions. Also, learn about how and what kind of headbands you should wear to prevent hair damage.
Scientific Explanation: How Do Headbands Cause Hair Loss?
Wearing tight headbands may constantly pull your hair and cause tension to the hair roots. This might result in hair loss.
A 2012 research conveyed that pressure alopecia happens when there is constant pressure on your hair follicles for a long time, resulting in constrained hair growth. Wearing tight headbands for a long time is one of the possible reasons for the condition. (2)
If pressure alopecia is diagnosed in the early stages, it can be prevented or even reversed. A delayed diagnosis may lead to permanent hair loss. (2)
A 2018 research revealed that you may lose some hair when the headband touches your scalp due to the prolonged usage of tight headbands. It is like postoperative (pressure) alopecia. (3)
The same study examined a 54-year-old Caucasian woman who wore a tight headband that pushed on the front of her scalp back for 8 hours. It hurt her scalp, and after a week, some amount of her hair started to fall out. (3)
Another 2016 research evaluated a woman, a chef by profession, who had to wear a tight elastic headband to put her hair up. She experienced hair loss because of it.
The study ran a clinical study on women recommending them to quit wearing headbands. After 20 weeks, hair growth in some areas was reported. (4)
From these scientific studies, it is evident that using a tight headband for long periods can cause your hair to fall. However, using a headband that is not too tight and for short periods may not cause hair fall.
Does Every Headband Cause Traction Alopecia and Receding Hairline?
If worn tightly, any type of headband can cause hair fall, as it puts pressure on the hair follicle, resulting in pressure alopecia.
If you are a headband lover, it is recommended to wear headbands made of silk, satin, cotton, knit, and crochet, which are gentle and soft to your hair and do not tug or pull your hair. These headbands can be worn for casual or workout wear.
Avoid wearing headbands such as:
Textured headbands with teeth attached to them to keep them in place – These headbands can cause some serious issues by hooking their teeth to the hair and pulling them out from the follicle.
Metal and glitter headbands – They cause similar problems.
A tapered or tie headband – They can keep the hair out of your face by wrapping itself on the head completely, but they can still cause a little damage.
How to Wear a Headband to Prevent Hair Loss and Damage
Start with parting your hair like you would if your hair were down. It can either be a center part or a slightly off-center part.
Take a fine-toothed comb and smooth all the flyaway and baby hair.
Put on a headband three inches from your hairline. Doing this will not pull your hair out and put a stop to traction alopecia.
Find a soft and thick headband, which is more comfortable and causes less breakage.
Push your hair in the opposite direction of the headband after wearing your headband. This is the best way to alleviate the pressure on the roots of your hair.
Avoid wearing headbands frequently and for long durations. When you wear your headband occasionally and for short durations, you give your hair a break to breathe.
Final Word
Wearing a headband is a great way to keep your hair in place and to look put together, especially on bad hair days.
However, a tight headband that pulls out your hair can cause tension and damage to your tresses and can further pull back your hairline. Therefore, go for a soft headband with a gentle grip and is made of cushiony materials.