Stop wasting your money on cleaning agents for your hairbrushes and combs when you can use household ingredients such as vinegar and baking soda to do the job.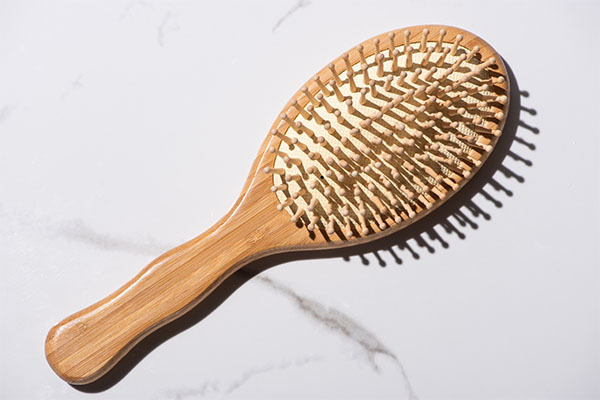 It's important to regularly clean the brushes to eliminate debris, residue, hair by-products, and scalp oils stuck inside the brush bristles. The more you brush your hair, the more residue is accumulated. And as a result, your dirty hairbrush will do more harm than good to your clean hair.
Vinegar is an effective remedy for cleaning your hairbrush. People often use natural products such as vinegar to clean and sanitize the surface of their homes. (1)
How to Clean Hairbrushes With Baking Soda and Vinegar Together
Here is how you can clean your hairbrush with these powerful ingredients:
Fill a container with warm water and blend 2 tablespoons of baking soda and 1.4 cups of white vinegar in it.
Dip your hair combs and brushes in the solution and swirl them around for a few seconds. Allow them to soak in the solution for 30 mins. The wooden hairbrush bristles will soak the solution easily.
Remove the brushes and combs from the container, and repeat the same steps to remove the dirt buildup. Clean up the grime and dirt you can see on the sides and between the brushes with tissue paper.
Place the wet brushes on a fresh cotton towel and let them dry. Repeat the process if necessary.
What Are the Benefits of Baking Soda and Vinegar As Cleansers?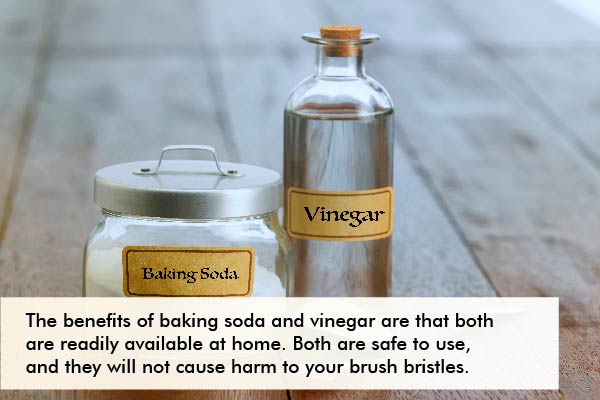 Here are the benefits of using baking soda and vinegar as natural cleansers.
Baking soda
Baking soda is readily available, environmentally friendly, less toxic, and considered an organic compound. It is used to eliminate foul or residual odor and as a disinfectant (2) for scrubbing tubs and sinks.
It is safe to use, and it will not cause harm to your brush bristles.
It acts as a deodorizer, is biodegradable, and neutralizes the odors caused by bacteria (such as those that feed on sweat on the scalp). (2)
It disintegrates the proteins from food stains and removes them more quickly than other cleaning products.
It acts as a natural cleanser and can make the bristles soft and fluffy. (2)
Vinegar
It is not toxic, though prolonged exposure to it can hurt the skin and damage surfaces.
Vinegar is a natural cleanser that kills bacteria, mold, and mildew. Hairbrush bristles are breeding grounds for bacteria; cleaning them often with white vinegar will disinfect the surface and prevent further damage.
Hairbrushes and combs attract grime over time, especially if you have long hair or reside in a humid area. This is how the brushes collect dirt, dust, and dead skin cells shed from the scalp. (2) Moreover, putting on hair products leaves a residue that builds up on the brush.
You can use vinegar to clean the product buildup on the hairbrushes. The acidic property of vinegar dissolves dirt and oils on the bristles, thus making them easy to clean.
Will Cleaning Combs and Hairbrushes With Vinegar and Baking Soda Damage Them?
No, vinegar and baking soda will not damage combs and hairbrushes as they work as disinfectant and cleansing agents. (3)
Hairbrushes attract hair bacteria and fungi; if you don't clean them, these microorganisms will be transferred repeatedly to your hair, thus compromising your hair and scalp health.
Not cleaning your brushes can also result in itching, dandruff, inflammation, folliculitis, and seborrheic dermatitis.
General Queries Related to Cleaning Hairbrushes
How frequently should I clean my hairbrushes?
Clean your hairbrushes and combs once or twice a week, depending on the amount of dirt accumulation, and remove the hair strands from your combs or brushes after using them.
Why does my hairbrush become dirty?
The scalp has a lot of substances on it, including:
● Environmental debris such as soot and grime
● Residue from different hairstyling products such as hair sprays and conditioners
● Dead skin cells and dandruff
How do hair salons clean their hairbrushes?
Hair salons take extra care to keep their tools clean and hygienic so that various diseases don't get transferred to their clients' hair. Different salons follow different safety rules; however, the most common among them are:
● The combs and brushes are placed in the jars after being used.
● A machine with tiny bristles rotates to remove the hair strands from the combs or brushes.
● The combs and brushes are soaked in disinfectant for around 15 minutes to eliminate debris and bacteria collected on the hairbrushes. Some salons use disinfectant hot ovens to sanitize their brushes.
Final Word
A hairbrush is a vital tool to keep your scalp healthy. However, if the brush is not hygienic, it might compromise your hair and scalp. Hence, cleaning the dust, grime, and bacteria from your brushes is necessary.
Also, cleaning your brushes will improve its lifespan and help in giving your hair a neat and tidy look.