Stinky hair can ruin your mood and your day. Nothing smells better than the scent of freshly washed hair.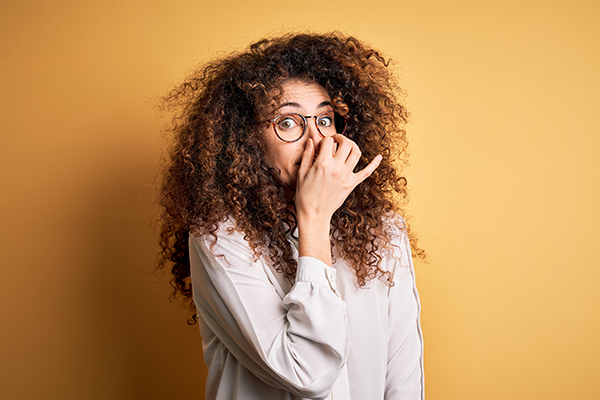 The hair does not have any smell but takes on the smell of the shampoos and conditioners you use. Sensing a bad odor after running your fingers through your hair and smelling them can be due to poor scalp and hair hygiene.
It's not enough to spray perfume on your hair or wash it every day to camouflage the bad smell of your hair. You need to get rid of smelly hair by getting to the root cause of the problem and then finding ways to prevent it.
This article details the reasons behind smelly hair and what to do about it.
Causes of Smelly Hair
Here are some causes of hair that stinks:
1. Wetting your hair in a swimming pool or sea
When your hair comes in contact with water in a swimming pool, it soaks the chlorine in the pool water, leading to a foul odor and dry and weak hair. If you have been swimming in the pool, you must wash your hair with shampoo and use a deep-conditioning product to hydrate your hair.
The hypochlorous acid in the swimming pool water penetrates into the hair cortex through the cuticle, resulting in oxidation and degeneration of melanosomes, thereby causing discoloration of the hair. (1)
When this hypochlorous acid reacts with ammonia (which is a component of sweat and urine), chloramines are formed in the pool water. This causes a bad smell and can irritate the scalp skin as well. (2)
2. Taking hot baths
Hot baths are great for relaxing your body, but the steaming hot water can wreak havoc on your hair as it sucks out the natural oils from your hair and stimulates the sebaceous glands to produce more oil, (3) thus causing a bad smell.
Use a shower cap to protect your hair when soaking in a hot water bath so that your tresses will not be dried out and have a foul smell.
3. Using hair dryers on wet hair
After taking a bath and gently rubbing your hair with a towel, you need to let it dry naturally and not use hair dryers as they cause harm to the hair shaft due to the excessive heat, causing more production of oil and consequently smelly and greasy hair. (3)
When your hair is dry, you can take a wide-toothed comb to brush your hair gently without harming the scalp. (4)
4. Not cleaning your hair well
When you shampoo your hair, you must work the product on the scalp well so that the excess sebum buildup that causes a bad odor is removed.
If you have an oily scalp, use a mild shampoo 4–5 days a week. Too much washing should be avoided as it will sweep away the scalp's natural oil, leading to brittle hair. (5)
5. Sweat in your hair
Another common cause of stench in the hair is excessive sweat production, which happens mostly in summer. At this time, the sun is strong and intense, causing your hair to work more, and not washing it regularly can build up the smell and cause hair loss. (6)
6. Pollution
Besides lousy hair care habits, pollution can make your hair strands weak and smelly. It blends with your hair sebum, causing changes in sebum secretion (7) and thus producing pungent smells.
7. Not using good-quality hair care products
Not selecting good hair care products can lead to a bad smell depending on your hair type.
Ditch chemically loaded hair care products that contain parabens, sulfates, fragrances, and more, for natural hair care products with avocado, coconut oil, onion juice, shea butter, jojoba oil, amla, and other ingredients beneficial for the hair. Such products will help in maintaining the natural moisture of your hair and preventing it from smelling bad. (8)
8. Using hair caps and scarves for a long time
Fashion experts believe the best hair care tip for bad hair days is wearing hats and scarves to protect the hair. However, wearing scarves or caps tightly on your hair can cause sweating on the scalp, which can lead to a funky hair odor. (9)
9. Stress
Stress can disturb most of your body functions, including hormone levels. When you are stressed out, your glands are stimulated to produce large amounts of oil, which irritates the scalp and gives out a bad smell. (10)
10. Eating pungent foods
Eating pungent-smelling foods such as onions and garlic can make your body produce an offensive smell. (11)
Conversely, eating sweet foods such as pineapple can make your hair smell better.
11. Using strong-smelling ingredients on the hair
Using natural ingredients such as onion juice and garlic on your hair can be beneficial, but it can leave a foul odor even after washing your hair.
12. Fungal infections
A scalp disorder such as dandruff and seborrhea can lead to a smelly scalp and hair. In dandruff, the scalp is infected with the fungus Malassezia, which smells bad. Seborrhea, too, can cause a foul smell on the scalp and needs to be treated medically. (12)
How to Remove the Bad Smell From Your Hair?
Here are some easy ways to get rid of smelly hair:
1. Try essential oils
Essential oils have a strong aroma and healing properties that can help heal the scalp and eliminate foul hair odor. Some essential oils that are effective against bacteria, fungi, and scalp disorders are lavender oil, tea tree oil, and peppermint oil.
Lavender oil contains linalool and linalyl acetate, which are antimicrobial agents that act against bacteria. This oil also helps to maintain the scalp's pH balance. (13)
Tea tree oil is often used to treat infections in the scalp due to its strong antibacterial and antifungal properties. It helps to eliminate the bad smell from the hair as it has a strong odor. (14)
Peppermint essential oil contains menthone, L-menthol, methyl acetate, and limonene, which exhibit intense antibacterial activity. (15) The oil also gives a cooling effect to the scalp and a refreshing smell to the hair.
2. Use strong-smelling natural shampoos
To battle smelly hair, you can use shampoos that contain strong-smelling ingredients such as aloe vera gel, camphor, and neem.
Use an aloe vera-based natural shampoo or add aloe vera gel to your shampoo and use it to wash your hair to eliminate the bad smell. (16) Aloe vera has natural antimicrobial properties that are beneficial for the scalp, especially in the treatment of dandruff and psoriasis that cause a smelly scalp.
Camphor is rich in antioxidants and antibacterial properties and helps to get rid of the foul smell on your scalp through its natural solid smell. (17)
Neem has potent antimicrobial properties that work against scalp bacteria and fungi (18) and helps to eliminate the bad smell from your scalp and hair.
3. Apply hair masks
The following hair masks can help you get rid of smelly hair.
a. Aloe vera gel + coconut oil
Method:
Mix 2 tsp of aloe vera gel with 2 tablespoons of coconut oil.
Massage your scalp well with this mixture and leave it on for 20 minutes.
Wash it off with natural shampoo and conditioner.
Repeat the process twice a week to get rid of a smelly scalp.
b. Cinnamon powder + olive oil
Method:
Add 1 tsp of cinnamon powder and 2 tablespoons of olive oil to a bowl and mix them well.
Rub this mixture onto your scalp and hair for 5–10 minutes.
Wash it off with a natural shampoo and conditioner.
Repeat this process once a week to eliminate the foul odor from your hair.
c. Lemon juice + peppermint oil
Method:
Prepare a solution of ¼ cup lemon juice and ¾ cup water.
Add a few drops of peppermint oil to the solution.
Massage your scalp with this solution and leave it on for 30 minutes.
Wash it off with a natural shampoo and conditioner.
Use this remedy twice a week to get rid of the smelly odor from the hair.
General Queries Related to Smelly Hair
Why does my hair smell bad even after washing it?
Your hair may still smell bad after washing it because the shampoo you use may be ineffective in removing the bacteria and fungi on the scalp.
How do I know if my scalp is infected?
The signs of a scalp infection are itching, red rashes, cracks, flaky scales, and pimples.
What kills the fungi on the scalp naturally?
Tea tree essential oil is an antifungal and antibacterial solution that can treat scalp infections. Mix it with carrier oils, such as coconut or olive oil, and apply it to the infected area 3–4 times a day.
Final Word
Poor hygiene and the use of chemical-laden hair products can cause harm to your body and can lead to smelly hair and hair fall.
Use natural hair care shampoos abundant in good ingredients and homemade hair masks to eliminate the foul odors from your hair.