Everyone, from TikTok influencers to movie stars, is in awe of the benefits of using rice water for hair. Rice water is the starchy water left over after draining the rice. This water is full of hydrolyzed rice protein, vitamins, and minerals that can transform and rejuvenate your hair.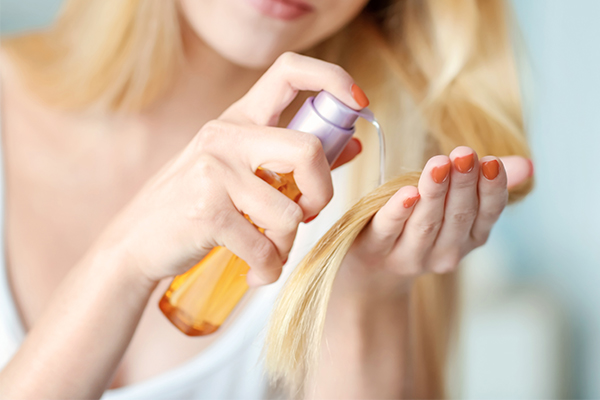 Rice is mainly cultivated in Asian countries such as India, China, and Japan, where the soil and climate are ideal for growing rice. (1) Since rice bran is abundantly produced in these regions, it has found its way into their hair and skin care routines. (2)
Why should we use rice bran oil for hair?
Rice bran oil is a rich source of antioxidants including the phytochemical oryzanol, tocopherols, and tocotrienols, which maintain higher oxidative stability in the body. (3)
Studies have shown that rice bran oil contains a high amount of tocopherols, which is almost 860 ppm. (4) It contains 18%–23% of oil, which is rich in essential fatty acids and is full of dietary fiber, vitamins B and E, and minerals such as iron, calcium, potassium, chlorine, magnesium, and manganese. (5)
The rich amount of vitamin E in rice bran helps reduce inflammation and undo all the harm done to the scalp and hair from using harsh chemicals and hot tools.
The high amounts of amino acids help increase follicular activity and are suitable for hair health. Moreover, rice bran oil has anti-inflammatory, antimicrobial, and anticancer properties. (6)
Benefits of Rice Bran Oil for Hair
Here are some of the benefits of rice bran oil for the hair.
1. Induces hair growth
Rice bran oil is rich in phytochemicals and nutrients that can prevent cancer and enhance the body's immunity. Some of these nutrients are vitamins, tocopherols, tocotrienols, phenolic acids, carotenoids, essential amino acids, and micronutrients.
One study has shown that the linoleic acid and oryzanol in rice bran helped to induce the hair follicles into the anagen (growth) phase. (7)
A 2014 study also demonstrated that applying rice bran oil to the scalp promoted hair growth to an extent similar to 3% minoxidil. The research showed that a higher number of hair follicles were induced in the anagen stage by applying rice bran oil. (8)
2. Prevents premature graying
Melanin gives hair its rich, dark color. However, when your scalp undergoes oxidative stress and the hair is exposed to the harsh UV rays, the hair color can become dull and prematurely gray.
The process by which the body produces melanin is known as melanogenesis, which prevents the skin from getting scorched due to the harsh sun rays and gives the skin and hair color.
A small 2018 study showed that rice bran extract contained certain minerals that promote melanin synthesis. (9)
3. Strengthens hair strands
Studies showed that the linoleic acid and oryzanol in rice bran extract can promote hair growth and lead to stronger strands. When applied to the scalp, the combination of antioxidants and lipids in them is effective for strengthening the hair. (10)
4. Conditions the hair
Rice bran extract is rich in oils that act as emollients for the hair and are being used by many as a conditioner to soften and nourish the hair. (11)
Many natural hair care products sold in the market have rice bran extract as an ingredient due to its many benefits for the hair.
5. Protects the hair from harmful UV rays
The hair can be damaged due to exposure to harsh sunlight and UV rays, which can make the hair dry, brittle, and prematurely gray.
Rice bran contains sun- and UV ray-protecting elements that can benefit the skin and hair. (12) The oryzanol in rice bran works as a protective agent against UV rays that cause free radical damage to the skin and hair; hence, it can be used as a potent sunscreen agent. (13)
Ways to Use Rice Bran Oil for Hair
Here are some ways to use rice bran extract for the hair:
1. Hair oil
One way to use rice bran effectively on your hair is by using it as a hot oil treatment to massage your scalp and hair for growth.
Wash your hair thoroughly; after it is dry, you can do the hot oil treatment.
Add a few drops of rice bran essential oil to 4 tablespoons of coconut oil and mix well.
Apply the oil to your hair and scalp and massage it well for 5–10 minutes.
Leave it on for 40 minutes or overnight, and then wash it off with a natural shampoo and conditioner.
Continue this process twice a week to get good results.
2. Hair mask
In a bowl, combine 1⁄3 cup of rice bran oil and 1⁄3 cup of mustard oil.
Add 5–10 drops of lavender oil to the mixture and mix well.
Apply this mask to a clean scalp.
Leave it on for 1 hour, and then wash it off thoroughly with a natural shampoo and conditioner.
3. Prewash/postwash hair oil
You can add a few drops of rice bran oil to your natural shampoo or conditioner and apply it directly to your scalp and hair when washing it to get smooth and well-nourished hair.
Health Benefits of Rice Bran Oil
Rice bran oil eases irritation and helps controls emotions during menopause.
Rice bran oil is a healthy oil for cardiac patients.
Rice bran oil is good for acne-prone skin and lightening the skin.
Consuming rice bran oil may lead to an increase in the amount of vitamin E in the body.
Consuming rice bran oil may prevent skin allergies.
Rice bran oil may help in weight loss.
Rice bran oil is an immunity booster. (14)
General Queries Related to Rice Bran Oil for Hair
Is it beneficial to consume rice bran oil to reap its benefits for the hair?
Research studies indicate that consuming rice bran oil can benefit the body and hair. You can use rice bran oil to sauté or stir-fry your vegetables.
If you're not sure about consuming rice bran oil, consult your physician about it.
Is rice bran oil nutritious?
Intake of rice bran oil can help lower the blood cholesterol, blood pressure, and blood glucose levels in the body and may also reduce inflammation and symptoms of metabolic syndrome.
Studies also indicate that rice bran oil can boost the immune system and prevent the process of premature aging. (15)
Does rice bran contain arsenic, and what are its levels?
Yes, rice has more arsenic content than other grain crops, and whole-grain or brown rice contains more arsenic than polished or white rice.
Pure rice bran is being used as a food supplement, but more concerning are bran solubles, which are being marketed as a superfood and supplement to malnourished children in international aid programs. (16)
Rice bran contains 0.61–1.9 mg/kg inorganic arsenic.
Does rice bran oil improve hair quality?
Yes, but you must look for optimally formulated products to effectively unleash the potential of rice bran oil for hair health. Such products must retain the beneficial properties of rice bran in concert with other supporting ingredients for better results.
Final Word
Rice bran oil offers many benefits for the body, including the hair, and it can be used as a massage oil or mask to nourish the scalp and hair, which could lead to healthy hair and skin.