Sage is a flavoring agent commonly used in food items and is known to have medicinal value. It is a potent herb that can also improve the appearance of your hair and add bounce to your luscious locks.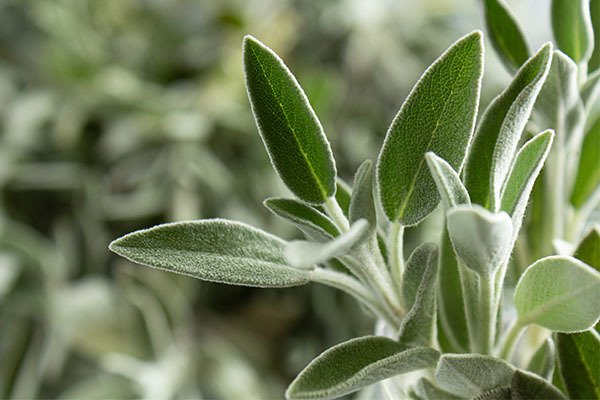 Sage is a perennial plant that grows to about 2 feet tall. It has oval leaves that look wrinkled and are grayish to green. Its flowers are purple, red, pink, or white, and they produce fruits.
Salvia officinalis L. (Labiatae) is sometimes referred to as common sage, true sage, or garden sage. It is used as a lotion to improve hair and skin. (1)
Sage is a rich source of natural compounds, flavonoids, and polyphenolic compounds (carnosic acid, rosmarinic acid, and caffeic acid) and has potent antioxidant, radical-scavenging, and antibacterial activities.
Carnosic acid and rosmarinic acid are available in higher concentrations in the juice of sage plants. Ursolic acid, a sage component, is loaded with anti-inflammatory properties. (2)
Sage leaves are fragrant and are used to extract the essential oil, which contains 49 aromatic components. The major ingredients of the sage oil are 1,8-cineole, camphor, α-thujone, β-thujone, α-humulene, rosmarinic acid, and quercetin. (3)
Benefits of Sage on the Hair
Sage provides abundant benefits to hair and skin.
1. Strengthens the hair
Sage contains rosmarinic acid, a polyphenolic compound, as its primary ingredient. It is a fragrant herb that stimulates hair growth and strengthens weak, damaged, and brittle hair.
It exhibits various biological activities and possesses antioxidant, anti-inflammatory, and anti-bacterial properties that renew, soften, and add strength to the hair.
According to a 2020 research, rosmarinic acid actively promotes hair growth; however, more research is required to ascertain this effect. (4)
2. Protects from dandruff
Sage is a shrubby perennial plant that is cultivated in India. Its oil is extracted from dry sage leaves through a steam distillation technique.
Sage oil moisturizes and nourishes the hair and makes them soft. Sage oil prevents dandruff and maintains the shine of the hair. It contains pinene, cineole, α-linalyl acetate, thujone (44% to 45%), borneol, bornyl acetate, farnesol, and camphor. (5)
3. Darkens hair color
Sage can improve the texture of the hair and darken its color if used frequently. Sage rinses can be used daily or as often as possible till the desired color is attained. Weekly application of sage rinses will help you to maintain the color.
Moreover, the infusion of sage leaves can be used as an antidepressant hair oil, and its topical application can darken the hair shade. (3)
4. Reduces hair loss
Brittle and damaged hair is a common problem in modern times. Sage oil can come to your rescue.
This oil has natural antiseptic properties that prevent skin troubles and relieve the symptoms of some skin conditions such as eczema and psoriasis. In addition, it contains beta-sitosterol and a 5-alpha reductase compound, which reduce hair loss.
5. Strengthens the hair
Sage oil is rich in vitamins C, B, and E and can easily penetrate the scalp, thus supplying nutrients necessary for hair development and growth to the hair follicles. It promotes the growth of hair strands from the mono follicle and thus makes your hair strong and thick. (6)
Benefits of Sage on the Skin
Here are some benefits of using sage on your skin.
1. Reduces skin infection
Research studies on the inflammatory properties of sage have shown that sage contains caffeic acid, rosmarinic acid, and ursolic acid, which reduce skin swelling and infections. (3)
2. Provides antiaging effects
Studies have shown that sage contains compounds that combat the skin aging process. It reduces skin wrinkles through a photo-imaging mechanism.
The sclareol present in it is used as a fragrance material, and studies have shown that it prevents UVB-induced skin damage. It also revives the epidermal layer thickness that is reduced by UVB rays.
Creams enriched with sclareol reduce wrinkles and improve cell generation. (7)
3. Increases collagen
Sage can uniquely increase collagen production, (8) a critical factor in improving skin elasticity. It is abundant in vitamin A and boosts the generation of skin cells.
4. Improves appearance
Sage is loaded with antioxidant properties and inhibits the aging process. (9) The antioxidants fight free radicals that contribute to aging.
According to a 2018 study, sage extract contains ursolic acid, which lightens the skin and gives it a youthful look. It reduces skin irritation and hyperpigmentation spots too. (10)
How to Use Sage Oil on the Hair
You can use sage on your hair in the following ways.
1. Sage hair tonic
Add 1 tablespoon of dried sage leaves to 1 cup of water.
Boil it for 2–3 minutes.
Filter it and allow it to cool. Use it as a hair tonic by applying it to your washed hair. Massage it into the scalp and along the lengths of your hair.
Repeat it twice or thrice a week.
2. Sage hair oil
Add 3–4 drops of sage essential oil in a bowl, and add a few drops of peppermint and rosemary oil.
Dilute it with 1 tablespoon of olive oil.
Massage this oil into your scalp twice daily.
How to Use Sage Oil on the Skin
Here's how you can apply sage to improve your skin's appearance and give it a rejuvenated look.
1. Sage bath
Fresh sage leaves the skin soft, smooth, and hydrated when incorporated into your bath water.
Mix ¼ cup of oatmeal with ¼ cup of fresh sage leaves.
Wrap the mixture in a thin muslin cloth and tie it to secure.
Put this bath bag in your bath water. The water will take the fragrance of sage and turn cloudy.
Soak in it and enjoy your bath.
2. Sage body oil
Add 8–9 drops of 2% sage essential baby oil to 15 ml or 3 tablespoons of carrier oil.
Blend it thoroughly and massage it on your skin.
Repeat the process twice weekly for best results.
Side Effects of Using Sage Oil
Sage oil may be harmful to your hair and skin in high concentrations. Its thujone content is hazardous when isolated but does not pose a problem if the oil is used moderately.
Sage oil is a commonly used oil, and sage is one of the safe herbs among all herbs containing thujone. However, the active presence of thujone may cause skin sensitivity.
Sage oil should not be used topically or on the skin of individuals suffering from skin disorders because it can cause irritation.
In pregnant women, sage oil can lead to uterine contractions, and in breastfeeding women, it can reduce breast milk production, so women should avoid using it.
Note: Sage is a safe herb; however, excessive use can have negative effects on your skin and hair due to its high thujone content. (11)
General Queries Related to Sage Oil for Hair and Skin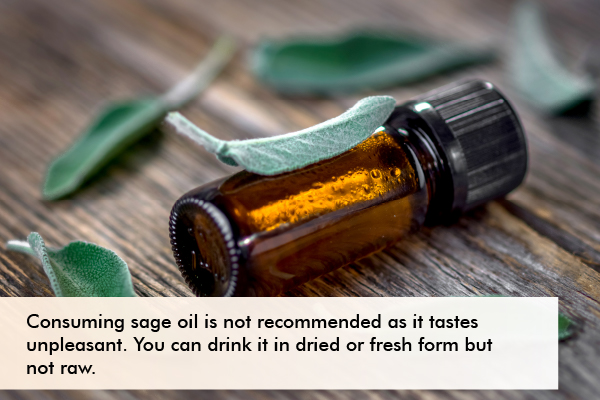 Is using too much sage unsafe?
Yes, sage contains thujone, which impacts the nervous system and can lead to restlessness, seizures, tremors, vertigo, and vomiting.
Can you orally consume sage oil?
Consuming sage oil is not recommended as it tastes unpleasant. You can drink it in dried or fresh form but not raw. The recommended dose of supplemental sage ranges from 280 mg to 1500 mg.
Sage leaves can be considered safe when used in recommended doses under the conditions of the European Pharmacopoeial monograph. However, due to the lack of safety data on children and adolescents, the use of sage leaves in children under 18 years of age is not recommended. (12)
What precautions should I take before using sage on my hair and skin?
When applied topically, the oil must be diluted with a carrier oil to avoid skin allergies, injuries, or rashes.
Final Word
Sage is a popular ingredient that prevents skin damage and boosts hair growth. It contains calcium, vitamin A, and other minerals that treat skin and hair problems. It has bioactive minerals and a lot of medicinal properties.
Use sage on your hair and skin in the ways mentioned above to see a marked improvement.