A lot of people buy hair care products to deal with hair fall and other hair-related problems. Everyone is searching for the best products to make their hair look healthy and shiny. Unfortunately, buying hair care products is not a piece of cake as using the wrong products can lead to hazardous results.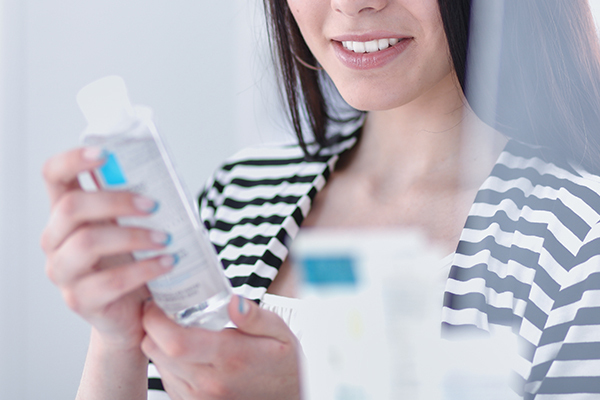 When buying a particular hair care product, you must remember your hair type. Each hair type needs specific hair products and care.
Sophisticated hair care products should be appropriately combined for the best results for facial skin and hair care. (1)
Tips to Remember When Purchasing Hair Care Products
Here are a few tips before buying any hair product to protect your hair from further damage.
1. Choose your hair product according to your hair type
When choosing hair products such as hair shampoo and hair conditioner for your hair, first consider your hair type, whether it is oily or dry. (2) While some people have fine and thin hair, others have thick and curly hair. (3) Thus, you should always check whether the hair product you're buying is for your hair type.
You don't need to apply many products to address your hair and scalp issues. Sometimes, using several hair products may cause harm to the hair and scalp. You must carefully choose only those products that best suit your hair condition and current needs – whether it's dry, oily, dyed, or thin and then whether you have straight, curly, or wavy hair.
If your hair problems persist, it is highly advised to consult a dermatologist.
2. Determine your scalp type
Scalp care is essential to prevent hair problems and scalp disorders. (4) The scalp has a high density of terminal hair growth, with various sebaceous glands contributing to a microenvironment different from that of the rest of the skin. Thus, hair care products must have active agents that reduce the number of microbes and help to minimize oxidative stress that can affect hair health. (5)
When buying shampoo and conditioner, consider the needs of your scalp, not just your hair. It is essential to nourish your scalp to get healthy hair in return. Thus, choose your shampoo and conditioner per your scalp condition.
Fortunately, the market is full of hair care products for oily, dry, and sensitive scalps. Medicated shampoos are best for people suffering from scalp problems such as seborrheic dermatitis, psoriasis, and bacterial or fungal infections. (6)
3. Examine the product label
It is recommended to read, review, and understand the ingredients used in making your hair care product. While buying your hair shampoo or conditioner, it is a matter of concern if you don't see water content mentioned on the label.
Many companies claim that their product contains safflower oil, wheatgrass, and jojoba oil, which improve the quality of hair and make it smooth and shiny. These claims could be very convincing for consumers to buy the product.
Unfortunately, other ingredients are usually also added to the product that decrease its quality and makes it less effective.
4. Buy natural hair care products
Many dangerous ingredients are lurking in your shampoo that can cause cancer, asthma, neurological disorders, skin irritation, and other health issues. Unfortunately, some toxic chemicals are allowed to be a component of shampoo in tiny amounts.
Watch out for these chemicals in shampoos and avoid them at all costs:
Sulfates
A common chemical used in making shampoos is sulfate. It is used as a detergent to wash out dust from the scalp.
However, this chemical can be very hazardous for some people, especially those with dry, curly, or frizzy hair. It can also increase the risks of premature hair graying and other hair-related problems.
Parabens
Parabens can cause scalp irritation such as dermatitis and rosacea; they can also result in allergic reactions in children. Most studies have revealed that parabens can even lead to eye damage and blindness in small kids.
For these reasons, baby shampoos are entirely paraben-free. This ingredient should also be avoided in shampoos used by adults too. (6)
5. Buy a straightener with titanium plates
If you're suffering from hair problems, using hair straighteners, curling irons, and electric warmers can cause even more damage to your hair due to the excessive heat. (7)
The wider the plates of your hair straightener, the lesser the hair damage out of the heat. If you possess curls that are pretty difficult to manage, you will need a hair straightener with wider plates, but if you have short and wavy hair, you can use a hair straightener with narrow plates as it will be easier to use comparatively.
There is an assortment of straighteners with different plates available on the market. Titanium plates are lightweight and durable, whereas ceramic-coated plates heat up quickly and thus can damage your hair at high temperatures. Opt for a straightener with titanium plates for the even transfer of heat and to prevent further damage.
6. Check your hair care routine
What is the frequency of washing your hair? Do you travel in the open air too often? You must ask yourself these questions to know what hair care products to buy for your hair.
For example, if you are buying shampoo or conditioner for a specific need, look for those that address the issue. When looking for a cleansing shampoo due to excessive buildup on the scalp, opt for hair care with a potent formulation; it may help to create a lather and clear all the dust and dirt collected over the scalp and strands.
When your hair gets too frizzy or dry after washing, use conditioner or hair serum to keep your hair smooth and more manageable.
Other Points to Consider
Among all the available hair relaxers, thioglycolate is one of the best options; it reduces protein loss to a minimum.
Hairdryers and flat irons should always be used with the utmost care possible to prevent damage to the scalp.
Hair stiffness is usually caused by topical lotions such as minoxidil, which can be lessened when applied to the scalp directly and used with a leave-on product with soluble silicones and vegetable oils.
When your hair feels dull with buildup on the scalp, a clarifying shampoo will help if used every 15 days. Clinicians must educate hair-transplant patients to follow a healthy hair care routine daily. (8)
What Changes Should Cosmetic Companies Bring in Their Products?
Cosmeceuticals are used repeatedly over a long period. These preparations must be used as drugs and cosmetics. Thus, there should be mandatory testing criteria for these preparations. The tests may vary depending on the type of chemical and ingredients the products contain.
1. Less use of chemical irritants
Irritant compounds can create an inflammatory response on the skin after contact for days or weeks.
2. Eye irritation testing
Although cosmeceutical products should not be directly applied to the eyes, accidental contact with shampoos, makeup products, and skin creams is relatively high. In addition, there is a risk of inflammation of the eyes when exposed to such irritants.
3. Controlled usage testing
Controlled usage testing offers more information than animal or patch testing. This method reveals the fabric's irritation potential, which indicates how the consumer uses the products. (9)
General Queries Related to Hair Care Products
Are there any harmful effects of using shampoos and conditioners?
Shampoos and conditioners may rarely cause allergic reactions. For example, it is known that pH levels higher than 5.5 irritate the scalp. Damage to the hair shaft occurs when improper shampoo is regularly used for a particular hair type and when a person doesn't use a conditioner to restore hair moisture.
When you experience skin irritation around the scalp when using a particular oil or shampoo, its use must be avoided entirely. (10)
How to buy safe and effective hair care products with the least toxicity?
Research hair care products and ingredients before using them. If the product label says that the hair care and styling products have harmful chemicals, then avoid purchasing them. Some chemicals are harmful to your health and even imitate human reproductive hormones and cause hazardous eye and skin irritation, allergies, and cancer.
Fortunately, there are a lot of natural and safe hair care products available that are suitable for each hair type. Thus, it is beneficial to read the label before buying them. You should choose hair products free from harmful chemicals such as parabens, formaldehyde, or strong fragrances.
What hair care product should I include in my hair care routine?
Your hair care routine must include the following:
● Microfiber towel
● A diffuser for curly hair
● Heat-protectant spray or cream
● Shampoo and conditioner based on your hair type (narrow your choices here)
● A good-quality hairdryer with adjustable heat settings
● Styling product (spray, gel, mousse, etc.)
Final Word
Hair products play a crucial role in everybody's life. Your hair is an essential part of your personality and self-image.
Hair cosmetics are evolving, and companies are rapidly making investments in using new components, molecules, and hair procedures. Dermatologists must provide information on new formulations, hair techniques, and any related adverse effects. This will help treat in the effective treatment of different hair or scalp conditions.