As the temperatures continue to plummet and cold winds blow, you can be sure that the texture and health of your skin and hair will be affected. To make matters worse, age-related dryness, dandruff, and chronic scalp issues also tend to escalate during winter.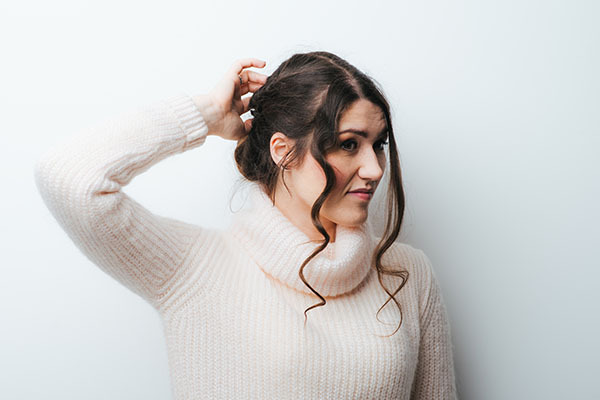 The good news is there are measures you can follow to safeguard your hair and scalp during the harsh winter.
Things to Apply to Hair During Winter
Dandruff is characterized by an itchy scalp and is a common occurrence during winter. (1) The best way to get rid of it is by using a moisturizing shampoo and conditioner to prevent its reoccurrence.
Also, don't leave your scalp damp for extended periods, and ensure you use the right hair care products for your hair type.
Here are some hair care tips for winter:
1. Apply hair oils
Here are some oils to hydrate your scalp and help promote scalp health:
Tea tree oil
Tea tree oil (2) moisturizes the scalp and works well to keep dandruff and dryness at bay during winter. Regularly oiling your hair helps restore sheen and nourishment to the hair and prevents itching caused by an abundance of the fungus Malassezia, which is responsible for dandruff.
If you plan to undergo any chemical treatment during winter, ensure that you take special care of your scalp; otherwise, you might invite problems.
If you already have chronic dandruff and use a medicated shampoo, leave it on the scalp for the prescribed time. Leaving it longer could be too harsh for your hair.
Coconut oil
Coconut oil is abundant in fatty acids, including myristic acid, capric acid, and lauric acid, and antioxidants such as tocopherol. These compounds help to strengthen, nourish, and boost hair health.
Coconut oil forms a coating over the hair shaft and seals the hair cuticle, trapping moisture. It penetrates and detangles the hair strands as well as smoothens and flattens the cuticle surface, improving hair quality. (3)
Coconut oil can also be used together with lemon juice to treat dandruff. Here's how you can do it:
Squeeze the juice of half a lemon and add it to ¼ cup of lukewarm coconut oil. Mix them well.
Apply the mixture to your hair.
Massage your scalp and leave it on for half an hour before washing your hair.
Repeat this remedy once a week for best results.
Castor oil
Castor oil replenishes the scalp and revitalizes hair growth. It has antibacterial, antifungal, and antiviral properties. The fatty acids in it have good penetration, nourish the hair follicle, and prevent the problem of an itchy scalp, dry hair, and hair breakage during winter.
A castor oil hair mask for dry hair is the best remedy during winter. (3)
2. Apply nourishing hair masks
Try these nourishing hair masks to help hydrate your hair and impart a shiny and smooth appearance.
Banana + avocado hair mask
This combination moisturizes the hair and makes your hair bouncy and less prone to fall. A banana-avocado hair mask improves your hair dramatically. It is loaded with vitamins and adds volume to the tresses. It helps in repairing dry and damaged hair due to UV rays. (4)
Banana contains fiber that strengthens the hair strands and enhances the hair's shine.
Avocado (5) regulates the water content of the hair and preserves the hair follicles. The nutrients available in avocado repair dry, damaged hair and maintain its appearance. The vitamin A in avocado repairs dry hair by increasing sebum production. The natural sebum moisturizes the hair and protects it from dryness.
Avocado also contains vitamin E, which is known for its moisturizing properties. It also replenishes the scalp and eliminates dryness in no time.
To make and apply a banana-avocado mask:
Mash half a ripe avocado to create a smooth paste.
Mash half a banana, add it to the avocado paste, and mix them well.
Apply the mixture to your hair and scalp. Massage them well.
Cover your hair with a shower cap for 30–40 minutes before washing it off with shampoo.
Apply the mask twice a week for best results.
Aloe vera gel hair mask
Aloe vera contains enzymes that repair damaged skin cells on the scalp. (6) The gel can be used as a conditioner.
Aloe vera gel can make your hair smooth, reduce hair loss, and protect the scalp against diseases. It also reduces dandruff, stimulates hair growth, and makes your tresses soft and silky. (6)
Research studies indicate that aloe vera moisturizes the hair, improves the skin's ability to hydrate, helps remove dead skin cells, and promotes the transportation of healthy substances in the skin. These factors make aloe vera an ideal ingredient for cosmetic and dermatological products. (6)
To make and apply the aloe vera gel hair mask:
Take out the gel from the leaves of aloe vera and blend it to create a smooth paste.
Add 2 tablespoons of water to make the gel easy to apply.
Apply the solution to your hair using a brush. Leave it on your hair for an hour.
Rinse it off with cold water.
Yogurt hair mask
Yogurt is rich in vitamins that help promote good hair growth. (7) It repairs dull and damaged hair. The lactic acid hydrates the hair, removes dead skin cells, and boosts hair growth.
Moreover, yogurt nourishes and strengthens the hair, thus adding shine to it.
To make and apply a yogurt hair mask:
Add 4 drops of lavender oil and 2 tablespoons of olive oil to 1 cup of yogurt. Mix them well.
Apply the paste to your scalp, starting from the hair's length, using a brush.
Put on a shower cap, and let the mask stay on your hair for 20 minutes.
Wash your hair with a mild shampoo and cold water.
3. Apply leave-in conditioner
Applying a leave-in conditioner is one of the essential steps of a healthy hair care regimen in winter as the hair gets drier during this time. It also prevents damage from hair care products.
To combat the dryness and make the strands manageable, a leave-in conditioner should be used after hair washing. This type of conditioner is applied after shampooing and conditioning; you don't need to wash them off.
The most beneficial conditioner for dry and damaged hair is a protein-enriched one. It minimizes hair breakage and has moisture-retention properties that enhance hair elasticity and remove hair tangles. It also protects the hair from damage. (8)
This conditioner is available in both rinse-out and leave-in preparations. Although protein conditioners strengthen the hair, it must be applied bimonthly only as overuse can lead to hair brittleness.
To make and apply a leave-in conditioner:
Add some dried tea leaves to a bowl.
Put in some water and brew it for a few minutes.
Strain the liquid out and store it in a spray bottle.
Spray the liquid on your hair after shampooing.
This liquid adds shine, softens, and conditions the hair to give it a smooth look.
4. Choose oil-based products
Switch to oil-based products and discard heavy creams and other hairstyling products. Natural argan oil and coconut oil hydrate and nourish the hair, thus giving your hair a rejuvenated look during the winter.
5. Cover your hair
Protect your hair when stepping out by covering it with a silk/satin scarf or hat, which will lock the moisture in the tresses and make it less prone to hair breakage. Don't use a woolen cap, as it will aggravate hair breakage.
The best way to tame frizzy and dry hair (9) during winter is to tie it in a loose ponytail.
General Queries Related to Winter Hair Care Routine
Does winter damage hair?
The harsh cold weather brings a lot of hair problems such as frizzy and flat hair because humid air creates weak hydrogen bonds between the water molecules and hair strands, causing hair problems.
The more porous the hair strands, the more moisture it absorbs, and as a result, you are left with rough, lifted hair cuticles. (10)
Should I use a leave-in conditioner daily?
You should use a leave-in conditioner 1–2 times a week only. It is not advisable to use it daily because it can create product buildup and lead to issues such as an oily scalp and hair loss. Stick to using it only after shampooing the hair.
Final Word
Winter weather harshly affects hair texture; similar to the skin, the hair also needs protection from the cold to stay soft and healthy. You can protect your tresses by following the above hair care remedies.
References

Ranganathan S, Mukhopadhyay T. Dandruff: The most commercially exploited skin disease. Indian journal of dermatology. https://www.ncbi.nlm.nih.gov/pmc/articles/PMC2887514/. Published 2010.
A; PNYRBNK. A review of applications of Tea Tree Oil in dermatology. International journal of dermatology. https://pubmed.ncbi.nlm.nih.gov/22998411/.
Mysore V, Arghya A. Hair oils: Indigenous knowledge revisited. International journal of trichology. https://www.ncbi.nlm.nih.gov/pmc/articles/PMC9231528/. Published 2022.
Journal of Pharmacognosy and Phytochemistry. https://www.phytojournal.com/vol1Issue3/Issue_sept_2012/9.1.pdf.
Bhuyan DJ, Alsherbiny MA, Perera S, et al. The odyssey of bioactive compounds in avocado (persea americana) and their health benefits. Antioxidants (Basel, Switzerland). https://www.ncbi.nlm.nih.gov/pmc/articles/PMC6826385/. Published September 24, 2019.
Kumar KPS, Bhowmik D, Chiranjib, Biswajit. Aloe vera: A potential herb and its medicinal importance. Journal of Chemical and Pharmaceutical Research. https://www.jocpr.com/articles/aloe-vera–a-potential-herb-and-its-medicinal-importance.html. Published January 30, 2010.
Review on hair problem and its solution – researchgate.net. https://www.researchgate.net/publication/342174156/.
Safe hair care spares hair, Johns Hopkins dermatologists report – 11/28/2016. Johns Hopkins Medicine, based in Baltimore, Maryland. https://www.hopkinsmedicine.org/news/media/releases/safe_hair_care_spares_hair_johns_hopkins_dermatologists_report.
Author links open overlay panelRodney D.Sinclair1PersonEnvelope, D.Sinclair1PersonEnvelope R, 1, Shiny hair with a smooth texture and clean-cut ends or tapered tips is generally perceived to be healthy. Hair texture and shine relate to hair surface properties. Healthy hair: What is it? Journal of Investigative Dermatology Symposium Proceedings. https://www.sciencedirect.com/science/article/pii/S0022202X15526559. Published December 16, 2015.
T; G. Evaluation of hair humidity resistance/moisturization from hair elasticity. Journal of cosmetic science. https://pubmed.ncbi.nlm.nih.gov/17728940/.