As cold winds blow and pollution levels rise in the winter season, your skin and hair start to lose moisture and become parched. (1) Some of the common signs of winter skin and hair are chapped lips, dandruff, dry and flaky skin, and lifeless hair.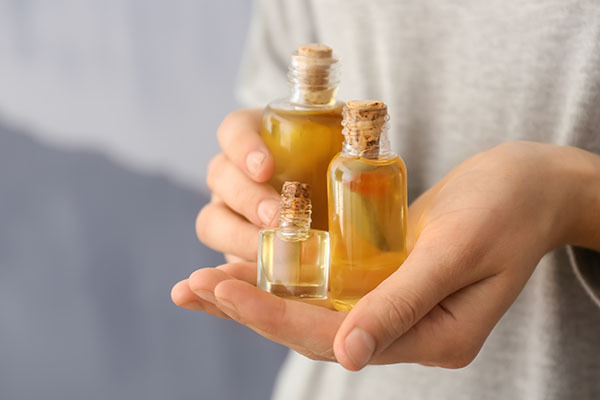 Dry skin and dry hair are problems you will face during the cold season. (2) Using herbal oils will help keep you in the pink of health.
Keep reading to know which oils you need to use for your skin and hair type.
How Does Oil Protect the Hair and Skin During Winter?
Oil protects the skin and hair by entering the skin forming a resilient layer called a lipid barrier which provides a barrier against the movement of water and electrolytes as well as a barrier against microorganism invasion. Suitable oils nourish the skin and make it smooth, moisturized, and radiant. (3)
Oils have been used on the scalp with the belief that it prevents hair loss, makes the hair shine, increases hair thickness, and prevents premature hair graying.
Hair oiling includes combing the hair and oiling it from the roots to tips, often followed by making a hair braid and leaving it on for minimum 1–2 hours before shampooing your hair. (4)
Best Oils to Hydrate the Hair and Skin in Winter
These nourishing oils are incredible and protect your hair from damage during the winter season.
1. Coconut oil
The prominent fatty acids in coconut oil are myristic acid, capric acid, lauric acid, and monolaurin. It also contains phenolic acids and antioxidants such as tocopherol which helps in preventing hair fall caused due to oxidative stress and also traps the moisture inside thus helping in providing a soft and shiny coat to your hair. (4)
Coconut oil offers enormous health benefits to the skin. It is recommended by beauty experts and dermatologists worldwide. It is one of the best natural moisturizers and readily penetrates the skin and its deeper layers, making the skin hydrated and smooth for a long time.
Extra virgin coconut oil is rich in antioxidants that relieve skin inflammation and rashes and help treat wounds and other skin disorders.
Coconut oil strengthens the hair, encourages growth, and removes sebum buildup, which restricts hair growth and causes hair fall.
Virgin cold-pressed coconut oil must be used when you want to give your mane a shiny look. (4)
2. Almond oil
Almond oil contains linolenic acid, stearic acid, and palmitic acid. It is also abundant in vitamin E.
Almond oil is replete with fatty acids that bond the hair, protect it against the harsh UV rays, and prevent structural hair damage.
Its emollient property nourishes and moisturizes dull hair.
It improves hair elasticity and bridges the gap between the cuticle cells, thus protecting the hair.
It has no impact on protein loss and does not enter the hair shaft. (4)
Almond oil possesses several properties including anti-inflammatory, immunity building, and antihepatotoxicity.
Almond oil is an Ayurvedic medicine for skin disorders such as psoriasis and eczema. Anecdotal and clinical evidence has shown that almond oil reduces hypertrophic scarring and smoothens and replenishes the skin.
Almond oil has emollient and sclerosant properties; therefore, it lightens the skin tone and gives it a radiant appeal. (5)
3. Olive oil
Olive oil, when mixed with water, removes impurities. Hence, many cosmetic and skin care products have it as a significant ingredient.
Its main component is olein, sterols, carotenoids, triterpenic oils, and phenolic compounds. It is packed with antioxidants, flavonoids, and lignans which are known to provide moisture and help in preventing hair fall caused due to oxidative stress. (6)
The emollient function of olive oil seals the hair cuticle and traps the moisture inside it; however, coconut oil still takes the trophy for being super penetrative.
Olive oil protects your hair and skin against harmful UVB rays. Recent studies showed that hydroxytyrosol, one of the polyphenolic components in olive oil, combats the cell damage induced by UVA.
Olive oil inhibits Microsporum gypsum, Trichophyton, and other strains of fungi and thus may be helpful in getting rid of dandruff, which worsens during winter due to dry scalp. Hence, olive oil helps in moisturizing your scalp and hair as well as getting rid of dandruff. (4)
4. Argan oil
Argan oil contains many nutrients including fatty acids such as omega-3, omega-6, and omega-9, vitamin E, squalene, and other antioxidants and offers a slew of benefits to the hair. Vitamin E nourishes, renews, and refreshes the skin. Squalene is an antioxidant present in argan oil that prevents dryness and improves the skin's health by balancing sebum secretion.
Argan oil strengthens the hair filaments and adds shine to dull hair. Daily topical application of this oil improves skin elasticity, hydrates and protects the skin, and maintains the skin's water-holding capacity. (3)
Moreover, argan oil offers anti-inflammatory effects, which are beneficial for those suffering from dandruff and flakes. This oil does not clog pores that lead to damaged hair follicles. (7)
The vitamin E and fatty acids in the hair and scalp protect the hair from heat damage caused by hair styling products and tools.
Argan oil is rich in fatty acids and helps to maintain shine and luster without causing hair buildup.
Putting argan oil on the hair ends reduces the split ends.
The phenols in the argan oil stimulate the scalp and promote hair growth, and massaging the hair with this oil for several minutes will stimulate blood flow and open the pores.
Argan oil hydrates the skin due to high quantities of vitamin E. Vitamin E act as a skin barrier and retains its hydration level.
Hyperpigmentation or brown spots are caused by hormones and are symptoms of aging, or they could be due to sun exposure. Argan oil improves and brightens the skin and has tocopherols (vitamin E compounds) that inhibit the excessive production of pigments and reduce scars and melasma.
5. Avocado oil
One of the finest oils for hair and skin is avocado oil. The oil is extracted from the fruit pulp of avocado, which is rich in linoleic acid (6.1%–22.9%), linolenic acid (0.4%–4.0%), and oleic acid (31.8%–69.6%).
Avocado oil contains β-sitosterol, β-carotene, minerals, lecithin, and vitamins A, D, C and E. It nourished and smoothens dry and damaged skin.
Topical application of avocado oil on rats resulted in increased collagen and reduced inflammatory cells. (3)
Avocado oil strengthens the hair shaft, protects it by providing inner strength thereby preventing damage, and makes the hair flexible. It deeply moisturizes the scalp but does not clog the pores, so the hair does not look greasy and dirty.
Its UV absorption properties protect the hair from UV damage. That's an additional benefit if you have colored hair and want to keep it from fading.
Its protective qualities protect the hair strands if you use hot tools such as a blow-dryer and iron or undergo hair treatments.
How to Apply Oil to Your Hair
Apply a few drops of oil on your scalp at bedtime, massage your head for 10 minutes, and leave the oil overnight. Shampoo your hair the next day.
You can mix argan oil, coconut oil, olive oil, and other essential oils to reap the hair benefits of these ingredients. Massage this oil blend on your hair.
How to Use Oils on the Skin
You can create an oil mask by blending 3 tablespoons of yogurt and a few drops of argan oil. Apply the mixture to your face, and wash it off after 10 minutes.
Make an oil mask by blending 3 tablespoons of aloe vera, and a few drops of olive oil. Apply the pack on your face overnight and rinse your face the following day.
Which Oil to Use According to Skin Type
Normal skin
Coconut oil is highly beneficial and has versatile properties. It works best for normal skin as it enters deep into the skin layers to make your skin shine.
In addition, you can blend coconut oil with other hair oils to address skin concerns.
Dry skin
Olive oil has many health benefits and is suitable for dry skin. It is known for its nourishing and age-defying properties. It corrects skin disorders related to dry skin, such as eczema, psoriasis, and rosacea.
Oily skin
Sweet almond oil is hypoallergic and contains emollient properties and fatty acids that remove oily skin problems. It eliminates excess sebum, does not clog pores, and prevents sudden breakouts.
This oil has hyperpigmentation-lightening properties that reduce under-eye circles. (8)
Sensitive skin
Sesame seed oil detoxifies the skin and has antibacterial and antifungal properties, making it perfect for sensitive skin. The thick oil has potent antiaging properties that fight fine lines and wrinkles on the skin. (3)
General Queries Related to Oils for Hair and Skin During Winter
Can I keep almond oil on my face overnight?
Applying almond oil on the face and leaving it on for 30 minutes is fine; beyond that is not recommended.
Can I use almond oil on my body and leave it overnight?
Yes, your skin will soak in the almond oil, making it smooth.
How does winter impact my skin?
When it is summer, you sweat; when it is cold, the dry and harsh winds blow, and your skin produces protective oil in the T-zone.
The T-zone is the forehead, nose, and chin, where there are abundant sebaceous glands that secrete oil, thus making your face shine. The combination of dry, dead, and too much oil and inflammation caused by air clogs the pores. Blocked pores can lead to blackheads, whiteheads, and pimples.
Can I use castor oil on my skin and hair?
Castor oil can make the skin soft and nourished and make dry, frizzy hair strands look smooth. (9) However, there is little research available on castor oil.
Final Word
Winter blues are hard to beat, and skin and hair problems worsen when there are cold winds, leading to skin dryness, flaky and rough hair, and dandruff. Use the oils mentioned in this article to keep your skin and hair healthy during the winter season.