Strong and healthy hair is a universal desire, but factors such as pollution, poor hair hygiene, and aging can negatively impact and weaken the hair. Hair is said to be healthy when it grows well in strength and diameter. (1)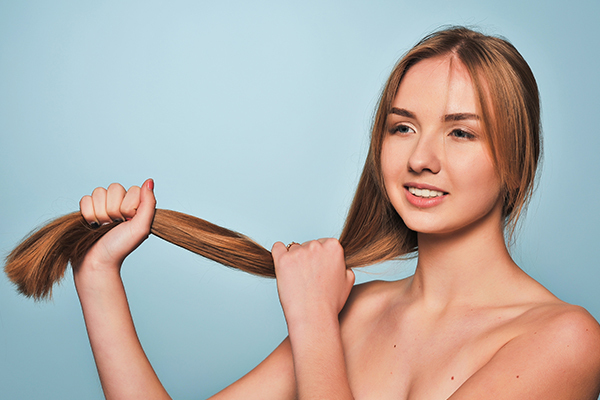 While it's common to experience shedding of around 100 strands a day, weak hair and excessive hair loss are a matter of concern. (2) The reasons behind your weakening hair and fall should be identified and rectified using effective hair care products. (1)
Using natural hair care products can help avoid or minimize hair damage caused by harmful chemicals. It is well accepted that you can restore your hair's lost strength by oiling the hair and following a nutritious diet. Adequate vitamins and proteins must be included in the daily diet to have strong hair. (3)
Ways to Regain Hair Strength
Here are some proven ways to restore your hair strength.
1. Follow a nutritious diet full of vitamins and minerals
Micronutrients such as vitamins and minerals are essential for normal follicle development and improved cell function. Micronutrients can be a variable risk factor linked with the prevention and treatment of alopecia.
Zinc plays a vital role in regulating dihydrotestosterone (DHT), a hormone that can cause hair fall. A decline in zinc levels can lead to an increase in DHT levels, resulting in hair fall. Consume foods rich in zinc, such as sesame seeds and nuts.
Iron is essential for hair growth. A deficiency of iron can result in anemia. Low levels of iron can hinder the growth of hair follicles and, thus, the growth cycle of hair, leading to weak and falling hair. Some foods rich in iron are spinach, lentils, and green vegetables.
Vitamin B complex includes eight water-soluble vitamins, but only deficiencies in biotin, riboflavin, folate, and vitamin B12 result in hair fall.
Vitamin C, due to its chelating and reducing effects, plays a vital role in intestinal absorption and iron mobilization. Thus, if you are experiencing hair breakage and loss, you should have more vitamin C in your diet.
Vitamin E is involved in balancing oxidants and antioxidants and thus helps in protecting against free-radical damage. (3)
2. Consume protein-rich foods
Hair needs sufficient protein to stay healthy and robust, especially the hair roots, where a constant supply of dietary protein through the scalp is unavailable.
Thankfully, the hair is porous, and its cellular structure can absorb extra proteins from hair products without any issues. This is why you should have hair keratin treatments to provide more proteins to your strands. (4)
3. Perform regular oiling and scalp massage
Oil provides emollient effects on the scalp and hair. Coconut oil is the most popular ingredient for improving scalp health and hair growth. It contains lauric acid for moisturizing the skin and repairing hair damage, directly or indirectly. (5)
A scalp massage helps in promoting hair growth and strengthens your strands. Applying pressure to the scalp using your fingers increases blood circulation to the hair follicles, rejuvenates hair roots, and conditions the scalp. Hair follicles are made from hyperactive stem cells; thus, when oxygen-rich blood is supplied, good hair growth occurs.
Moreover, massaging the scalp enlarges the small arteries in the scalp, increasing blood flow to the hair follicles. It also improves hair texture by making it thick and strong with time. (6)
4. Apply natural hair masks and conditioners
Disproportions in the bio-energies in your body can alter your hair's appearance and strength. Herbal hair masks are specifically designed to include natural ingredients that suit all hair types.
Oils or oil mixes are widely used natural hair care products that are applied to the scalp.
Olive oil is used in most herbal hair care products not only as a carrier but also because of its soothing effect and high nutritional value. It helps to improve hair strength. (7)
A combination of avocado and olive oil in a hair mask is ideal for hair strengthening. Avocados contain minerals that can seal the cuticle and are rich in proteins and vitamins for smooth and nourished hair. At the same time, olive oil adds shine and smoothness to the hair. (8)
How to use:
Take half an avocado and ½ cup of olive oil. Mix them in a bowl.
Apply the mixture to your hair.
Leave it on for half an hour to get good results.
5. Do a deep-conditioning treatment
Deep conditioning provides the needed nutrients that repair damaged hair cuticles. It nourishes and strengthens dry, brittle, and broken hair. It helps lock the moisture inside and re-establish the lipid (sebum) barrier in your hair shaft. It results in improved hair elasticity and shine.
Deep conditioning helps to keep your hair untangled for several days. If you live in humid conditions and suffer from hair frizziness, deep conditioning can help to a great extent. After a few deep-conditioning treatments, you will notice improved hair texture, smoothness, and shine.
Reasons for Hair Weakening
Here are the potential reasons for hair weakening.
1. Hormonal imbalance
Women usually experience hair shedding while facing menopause, pregnancy, and menstruation. In these periods, rapid hormone changes are expected in a woman's body that can result in hair fall. (9)
2. Aging
Several hair fall issues occur due to aging, such as androgenic alopecia, male-pattern baldness, and female-pattern baldness. (10)
3. Scalp infections
Scalp infections can lead to itchiness, dryness, and redness over the scalp, thus damaging the hair follicles. (11)
4. Medical conditions
Medical conditions such as thyroid disorders, polycystic ovarian disease (PCOD), and cancer can cause permanent or temporary hair loss. (12)
5. Nutritionally deficient diet
A diet that lacks sufficient vitamins and minerals can compromise the hair roots and thus restrict hair growth. (13)
6. Stress
A psoriasis flare-up can cause physical and emotional trauma that decreases hair strength, causing hair loss. (14)
General Queries Related to Regaining Hair Strength
Will home remedies increase hair strength?
Yes, home remedies are one of the best ways to hair strengthening. In many places, herbal oils and medications are used to deal with scalp and hair issues. However, there is a need for more scientific research on these natural hair treatments, and significant sources of information are only from social media, the Internet, family, and friends.
Moreover, these homemade remedies and their ingredients, unfortunately, don't come under government regulation, so their purity is a significant concern.
Can you regain hair strength with a healthy diet?
Yes, you can regain hair strength by eating a healthy diet daily. An inadequate diet can also be a reason for losing hair. You can face a few hair-related issues when you are not getting enough nutrients from your food.
The good news is you can improve your hair strength by changing your diet to a healthy one.
Can hair grow again after falling out from its roots?
Yes, your hair will regrow after falling out. Dormant hair usually falls out in 2–3 months, and the hair follicle regenerates new hair.
Hair shedding differs from hair loss because the follicles are in the dormant phase. You can lose around 100–150 hairs daily, and all the fallen hair doesn't grow back simultaneously. Hair follicles take a break and regrow; meanwhile, other hair grows.
Final Word
Hair weakening is not the only reason for hair fall or hair loss. There can be numerous reasons for losing hair strength.
You can regain hair strength with vitamins, masks, massages, and natural hair care products. Additionally, it is essential to avoid using harsh chemical and heat styling treatments during the process.