Has your hair started to look thinner and fall out more than before? Thyroid problems can be the cause.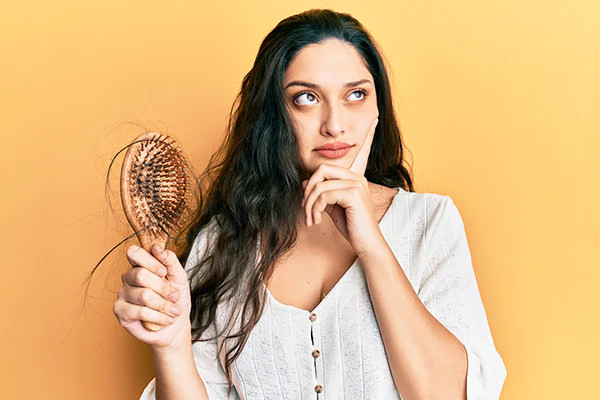 It's common to experience hair loss at some point in your life due to various factors including alopecia, vitamin deficiency, stress, and aging.
But nowadays, more people are shedding their tresses due to a malfunctioning thyroid.
How Does Thyroid Problems Cause Hair Loss?
While the thyroid gland may appear to be located in a different zone from your hair, they are more connected than you could imagine. For example, the thyroid handles metabolism throughout the body, including supporting the hair follicles.
Some of the causes of hair loss have been found to be endocrine disorders. (1) Both hyperthyroidism and hypothyroidism can be the reasons behind hair loss but manifest different balding patterns.
In the case of hyperthyroidism, the hair becomes extremely fine and thin. But with hypothyroidism, hair loss occurs in other parts of your body; a prime example is outside of the eyebrows.
Sometimes, the treatment for thyroid dysfunction may also be the reason for hair loss. (2)
In one study, 1,232 patients who attended a clinic from December 2007 to December 2009 with complaints of hair loss from all parts of the body were classified into various categories of alopecia, including androgenetic alopecia, decreased facial hair (mustache and beard), decreased body hair, and alopecia totalis.
The relationship with thyroid disorder was researched, and the patients were evaluated using two tests, namely, the thyroid-stimulating hormone (TSH) test and autoantibodies to thyroid peroxidase (TPOAb) test. With increased age, the association between thyroid dysfunction and alopecia also increased, which was observed in various types of alopecia.
Remedies to Reverse Hair Loss Due to Thyroid Problems
The best way to stop and reverse hair loss due to thyroid problems is by working with your doctor and taking the prescribed medications, such as levothyroxine, for the treatment of hypothyroidism or hyperthyroidism.
You will need to monitor your thyroid performance regularly, and once it is normal, you can see changes in your hair with regrowth in some months' time.
Here are some steps to take to reverse hair loss due to thyroid problems:
1. Monitor your iron and nutrient levels
When you have a malfunctioning thyroid, your body cannot efficiently utilize the nutrients essential for healthy hair growth, including iron, zinc, vitamin B12, selenium, lysine, and biotin.
You must visit your doctor, who will conduct the necessary tests to check any deficiencies and prescribe nutritional supplements for replenishment for accelerated hair regrowth.
2. Reconsider your antithyroid treatment
Antithyroid drugs such as carbimazole and propylthiouracil have been found to be the cause behind diffuse hair loss in some cases.
In some cases, it is difficult to say if the hair loss is due to the formerly hyperactive nature of the thyroid gland or due to the use of antithyroid drugs. Unfortunately, it is hard to find another type of treatment for hyperthyroidism. (2)
3. Work on your stress
It would help if you regulated your stress levels as it could be one of the reasons behind the changes in the levels of your cortisol hormone. Cortisol has a relation to fluctuating thyroid levels and is also one of the causes of hair loss. (3)
4. Consume a balanced diet
A balanced diet is highly beneficial in recovering from a dysfunctional metabolism.
Eat nutritious and whole foods, and stay away from junk food that includes processed food items. Include lots of fresh fruits, green leafy vegetables, protein, and calcium in your diet. (4)
5. Stay away from harsh hair treatments
If you're diagnosed with thyroid problems and have hair loss, steer clear of using hair straighteners, curlers, and hot tools as these hair treatments can damage the hair cuticles.
Use mild shampoos and conditioners when washing your hair and comb it gently. Using an onion-based shampoo has been known to benefit hair growth as it is rich in sulfur, which helps in the regeneration of hair follicles.
6. Exercise regularly and keep fit
While battling poor metabolism in the body, it is vital to have a healthy lifestyle to restore hair loss.
Exercising every day will boost blood supply to all parts of the body, including the scalp, and will result in the reversal of hair loss. (5)
Keeping fit will also boost your self-confidence.
The Thyroid Gland
Your thyroid gland has the shape of a butterfly and is located in the neck near your trachea. (6) It may look small, but it performs critical functions in your body.
For instance, it produces the hormones thyroxine (T4) and triiodothyronine (T3), which regulate metabolism by converting food into energy. These hormones are secreted directly into the blood to help the body cells function well. (6)
Essential Functions of Thyroid Hormones
Thyroid hormones play the following important roles:
Support brain development
Regulate the heart and muscles
Maintain bone health
Support digestive function
When the thyroid gland is inactive or underactive, fluctuations and imbalances in thyroid hormones occur, which have a terrible impact on your hair growth and overall health.
Types of Thyroid Problems
There are different types of thyroid diseases, namely, hyperthyroidism, hypothyroidism, thyroid cancer, goiter, and Hashimoto's thyroiditis. (7) But the most common ones are hyperthyroidism and hypothyroidism.
Hyperthyroidism occurs when the body produces too much thyroid hormones. Some of the symptoms of hyperthyroidism are:
Unexplained weight loss
Anxiety
Irregular heartbeat
Sweating
Skipped menstrual cycles
Hypothyroidism develops when the body does not produce enough thyroid hormones. It is characterized by a range of symptoms including:
Unexplained weight gain
Depression
Chronic fatigue
Joint pain
Heavy menstrual cycles
General Queries Related to Thyroid Hair Loss
What are some of the warning signs of thyroid problems?
The seven early warning signs of thyroid issues are fatigue, weight gain, weight loss, slowed heart rate, increased heart rate, sensitivity to heat, and sensitivity to cold.
Can hair loss due to thyroid disease be reversed?
Most people feel that they will lose all their hair due to a thyroid problem, but the fact is that hair loss caused by thyroid disorders is temporary and can be reversed by working with your doctor and undergoing the proper treatment.
Which type of thyroid problem causes hair loss?
Chronic and prolonged hypothyroidism and hyperthyroidism result in hair loss that includes the entire scalp area.
Final Word
If you're diagnosed with a thyroid disorder and experiencing hair loss, don't fret because you can regain your hair by using thyroid medication and staying stress-free.
Staying active and having a balanced diet can also greatly help you experience good hair days again.