Hair loss is a frequently misunderstood term in the lives of patients and medical practitioners and tremendously affects the patients' quality of life. (1) As a result, they experience immense anxiety and depression in comparison with ordinary people.
Hair loss is of two categories: scarring and nonscarring conditions.
In non-scarring alopecia, the hair follicles are not destroyed but are present, and the hair can still regrow in the future. But in the case of scarring alopecia, the hair follicles are destroyed because of the destruction of the stem cells near the outer root sheath. It is replaced with scar tissue, which leads to permanent loss of hair.
Healthy men and women usually have about 80,000 to 120,000 hair strands on their scalp. The hair is made up of keratin, which is produced in the follicles.
"Hair loss" refers to a situation with either increased hair fall (effluvium) or visible bald patches (alopecia). It is normal to have a hair fall of 100 a day; however, if too many hair strands fall, you need to consult a physician. (2)
Hair loss that can't be stopped can be a stressful experience for anyone, and it needs to be evaluated by a physician or dermatologist to be successfully treated.
7 Types of Hair Loss That Are Difficult to Control
Here are the different types of hair loss that are hard to control:
1. Alopecia areata
Alopecia areata is a hair condition where the hair starts falling out suddenly, and it affects both men and women. In this condition, the body's immune system attacks the hair follicles and other body parts. Hair may fall not only from the scalp but also from the eyebrows and eyelashes.
Anybody diagnosed with alopecia areata must visit a doctor who can treat it with medication to help the hair grow again.
Doctors typically treat patchy alopecia areata with 5–10 mg of triamcinolone acetonide injection administered every 2 – 6 weeks, which induces hair regrowth in 60% of cases. Potent topical glucocorticoids are also frequently used to treat alopecia areata.
Moreover, contact immunotherapy has a higher success rate, as high as 74.6%, for patients with alopecia areata. (3)
2. Androgenetic alopecia
Androgenetic alopecia is commonly known as male- or female-pattern baldness. This is caused by genetics in both genders. In males, it is characterized by losing hair from the crown and temples of the head, whereas in females, the hair tends to be sparse at the central partition line.
Androgenetic alopecia gets more evident as you age and usually begins after puberty. In women, androgenetic alopecia develops after they enter menopause, suggesting that hormones play a role.
This condition can be treated with minoxidil, a medication for hair growth. (4)
3. Telogen effluvium
Telogen effluvium is a nonscarring and non-inflammatory type of alopecia that is triggered by physiological or emotional-related stress. Fortunately, when the cause is addressed, the hair grows back.
Patients with this type of hair loss have diffuse and acute hair fall. Telogen effluvium is a reaction of the body triggered by metabolic stress, fluctuations in hormones, or medications.
Other factors that can trigger the onslaught of telogen effluvium are:
Acute febrile illness
Severe infection in the body
Major surgery
Severe trauma
Postpartum hormonal changes
Decrease in estrogen
Not taking estrogen-containing medicines (5)
If this condition occurs due to a hormonal or diet-related imbalance or metabolic illness, these factors must be addressed to help the hair regrow. If taking a particular medication is causing it, then stopping that medicine will help hair regrowth.
Topical minoxidil is a proven way to help hair regrow in telogen effluvium, and if the patient wishes to use it, the doctor usually gives the go signal. (5)
4. Trichotillomania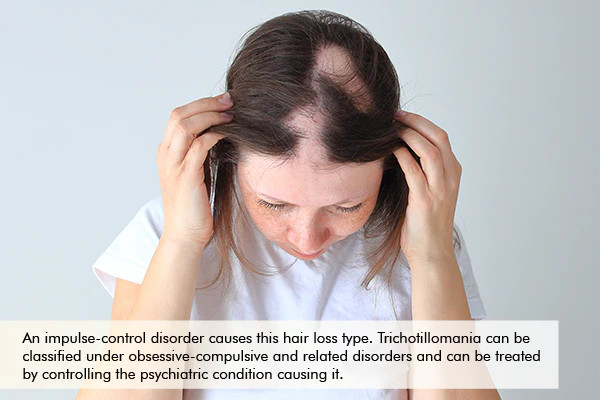 An impulse-control disorder causes this type of hair loss, and it is treated by controlling the psychiatric condition causing it.
Trichotillomania is classified under the category of obsessive-compulsive and related disorders. Although it is hard to find the cause of this hair loss, it has been observed that obsessive-compulsive disorder and psychiatric conditions are usually present.
Managing trichotillomania in school-going children is done by gently reminding them to avoid behaviors similar to thumb sucking. In teens and pre-adolescents, this hair loss often presents with psychiatric problems and needs a psychiatric evaluation.
Behavior therapy with a skilled therapist can help bring improvement in school children and adolescents suffering from this disorder. The therapy includes positive reinforcement, reversal of habits training, and self-monitoring.
N-acetylcysteine is also a promising remedy for trichotillomania in adults, as studies indicate, but no benefit was observed in school-going children. (6)
5. Trichorrhexis nodosa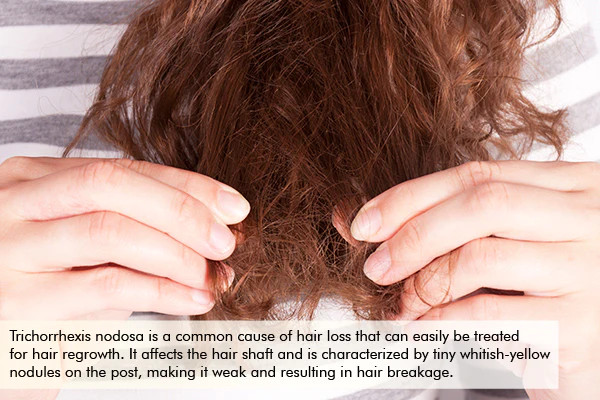 Trichorrhexis nodosa is a commonly occurring cause of hair loss that can easily be treated for hair regrowth to happen. This condition affects the hair shaft and is characterized by tiny whitish-yellow nodules on the shaft, making the hair weak and resulting in hair breakage. (7)
Trichorrhexis nodosa can be due to genetic factors, and the condition is evident within the very first year of the baby's birth.
Another culprit is the acquired type caused by physical and chemical stress on the hair. Examples include damage to the hair shaft due to excessive combing of the hair, perming, and hair straightening, using hot tools to style the hair, exposure to the sun's UV radiation, excessive use of shampoo and hair sprays, and hair bleaching, which make the hair shaft susceptible to this disorder.
The treatment for trichorrhexis nodosa depends on its type. For acquired cases, the patient needs to remove the causes of physical trauma to the hair shaft. If underlying diseases accompany this type of hair loss, they should be treated to reverse the hair loss.
Moreover, patients should keep their hair well hydrated and use conditioner after shampooing.
6. Anagen effluvium
Anagen effluvium is common during chemotherapy, wherein the patient loses hair on the scalp, eyebrows, eyelashes, and other body parts as a side effect of the treatment. It is a very challenging phase for the patient.
Anagen effluvium happens during the growing phase of hair or after an event that harms the metabolic activity of the hair follicles. (8)
Some of the reasons causing it are:
Chemotherapy
Radiation
Toxic chemicals
Alopecia areata
Anagen effluvium is a reversible type of hair loss, and regrowth usually happens after a gap of one to three months. But sometimes, it may lead to permanent alopecia, which can affect the person psychologically and give them body image issues.
Patients may give up on the ongoing treatment for their condition (such as cancer), so a psychosomatic approach with empathy by the healthcare team can help manage this hair loss problem.
7. Traction alopecia
Traction alopecia is a type of hair loss in people with hairstyles that involve continuous pulling on their hair roots. It is popular among women of African descent with tight curls and spiral hair. It is a nonscarring type of alopecia and can be prevented.
Chronic traction alopecia can affect the dermal papilla, which leads to the destruction of the hair follicles. Its treatment is based on factors such as the intensity of the disease and whether it is a permanent type of alopecia.
The stage of the disease decides the treatment, which is divided into three phases: prevention, early traction alopecia, and longstanding traction alopecia.
Prevention stage – In this stage, the parents of the children, teens, and young adults are educated about preventing this hair loss problem as, during this stage, the hair follicles are most vulnerable.
Early traction alopecia – In this stage, where the hair follicles are intact, the physician aims to reduce hair tension by advising the patients not to practice hairstyles that cause hair tightness such as cornrows, braids, dreadlocks, and weaves. There should be a complete stop to using hot tools and chemical treatments on the scalp and affected hair. If there is inflammation, the patients are recommended topical or intralesional corticosteroids to soothe it. For pustules formed on the head, oral or topical antibiotics are prescribed.
Longstanding traction alopecia – In this stage, the patients may have to be treated with surgical options, such as hair transplants using micrografting, minigrafting, and follicular unit transplantation. Topical phenylephrine is an effective medication for traction alopecia as it reduced hair loss in one study. (9)
Final Word
Hair loss can be a grueling experience for most people as it affects the mind and body in many damaging ways.
While nonscarring alopecia can be treated with medication and hair regrowth usually happens after some time, scarring alopecia, on the other hand, can be a permanent hair loss and needs surgical intervention such as hair transplantation to treat the condition and restore the patient's confidence and self-esteem.