Your hair is much more than a symbol of your fertility and is a big part of who you are. It is a deeply personal characteristic, and any changes in your hair can drive you to agree to cutting, straightening, curling, or bleaching it.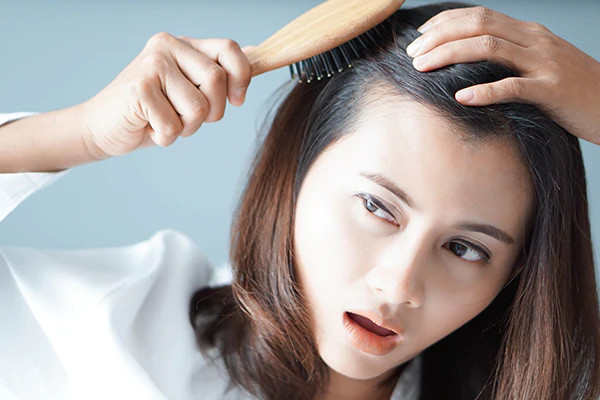 Thinning hair is frustrating for any man or woman to deal with, and the factors behind it can range from aging, thyroid disorders, and vitamin deficiency to hormonal imbalances.
Your hair cycle, along with the structure of the hair follicles, is influenced by different types of hormones, including androgens (testosterone and dihydrotestosterone (DHT)), and their prohormones, including androstenedione and dehydroepiandrosterone sulfate (DHEAS). (1)
The roles of other hormones, such as estradiol, estrogen, progesterone, and prolactin, on the hair are also under study.
Which Hormones Are to Blame for Hair Loss?
Hormones are defined as chemical messengers that are produced by endocrine glands and released into the blood. They play pivotal roles in maintaining most of the body's metabolic functions.
Any abnormality in their levels affects the metabolic process of the body. (1)
Here is a list of the hormones that are responsible for hair loss in men and women:
1. Androgen
Testosterone, DHT, androstenedione, androstenediol, and DHEAS make up a group of male sex hormones called androgens. They are usually found in higher quantities in males and are responsible for male characteristics such as facial and body hair.
An increase in DHT levels has been found to cause the lessening of hair follicles, leading to hair fall and balding. It is among the main reasons for androgenic alopecia, which affects men and women differently.
In males, hair loss can be seen as a bald patch, but in women, it is hair thinning at the crown and top of the head.
2. Estrogen and progesterone
Estrogen and progesterone are the sex hormones found in large quantities in young and pregnant women. Both hormones influence the growth in the diameter of hair follicles during pregnancy. However, after delivery, the level of estrogen decreases, resulting in telogen effluvium, or hair shedding, for 2–4 months.
Menopause affects ovarian estrogen production; it contributes to changes in hair growth characteristics on the scalp and the entire body. So, a reduction of these hormones may lead to hair loss among women. When the female hormone levels decrease, it allows the DHT hormones to increase, leading to hair loss.
3. Prolactin
Prolactin has been shown to stimulate hair growth in women, especially at the time of pregnancy and when breastfeeding, where it is secreted at high levels.
Studies also show that high prolactin levels for long periods can cause hair loss in women. For example, prolactin may cause androgen production, which leads to hair loss.
4. Hormones secreted by the thyroid gland
Thyroid hormones play a vital role in body functioning, and any increase and decrease in them can affect hair growth. In addition, hypothyroidism and hyperthyroidism have been shown to cause hair loss and thinning in men and women.
5. Melatonin
Melatonin is produced by the pineal gland, and it affects hair growth in men and women. It takes on the role of an antioxidant and gives protection to hair follicles against the damaging force from free radicals.
Melatonin is also known to regulate other hormones, for example, estrogen and prolactin, which play a role in hair growth.
Can You Reverse Hair Lost Due to Hormonal Imbalances?
Thinning and losing hair due to the fluctuation of hormones are a real battle for many people.
Women undergoing perimenopause (around menopause) and menopause experience hair loss due to the depletion of hormones such as estrogen, while those in the pregnancy and breastfeeding stages witness an abundance of hair growth and thickening.
However, the question is whether hair lost during a hormone imbalance will grow back or not? The answer is yes, with some effort on your part and tweaks to your diet and lifestyle.
Here are some ways you can prevent hair loss due to hormonal imbalance:
1. Wash your hair
Washing the hair can reduce hair problems as even a normal scalp that is not washed for 1–2 weeks will develop flaking, leading to hair loss. (2)
Wash your hair two times a week with a mild shampoo, and don't comb or brush your hair when it's wet. Let your hair down literally, and don't put it up in tight ponytails or buns as it can affect the hair follicles.
Limit the use of hot tools and chemical treatments on your hair as they can dry and damage it further.
2. Exercise
Exercise is one of the most important things for you to do to improve your overall health and well-being during hormonal imbalance, especially during menopause.
It can help reduce the chances of heart disease, high cholesterol levels, and diabetes as exercise improves circulation and helps maintain a healthy weight. It also improves the symptoms of menopause such as bloating, stress, mood swings, and sleeplessness. (3)
3. Drink more water
A strong symptom of menopause is the appearance of dry skin all over the body, especially on the scalp. Hydrate your skin well with good-quality body lotions, and drink more water to keep dry skin at bay.
Women who experience hot flushes and night sweats should increase their water intake to flush out waste products and toxins from the body.
Increasing water intake is shown to positively impact the hair, scalp, and skin condition, especially among those who have lower daily water consumption.
4. Manage stress
Stress impacts people of all ages and genders, and if you are going through hormonal imbalances, it can affect your skin and hair in a big way. It has been shown that women going through menopause have lower estrogen levels that result in hair loss, anxiety, and depression. (4)
Indulge in calming activities such as playing board games, creating art, going for walks, and crocheting to reduce stress and clear your mind.
5. Improve nutrition
Proper nutrition is required to tackle hormonal imbalances, as a healthy diet can reverse the harm done to your hair and body.
As you age, your body's nutritional needs change along with the shift in hormones. During perimenopause and menopause, estrogen levels decrease. (5)
So, your diet should contain whole grains, fresh fruits and vegetables, milk, cheese, yogurt, iron-rich leafy green vegetables, and fiber.
6. Take supplements
Women going through menopause experience a decrease in estrogen levels, resulting in hair loss, dryness, and thinning.
Some foods are known to increase estrogen naturally to ease the symptoms of menopause. These foods are dry fruits, flaxseeds, soy products, grapes, blueberries, and nuts. (6)
Almost 20%–60% of women suffer from hair loss due to menopause before the age of 60. (5)
7. Seek hormonal therapy
You can seek hormonal therapy after consulting a doctor. It has been proven to be successful for hair loss therapy in menopausal or post-menopausal women who are not at high risk for any adverse effects from using HRT.
The Hair Growth Process
Hair follicles are made up of protein and pass through different cycles of growth:
The anagen phase – The phase of active hair growth that lasts for 2–6 years
The catagen phase – A transitional phase that lasts for 2–3 weeks, where the root begins to shrink away from the scalp
The telogen phase – The resting phase that lasts for about 100 days and includes the shedding of 25–100 hairs each day (7)
General Queries Related to Hormonal Hair Loss
Which hormone imbalance causes hair fall?
Hormonal imbalances cause hair loss for both women and men. In both sexes, the specific hormone responsible for hair loss is DHT, a hormone that the body produces as a byproduct of testosterone.
What hormone imbalance makes your hair fall out?
Hormones are the most common cause of hair loss for both women and men. In both sexes, the hormone dihydrotestosterone (known as DHT) causes it.
Can hormonal hair loss be reversed?
When the loss is due to hormone changes such as pregnancy, the hair loss will stop after a period of time.
Final Word
Losing hair is utterly distressing, and unfortunately, everyone has to deal with it at some point in life. As people age, hormonal imbalances take over and cause the hair to thin or fall out.
With the advancement of science and research, so many things can be done to manage and reverse hair loss, such as implementing changes in your diet and lifestyle.