Vitamins are necessary if you want long, strong, and healthy hair. There are many reasons for thinning or falling hair; one of the culprits is a nutritional deficiency.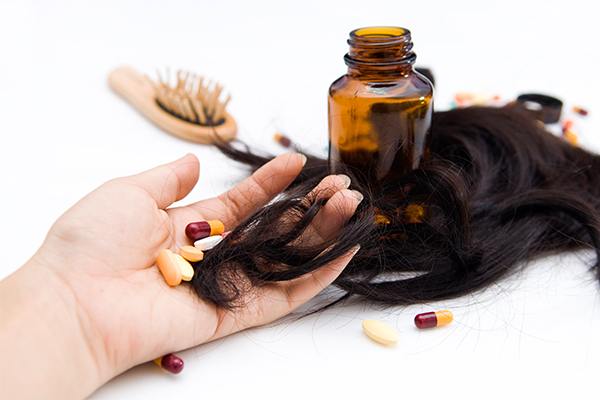 Having the proper vitamins may make all the difference to your hair. This article will present the best vitamins for hair growth.
What Vitamins Help With Hair Growth?
Many factors influence healthy hair growth, such as genetics, nutrition, hormones, medical conditions, and stress. According to studies, a deficiency in vitamins and minerals can result in poor body functioning and hair loss.
Some of the vitamins and minerals needed for hair growth are vitamin A, vitamin B7, vitamin B9, vitamin B12, vitamin C, vitamin D, vitamin E, zinc, biotin, and iron.
1. Vitamin A
Vitamin A can help with hair growth, but too much can lead to hair loss. Vitamin A includes retinol, retinoic acid, and provitamin A carotenoids.
Vitamin A is used by the skin glands to produce sebum, an oily substance that moisturizes the scalp and nourished the hair. (1)
Research shows that when mice were given vitamin A in their diet, their hair follicle stem cells were activated. (2) However, consuming high levels of vitamin A than the recommended dosage through diet or supplements can lead to hair loss, although more studies are needed to establish the relationship. (3)
Foods rich in vitamin A include kale, spinach, broccoli, carrots, pumpkin, sweet potatoes, and squash. (4)
2. Biotin
Biotin is known for making the hair healthy and robust and is also responsible for producing essential fatty acids in the body. (5)
The different food sources of biotin are cauliflower, avocados, bananas, walnuts, almonds, raspberries, and peanut butter, among others. (6)
3. Folic acid
Folic acid is also a good agent for hair growth and maintenance of hair health. Folic acid stabilizes the production of oxygen-rich red blood cells; without it, the cells could overproduce, resulting in pigmentation changes in the hair. (3)
The best sources of folic acid are broccoli, green leafy vegetables, and legumes. (7)
4. Vitamin B12
Vitamin B12 is an essential agent that absorbs iron and enables oxygen transfer to cells.
Iron is ineffective without cobalamin, and a deficiency in iron can cause dull hair and hair loss. (8)
Some good sources of vitamin B12 are milk, butter, cheese, cottage cheese (paneer), and whey powder. (9)
5. Vitamin C
Vitamin C is known to maintain immunity and may also help make the hair strong.
This vitamin plays an important role in the absorption of iron by the intestines. It works through its chelating and reducing effects that help in the mobilization of iron and its intestinal absorption.
Thus, vitamin C should be an important part of the diet of people suffering from hair loss due to iron deficiency.
Humans are naturally deficient in the enzyme l-gulonolactone oxidase, which is involved in the synthesis of vitamin C; thus, vitamin C should be consumed adequately through the diet. (3)
Some great sources of vitamin C are citrus fruits, tomatoes, cabbages, potatoes, and green peppers. (3)
6. Vitamin D
Vitamin D is metabolized in the skin by keratinocytes, the skin cells that produce keratin, and a deficiency of this vitamin may cause hair loss.
When there is less vitamin D in the body, the keratinocytes in the hair follicles cannot stimulate hair growth, leading to hair loss. (10)
7. Vitamin E
Vitamin E is a multifunctional agent in the body, as it fights free radicals to keep the scalp healthy, repairs the cells and tissues, and helps keep the hair hydrated. (11)
Tocotrienols and tocopherols belong to the vitamin E family and are potent antioxidants. Their deficiency causes many problems in the body, including skin dryness.
In one study, volunteers who received tocotrienol supplementation showed an increase in their hair number.
However, excessive supplementation can increase bleeding tendencies and lower thyroid production along with an adverse effect on hair growth. (12)
Some excellent sources of vitamin E are seeds, nuts, herbs, and cooked spinach. (13)
Here are some minerals which also play an important role in hair growth:
1. Iron
Iron also has a vital role in hair growth, as research suggests a link between iron deficiency and alopecia. (14)
Serum ferritin is the primary parameter for anemia and iron deficiency, and low levels of serum ferritin can be the cause of alopecia in women and men. (15)
Good sources of iron are spinach and lentils. (16)
2. Zinc
Zinc is a mineral that is needed by the body in small quantities. It plays a role in the growth of cells to create DNA. (17)
One research study concluded that zinc supplements should be given to alopecia patients with low serum zinc levels. (18) Examples of zinc-rich foods are beans, nuts, and seeds. (19)
Side Effects of Taking Vitamin Supplements
Taking multivitamins has become a common thing among many people. They believe that doing so would do no harm to their bodies as vitamin supplements are generally safe.
However, taking vitamin A supplements for a long time has been shown to cause adverse effects such as an increased risk of lung cancer and greater mortality in cigarette smokers. Some studies conclude that high amounts of vitamin A lead to a higher risk of hip fracture. (20)
Vitamin E is known for its cell antioxidant defense system, but several studies could not find its efficiency against diseases such as cancer and cardiovascular diseases. (20) Vitamin C has antioxidant capabilities, but it has been shown to have prooxidant effects, causing damage by stimulating lipid peroxidation.
Higher doses of folic acid can increase the rate of cancer cell growth. It was observed that vitamin D intake from supplements did not seem to impact the 3-year fracture risk in women with osteoporosis. (20)
General Queries Related to Vitamins for Hair
Does vitamin A cause hair loss?
Vitamin A is good for the body and hair, but taking supplements of vitamin A for a long time can result in hair loss and other problems in the body.
Which hair vitamins help to reverse premature graying of hair?
Biotin, zinc, folate, and vitamin A may prevent premature graying of hair.
How long should vitamin supplements be taken to achieve good hair growth?
You should take them for at least 6 months to see any real results.
Final Word
A lack of nutrients such as vitamins A, B, C, D, and E, zinc, and iron may slow hair growth and cause more hair loss. But you can correct this by consuming a diet rich in these nutrients.
If you have deficiencies in these vitamins, you can always speak to your doctor for proper guidance, especially when considering vitamin supplementation.