If you're struggling with hair growth and are wondering if it's due to a nutritional deficiency, then you may be right. Research studies have proven that a nutritional deficiency can be behind poor hair structure and growth. (1)
Consuming various fruits and vegetables that contain valuable nutrients for hair growth can be a boon for your strands. They are rich in vitamins, minerals, fibers, and antioxidants and can help maintain a clean scalp and promote healthy hair growth. (1)
Your hair condition is directly related to your nutritional state, so you need to have adequate amounts of proteins, calories, vitamins, and minerals for the proper functioning of body tissues and organs with high biosynthetic activity, such as the hair follicles.
Following a diet high in protein is highly beneficial as the hair shaft is made of a protein called keratin, which is, thus, essential in the growth of healthy hair. (2)
Vegetables for Hair Growth
Here are the best vegetables that can aid in hair growth:
1. Onions
Onions are the number one vegetable for hair growth because they contain a high number of vitamins and minerals, including vitamin C, vitamin B6, calcium, magnesium, potassium, and germanium.
Onions are rich in sulfur, which stimulates hair follicle production. They also exhibit antioxidant and anti-inflammatory properties, which help calm down irritated patches on the scalp and boost blood circulation to the hair shaft, which contributes to better hair growth. (3)
Hair growth mask – onion juice + olive oil + aloe vera gel
Ingredients:
3 tablespoons of onion juice
2 tablespoons of aloe vera gel
1 tablespoon of olive oil (4)
Method:
Mix all the ingredients in a small bowl.
Apply this mixture to your scalp and leave it on for 30–45 minutes.
Rinse it off with water.
Use a natural shampoo and conditioner to wash your hair.
2. Spinach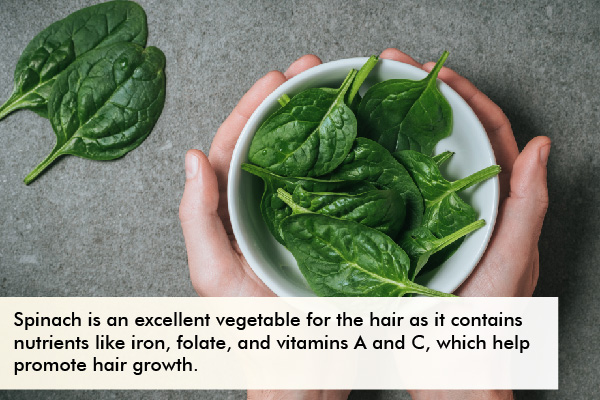 Children are often told, "If you want good hair, you must have your greens." Spinach is an excellent vegetable for the hair as it contains nutrients that promote hair growth including iron, folate, and vitamins A and C.
Spinach is abundant in iron, a nutrient needed for hair growth, as it assists in red blood cells carrying oxygen throughout your body. (5)
Spinach is also an excellent source of vitamins E and K, carotene, and various minerals. (6)(7)
Hair loss mask – spinach + coconut oil
Ingredients:
½ cup of raw spinach
4 tablespoons of coconut oil
Method:
Blend the spinach into a fine paste.
Add the coconut oil to the spinach paste and mix them well in a bowl.
Apply this paste to your scalp and hair, and massage it well in circular motions for 10 minutes.
Leave it on for 45 minutes and then wash it off with water.
Wash your hair with a natural shampoo and conditioner.
3. Beetroot
Beetroots are an excellent option for those wanting to color their hair a gorgeous red.
What's more, it is abundant in nutrients ideal for hair growth such as carbohydrates, protein, potassium, phosphorus, calcium, and vitamins B and C. (8)
Hair growth mask – beetroot + henna (mehndi)
Ingredients:
½ cup of beetroot juice
½ cup of henna powder
Method:
Mix both ingredients well to form a paste.
Apply the paste to your scalp and hair.
Leave it on for 30 minutes.
Rinse it off with water.
Wash your hair with shampoo and conditioner.
Use this remedy two times a week to get good hair growth.
4. Sweet potato
Sweet potatoes are rich in beta carotene, iron, potassium, magnesium, and vitamins C and E. (9)
Beta carotene is an antioxidant that converts into vitamin A; it aids in cell growth (10) and reduces hair loss, breakage, and dullness. (11)
Hair mask for hair fall – sweet potato + yogurt + coconut oil
Ingredients:
One sweet potato, cut into small cubes
2 tablespoons of yogurt
2 tablespoons of coconut oil
Method:
Add all the ingredients to a small bowl and mix them well to form a smooth mixture.
Apply the mixture to damp hair and scalp and leave it on for 45 minutes.
Rinse it off with water.
Wash your hair with shampoo and conditioner.
5. Asparagus
Asparagus is a hair growth stimulator in traditional medicine. (12) This healthy vegetable is rich in folate (13) which is essential in producing red blood cells and hemoglobin and transporting oxygen to all body parts.
Folate also takes part in the process of rebuilding fallen hair follicles.
How to use:
Consume asparagus as part of your diet. You can add shredded asparagus to pasta or salad.
6. Broccoli
Broccoli has gained international recognition as a nutrient-dense vegetable due to its content of bioactive nutrients such as vitamins, polyphenols, sulfides, glucosinolates, and antioxidants.
Broccoli is replete with vitamins and minerals that promote hair growth, including magnesium, potassium, calcium, protein, and vitamin C. (14)
How to consume:
You can consume broccoli as part of your meal three to four times a week.
7. Pumpkin
Pumpkin is full of vitamins and antioxidants that help to encourage and stimulate hair growth, one of them being beta carotene. (15)
The benefits of pumpkin seed oil on hair development have also been studied and have been found to be true. (16)
How to consume:
Pumpkin can be eaten daily as part of a healthy meal to boost hair growth and control hair loss.
8. Carrots
Carrots are a great source of beta carotene, which is converted into vitamin A in the body. Vitamin A is necessary for good vision and a healthy immune system, and it's also good for your hair and skin.
In addition, carrots contain biotin, (17) which helps promote hair growth. (18)
How to consume:
Carrots can be eaten daily as part of a healthy meal to boost hair growth and control hair loss.
Nutrients in Vegetables That Play a Role in Hair Growth
Vegetable nutrients that play a role in hair growth are iron, vitamin C, vitamin A, biotin, and folic acid, among others.
1. Iron
Iron has a much closer relationship with hair growth than you may think. Iron deficiency is one of the most common nutritional deficiencies in the world. (10)
The iron-containing part of hemoglobin handles the supply of energy to the matrix cells in the hair that causes hair production. (13) A deficiency of iron has been found among patients with alopecia areata.
2. Vitamin C
Vitamin C is glamorized as a significant ingredient for skin care, but it also plays an equally important role in hair growth.
Vitamin C is needed in the body to help in the absorption of iron in the intestines through its chelating and reducing effects that assist in iron mobilization and intestinal absorption.
If you are facing hair loss because of iron deficiency, then you need to have a proper vitamin C intake through the consumption of lemons, oranges, potatoes, green peppers, and cabbages. (10)
3. B vitamins
The "hair growth vitamin" B7, or biotin, plays an active role in fat and protein metabolism, and a deficiency of this vitamin can lead to hair loss. Biotin contains sulfur, which influences the state of the skin integument, resulting in lower sebum secretion and good hair growth.
Another B vitamin responsible for good hair growth is vitamin B5, or pantothenic acid. (13)
4. Vitamin A
Vitamin A has two primary forms – retinoids A and carotenoids. Retinoids are the active form and can be found in leafy greens and orange and yellow vegetables. (19)
5. Folic acid
Folic acid is abundant in green leafy vegetables and other foods fortified with it. Folic acid deficiency is found in megaloblastic anemia without hair loss. (1)
General Queries Related to Vegetables for Hair Growth
Final Word
Vegetables offer a lot of nutrients for the health of the body, including the hair. Consuming a diet that includes fresh vegetables will help in promoting hair growth and preventing hair loss. (23)