If you want to change the color of your hair without causing damage or spending too much money, you can try combining hair dye and conditioner.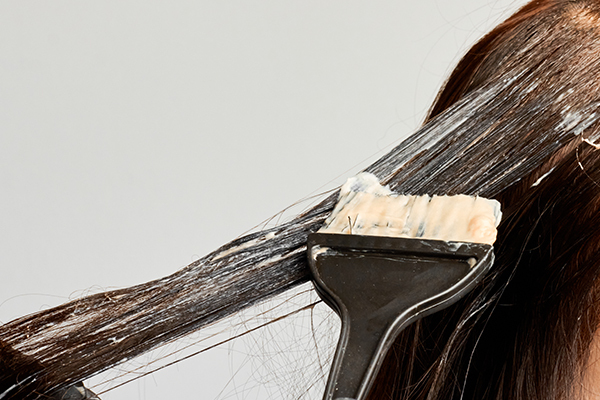 Mixing hair dye with conditioner dilutes the hair dye and lightens the color. It also reduces the damage caused by the coloring process. (1)(2)
However, this method will only work with semipermanent dye such as green, blue, and magenta. Mixing permanent dye with conditioner can give your hair an uneven and patchy look. (2)
Read further to learn more about it.
Why Should You Mix Conditioner With Hair Dye?
It is recommended to mix semipermanent hair dyes with conditioner because they are direct dyes without an oxidation agent. On the contrary, permanent hair dyes are oxidative dyes, and if you mix them with conditioner, they can give your hair a patchy and uneven look. (2)
Semipermanent hair dyes come in different shades including green, blue, purple, pink, magenta, and red. They don't need bleach or a developer, fade gradually with every hair wash, (3) thus are less damaging than permanent hair dyes. (4)
Permanent or demipermanent dyes come in tones such as blonde and are designed to last longer by changing your natural hair color. These dyes are mixed with peroxide or a developer, which activates the color and opens up the hair cuticles.
Therefore, we should avoid mixing demipermanent or permanent hair dyes with conditioner, (2) as it could interfere with the chemical reaction and can give your hair a patchy or inconsistent color.
What Are the Benefits of Mixing Semipermanent Hair Dye With Conditioner?
The benefits of mixing semipermanent hair dye with conditioner are as follows.
1. It gives a subtle and natural-looking color
The reason people mix hair dye with conditioner is to get a natural-looking, subtle color effect than solid, opaque pigment.
It doesn't allow the color to grab your hair too fast and too strongly, as it deposits on the hair shaft without altering hair structure. (2) It avoids the unnatural look that some dyes create.
2. It gives a long-lasting, even color
Conditioner acts as a sealant. (5) It prevents the color from fading by locking it into the hair shaft. Thus, it saves you money on routine touch-ups and maintains your desired shade for a long time.
Therefore, diluting hair dye with conditioner prevents oversaturation in some areas and spreads the dye evenly and smoothly, giving your hair a consistent color. (6)
3. It moisturizes and conditions your hair while coloring it
Conditioner is great for hydrating and nourishing your hair while also making it soft and shiny. (7) It curbs any damage or dryness caused by hair dye, especially that caused by the developer or bleach. (1)(6)
The conditioner also protects the hair from the harsh chemicals present in some dyes. (2) It creates a barrier between your hair and the dye and doesn't allow the dye to penetrate the hair cuticle. Thus, the conditioner preserves the health of your hair while changing its color.
How to Mix Semipermanent Hair Dye With Conditioner?
Properly mix semipermanent hair dye with conditioner by following these steps:
Pour 79 ml (1⁄3 cup) of white conditioner into a bowl. You can use a plastic container or a plastic hair dye bowl. The conditioner must be clear or white; otherwise, the color of the dye may get altered.
Add 1 tbsp (15 ml) of hair dye into the same bowl. You can use semipermanent dye of any brand or mix different shades to create a new one.
Mix the conditioner and dye using a brush until there are no lumps and the color is consistent. The ratio of the dye and conditioner can be adjusted depending on the intensity of the color you want. The more the conditioner, the lighter and pastel the color will be.
Part your hair, and evenly apply the mixture from the hair roots to the ends. Use gloves to prevent staining your hands. Use clips to secure your hair after application.
Leave it on for 15–30 minutes. The longer you leave it on, the more lasting and intense the color will be. You can cover your hair to prevent the dye from dripping or staining your clothes.
Wash your hair with cold water until the water runs clear, and do not shampoo after washing, as it could remove some of the colors.
Dry your hair and style as usual.
What Are the Drawbacks of Mixing Hair Dye With Conditioner?
Some drawbacks of combining hair dye and conditioner are as follows.
It could lead to scalp buildup as it may not rinse out completely.
Its frequent use can potentially weaken your hair.
When you mix hair dye with conditioner, the chances of getting streaks in your hair are high.
The color may not be as vibrant as the color of the dye applied separately.
It could require more conditioner, which could be costly.
It can make hair dye removal more complex, as the conditioner acts as a barrier.
General Queries
Why do people use white hair conditioners?
People use white conditioners as it designed to lighten and brighten hair. It contains hydrogen peroxide or bleach, which is known for stripping away the natural tint of the hair, leaving the hair looking bright, light, and more youthful. 
Can I mix hair dye with purple shampoo?
Yes, you can mix purple shampoo with hair dye. If your hair has a blonde-yellow tone, purple shampoo can correct those brassy/yellow tones. It can also take care of your grey hair.
Most purple shampoos contain antioxidants that shield the hair from sun exposure and UV damage and provide the hair with hydration, luster, and radiance.
Can I mix hair dye with conditioner instead of a developer?
No, you should not mix hair dye with conditioner instead of a developer as they have dissimilar features.
The developer (an antioxidant cream containing hydrogen peroxide, also known as activator) opens up the hair cuticles and allows the dye to penetrate your hair, whereas a conditioner seals the cuticles.
Replacing the conditioner with a developer can cause hair cuticle sealing.
Final Word
You can mix semipermanent hair dye with conditioner but not permanent hair dye. Depending on the type of shade you want, you can mix the semipermanent dye and conditioner in a high or low ratio.
This method can protect your hair while coloring and can be done occasionally to enhance your hair color if it has gotten dull.