Few things are as enjoyable as hair dyeing – first, it gives your hair a beautiful color, and second, it conceals your age. But if hair dyeing is such a good thing, then why is it considered harmful for you?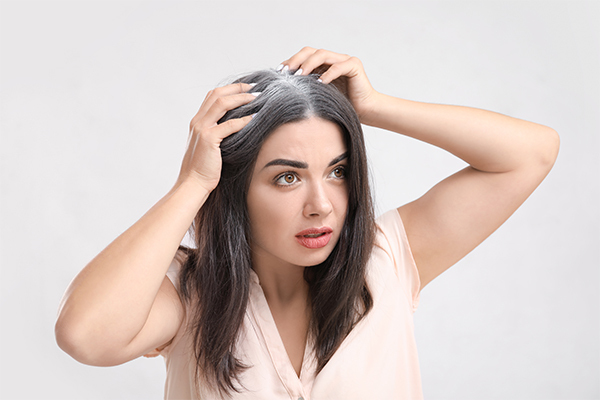 When your hair comes in contact with a dye, peroxide, and ammonia, a reaction occurs. People who have been highly exposed to chemicals in cosmetics are at risk of skin damage and complications.
Para-phenylenediamine (PPD), an ingredient in hair dye, can cause allergic contact dermatitis. (1) It is widely used in hair dyes as it gives the hair a permanent color even after shampooing or perming.
The base PPD does not have color and needs oxygen to convert it into a dye. The fully oxidized PPD does not create allergies, but the intermediate or partially oxidized form of PPD can cause allergic dermatitis in sensitive people.
Hair dyes containing PPD and its derivatives have a warning sign on the package that recommends a self-patch test before use. (1)
Remedies to Reduce the Side Effects of Hair Dyes
Here are some ways to treat the side effects of hair dyes.
1. Aloe vera
Aloe vera gel helps in healing due to its anti-inflammatory properties that reduce redness and aid healing. (2) Its mucilage contains vitamin E, vitamin C, and amino acids that help in healing wounds.
This mucilage has an antioxidant enzymatic system that includes glutathione peroxidase and superoxide dismutase, which aid in wound healing by neutralizing the effect of free radicals produced on the wound site with their anti-inflammatory properties. (3)
How to use:
Apply aloe vera gel to the inflamed areas and leave it on overnight.
Wash it off the next morning.
Repeat for a few days.
2. Coconut oil
Coconut oil is full of fatty acids and emollient properties that help reduce skin irritation and redness caused by hair dyes. (4)
A 2019 study showed that coconut oil moisturizes the skin and treats skin disorders. The oil's emollient effects were effective in people with atopic dermatitis and xerosis. (5)
How to use:
Warm 1 tablespoon of coconut oil.
Apply it to the affected areas.
Leave it overnight and wash it off the next morning with shampoo.
Repeat twice weekly.
3. Olive oil
Olive oil is a potent remedy for skin irritations related to the use of dyes. Its soothing properties help reduce swelling, redness, and inflammation. (6)
The oleocanthal in virgin olive oil has anti-inflammatory properties similar to ibuprofen. (7)
How to use:
Apply 1 tablespoon of lukewarm olive oil to the affected areas.
Leave it overnight, and wash it off the next day with shampoo.
Use it biweekly.
4. Tea tree oil
Tea tree oil has skin-soothing properties that can reduce the skin rashes caused by contact dermatitis from hair dye usage. (8)
How to use:
Add 2–3 drops of tea tree oil to 1 tablespoon of jojoba oil.
Heat the mixture to make it lukewarm, and apply it to the affected skin.
Leave it overnight and wash it off the next day with a gentle shampoo.
Side Effects From Hair Dyes
These are the common side effects of using hair dyes:
1. Allergic reaction
Some of the allergic reactions caused by hair dyes are a burning sensation on the skin, redness, itchiness, flaking, and inflammation. These reactions are not uncommon because permanent hair dye contains PPD, which is the main reason behind dye-related allergies in people.
Those who already suffer from contact dermatitis are more prone to such reactions because of the chemicals and additives in hair dye. (1)
2. Conjunctivitis
If you don't pay attention when dyeing your hair, the chemicals might enter the sensitive areas of your face, including the eyes, thus causing conjunctivitis or pink eye. In some cases, it leads to inflammation and discomfort. (9)
3. Asthma
Asthma is one of the typical allergic reactions that happen when applying hair dyes. The continued chemical inhalation of hair dyes leads to coughing, lung inflammation, throat discomfort, and asthma.
Natural Ingredients to Color Your Hair
To avoid the unpleasant side effects of hair dyes, try the following natural hair colorants instead.
1. Coffee
Coffee is a safe alternative to hair dyes. It is a natural dye that darkens brown hair and is great to use coffee to avoid loading your hair with chemical and artificial colors.
However, the color it lends depends on your natural hair color. Coffee is a more acceptable solution for those seeking to color their hair naturally. It can be an excellent alternative to permanent hair dyes. (10)
2. Henna
Henna has a coloring ingredient called lawsone, which is a red-orange compound present in the dried leaves of the henna plant in a concentration of 1–1.5% w/w. Lawsone is a nonoxidizing coloring agent with a maximum concentration of 1.5% in hair dyes.
Other henna ingredients include flavonoids and gallic acid, which act as organic mordants for coloring. (11)
3. Beetroot
Beetroot contains a pigment called betacyanin, which is widely used as a natural hair coloring agent. (12) Its pigments can temporarily change hair color to reddish blue or purple.
4. Lemon juice
Lemon juice contains vitamin C, which is a natural hair lightener that reduces melanin pigmentation. Applying lemon juice in the sun helps to speed up hair lightening. (13)
General Queries Related to Hair Dyes
Can you dye your hair while you are pregnant?
Hair dyeing can be hazardous for pregnant women due to the chemicals present in the dye. (14) It can be dangerous and harmful to the fetus during the first trimester.
However, research studies have found that the chemicals in permanent and semipermanent dyes are not toxic and can be used during pregnancy. Only small amounts of hair dye are absorbed by the scalp and stay on the skin; thus, the chances of these chemicals reaching the fetus are minute.
Why does hair coloring lead to hair fall?
Hair dyes do not impede hair growth but can lead to hair fall. The blame can be put on the chemicals in the hair color. Moreover, coloring necessitates aggressive combing and rubbing of the hair, which loosen the hair and cause hair fall. (15)
Final Word
Hair dye allergies can be severe or mild. The symptoms include redness, itchiness, and anaphylaxis in some cases. The ingredients in hair dyes, especially PPD, can cause unpleasant reactions in some people. Therefore, always do a patch test before applying dyes to your hair.
To strengthen your hair and avoid these allergies, opt for hair colors with para-toluenediamine, (16) which is safe, or use the natural alternative henna.