Your favorite mug of coffee might have the best ingredients for your hair: caffeine, a naturally occurring substance in various plants.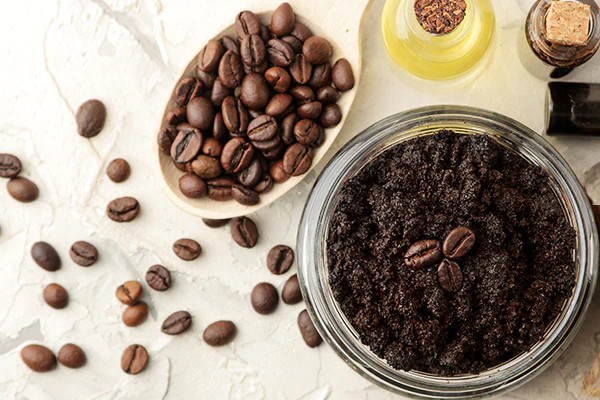 Studies indicate that caffeine is helpful in hair shaft elongation, longer duration of hair growth, and better hair growth overall. (1)
Read on to know the connection between coffee and hair, how caffeine benefits the hair, precautions to take when applying coffee, and side effects to be aware of.
How to Use Coffee for Your Hair
Research shows that the caffeine in coffee helps hair to grow, (1) and nowadays, there are many caffeine shampoos available on the market that you can try.
The good thing is there are also many DIY hair masks and packs that you can make at home using coffee. Here are some of them:
1. Hair growth wash – coffee
Ingredients:
2 cups of brewed coffee
Spray bottle
Plastic shower cap
Method:
Pour the brewed coffee into the spray bottle.
Spray it on damp hair.
Massage it on your scalp using your fingers for 5–10 minutes.
Wear a shower cap to prevent it from running down your face.
Leave it on for 30 minutes on your head.
Rinse your hair with water.
2. Hair growth hair mask – coffee + fenugreek powder + coconut oil
Coffee, (4) fenugreek powder, (5) and coconut oil (2) can work together to produce wonders for your hair as coffee induces hair growth, coconut oil cleanses the scalp, and fenugreek promotes hair growth and curbs hair loss.
Ingredients:
1 teaspoon of coffee powder
1 teaspoon of fenugreek powder
3–4 tablespoons of coconut oil
Shower cap
Hair application brush
Method:
Mix all the above ingredients in a bowl.
Apply the mixture to your scalp and hair with a brush.
Wear a shower cap and leave the mask on for 30 minutes.
Rinse it off with plain water.
Shampoo and condition your hair with a natural shampoo and conditioner.
3. Scalp exfoliation scrub – coffee
Ingredients:
1 tablespoon of ground coffee
1 tablespoon of sugar grains
Method:
Add the coffee to the sugar and mix them well.
Part the hair, and massage your scalp with this mixture in circular motions for 10–15 times.
Leave it on your hair for 30 minutes.
Wash it off with water.
Shampoo and condition your hair with a natural shampoo and conditioner.
4. Hair conditioner – coffee
Ingredients:
Brewed coffee
Hair conditioner
Method:
Shampoo your hair with a natural shampoo
Pour the brewed coffee into a container and add the hair conditioner.
Apply this mixture to your hair and rub it well.
Wash it off after 1–2 minutes.
5. Hair oil – coffee + coconut oil + essential oil
Usage of coconut oil, coffee, and essential oils (rosemary (6) or peppermint oil (7)) together as a hair oil can encourage hair growth.
Coconut oil softens the hair and provides antimicrobial effects to the scalp, while coffee keeps the hair in the anagen phase or growth phase for a longer time.
Research studies have proven the efficacy of rosemary oil and peppermint oil on hair growth.
Ingredients:
2 cups of coconut oil
2 teaspoons of ground coffee
Essential oil of rosemary or peppermint
Method:
Heat the coconut oil in a pan.
Add the coffee and heat for 5–10 minutes.
Let it cool off.
Add a few drops of essential oil to the mixture.
Keep it in an airtight bottle overnight.
Apply the oil to your scalp and hair the next day.
Keep the oil for 30 minutes on your head.
Rinse it off with water, and use a natural shampoo and conditioner to wash your scalp and hair.
Benefits of Using Coffee for Hair Growth
Using coffee on your hair will provide the following benefits:
1. May promote hair growth
Hair fall can happen for reasons such as genetics, hormonal changes, serious illness, stress, and environmental factors.
Coffee can encourage hair growth by making the hair roots larger, lengthening the anagen phase, and stimulating hair cell production. (1)
In a study, caffeine in concentrations of 0.001% and 0.005% helped stop testosterone's suppressive effects on hair growth. Increased hair growth was seen after caffeine administration.
This result clearly showed that caffeine can stimulate human hair growth, which can help treat androgenic alopecia, a hair loss that occurs in both men and women. In men, hair loss happens on the top of the head and at the temples, and in women, the widening of the center parting is a sign of it. (4)
2. Reduces hair loss
Hair loss and baldness can indicate weak hair follicles; the application of coffee to the hair and scalp can reduce hair loss and encourage hair growth. (8)
One of men's most common reasons for baldness is the sex hormone dihydrotestosterone (DHT). This hormone affects the hair follicles and triggers hair loss in men and women.
Various studies on the efficacy of coffee in reducing hair loss have shown that it indeed can provide such an effect and helps in healthy hair growth. (9)
3. Softens the hair
Coffee is full of flavonoids, which are antioxidants that help in hair regeneration.
Dull and dry hair may result in hair loss, but coffee helps to retain the moisture in your hair and softens it. (10)
4. Exfoliates the scalp
Coffee grounds are a great exfoliator; they remove dead cells and buildup from the scalp (11) so that hair growth can happen properly as scalp condition impacts hair growth. (12)
Use a DIY coffee mask to exfoliate your scalp and keep it clean and healthy.
5. Naturally colors hair
Coffee is a natural hair colorant as the coffee stains can color and darken the shade of your hair. (13)
Use a DIY coffee hair mask to color your hair naturally instead of using chemical hair dyes.
Does Drinking Coffee Cause Hair Loss?
There is no evidence that drinking coffee can make your hair fall out, so it is not a problem. However, drinking too much coffee can cause nervousness, insomnia, and tremors. (14)
Precautions to Take Before Coffee Application to the Hair
Keep these things in mind when using coffee on your hair:
The coffee should be cooled down completely before applying it to your hair.
If you have light-colored hair, be careful when applying coffee to your hair as it might darken it.
Do not use flavored coffee on your hair as it might have added coloring and flavoring agents that may cause skin allergies.
Side Effects of Using Coffee on Hair
There should be a balance in the use of coffee usage on your hair and scalp as, despite its benefits, excessive use may backfire. Unfortunately, scrubbing your head too much with coffee grounds may cause damage to the scalp and result in hair fall.
Also, use freshly ground coffee instead of instant coffee as the latter may contain preservatives that may not be favorable for the hair.
General Queries Related to Coffee and Hair
How often can I use coffee on my hair?
You should use it once a week to see desired results.
Can I add coffee to shampoo?
Yes, you can add coffee to your shampoo as it will stimulate your scalp and help make your hair grow well.
Can I mix coffee with rice water for my hair?
Final Word
Coffee can be a natural remedy for hair growth, hair loss, dull hair color, and more. You can simply purchase coffee-infused products or use DIY coffee hair masks once a week to reap its benefits.
Always do a patch test on your skin before applying coffee to your hair and scalp to check for allergies or rashes.
References

Fischer TW, Herczeg-Lisztes E, Funk W, Zillikens D, Bíró T, Paus R. Differential effects of caffeine on hair shaft elongation, matrix and outer root sheath keratinocyte proliferation, and transforming growth factor-β2/insulin-like growth factor-1-mediated regulation of the hair cycle in male and female human hair follicles in vitro. Br J Dermatol. 2014;171(5):1031-1043. doi:10.1111/bjd.13114.
Widianingrum DC, Noviandi CT, Salasia SIO. Antibacterial and immunomodulator activities of virgin coconut oil (VCO) against Staphylococcus aureus. Heliyon. 2019;5(10):e02612. Published 2019 Oct 20. doi:10.1016/j.heliyon.2019.e02612.
Sharquie KE, Al-Obaidi HK. Onion juice (Allium cepa L.), a new topical treatment for alopecia areata. J Dermatol. 2002;29(6):343-346. doi:10.1111/j.1346-8138.2002.tb00277.x.
Bansal M, Manchanda K, Pandey SS. Role of caffeine in the management of androgenetic alopecia. Int J Trichology. 2012;4(3):185-186. doi:10.4103/0974-7753.100096.
Fenugreek+micronutrients: Efficacy of a food supplement against hair loss. https://www.researchgate.net/publication/251923543/.
Murata K, Noguchi K, Kondo M, et al. Promotion of hair growth by Rosmarinus officinalis leaf extract. Phytother Res. 2013;27(2):212-217. doi:10.1002/ptr.4712.
Oh JY, Park MA, Kim YC. Peppermint Oil Promotes Hair Growth without Toxic Signs. Toxicol Res. 2014;30(4):297-304. doi:10.5487/TR.2014.30.4.297.
Völker JM, Koch N, Becker M, Klenk A. Caffeine and Its Pharmacological Benefits in the Management of Androgenetic Alopecia: A Review. Skin Pharmacol Physiol. 2020;33(3):93-109. doi:10.1159/000508228.
Yesudian P. Can beverages grow hair on bald heads?. Int J Trichology. 2012;4(1):1-2. doi:10.4103/0974-7753.96078.
Liang N, Kitts DD. Antioxidant property of coffee components: assessment of methods that define mechanisms of action. Molecules. 2014;19(11):19180-19208. Published 2014 Nov 19. doi:10.3390/molecules191119180.
(PDF) skin care with herbal exfoliants – researchgate. https://www.researchgate.net/publication/224892687/.
Trüeb RM, Henry JP, Davis MG, Schwartz JR. Scalp Condition Impacts Hair Growth and Retention via Oxidative Stress. Int J Trichology. 2018;10(6):262-270. doi:10.4103/ijt.ijt_57_18.
Singh V, Ali M, Upadhyay S. Study of colouring effect of herbal hair formulations on graying hair. Pharmacognosy Res. 2015;7(3):259-262. doi:10.4103/0974-8490.157976.
Temple JL, Bernard C, Lipshultz SE, Czachor JD, Westphal JA, Mestre MA. The Safety of Ingested Caffeine: A Comprehensive Review. Front Psychiatry. 2017;8:80. Published 2017 May 26. doi:10.3389/fpsyt.2017.00080.