No, experts do not recommend applying a dye with dry shampoo. Dyes contain a few chemicals, (1) and when combined with the ingredients in dry shampoo, (2) it may give rise to a bad reaction. It may even affect the dye's color, and you might end up with the color you didn't expect.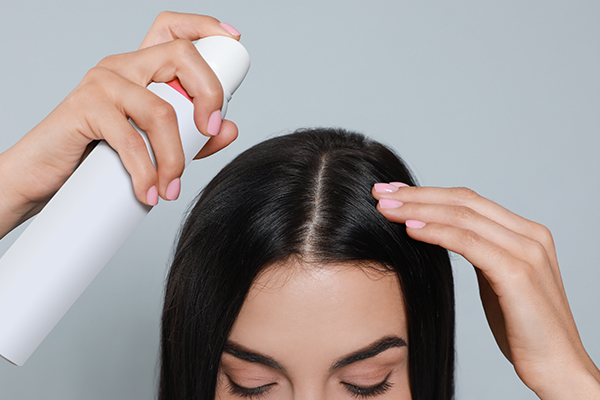 Nowadays, a lot of people find it convenient to dye their hair at home instead of going to the salon. Many people have tried dyeing their hair using dry shampoo but then realized it did not turn out as expected!
This article talks about the reasons for not dyeing your hair with a dye containing dry shampoo, its adverse effects, results, and some alternatives to dry shampoo. Read on below to know more.
Why You Should Avoid Dyes Containing Dry Shampoo?
The reasons to avoid a dye with dry shampoo are as follows.
1. Dry shampoo can interfere with the dyeing process
The primary function of dry shampoo is to get rid of excess oil and dirt from the scalp and hair and leave behind a powdery residue. (2)(3)
The powdery residue left behind is an oil-soluble silicone that acts as a thin coating over the hair shaft. (4) It serves as a barrier between your hair and the dye and prevents it from penetrating effectively and evenly.
The result is an uneven, patchy, or faded color.
2. Dry shampoo can damage your hair
According to experts, most dry shampoo contains talcum powder (which over time causes hair shaft shredding) and alcohol (which dries the hair and irritates the scalp).
Thus, dry shampoo can lead to dryness, making your hair brittle and damage-prone. It can also lead to a weak hair structure and can make your hair vulnerable to damage from dye chemicals.
Dry shampoo can also cause clogging of pores, which can result in hair loss, inflammation, and irritation.
3. Dry shampoo can affect the color outcome
If you have dark or colored hair, dry shampoo can leave behind a gray or white cast. (2)(3) This might affect your hair's base color and how the dye reacts. You may get stuck with a shade you didn't want or expect.
4. Dry shampoo can cause weak hair or allergic reactions
Several allergy-causing ingredients (such as clay and starch) are present in dry shampoo. Your scalp and skin can become irritated if exposed to dye chemicals. Other reactions include blisters, burning, swelling, itching, or redness.
Both dry shampoo and hair dye have ingredients toxic to your scalp and hair and can make them weak.
How to Use Dry Shampoo on Hair
You can use dry shampoo in the following ways:
Hold the dispenser or the bottle 6 inches from your head and spray it along your roots. Avoid spraying too close to the scalp as it can lead to buildup and cause dullness. If using a powder formula, you can either go for a direct sprinkle onto your roots or use a makeup brush to dab it on.
Massage the product on your roots and scalp gently using your fingertips to distribute the product evenly and absorb excess oil. You can detangle your hair and smooth them out using a comb or a brush.
To add extra volume, you can blow-dry your hair, or you can leave it as it is. You can also use mousse, hairspray, or texturizing spray to get your desired look.
DIY Natural Recipe for Dry Shampoo
Many dry shampoos contain harmful chemicals, so it's better to use products that contain natural and organic products.
You can also make your own dry shampoo by following these steps:
In a bowl, mix ¼ cup of rice starch or arrowroot powder and 1 teaspoon of cinnamon or cocoa powder.
Add 3–5 drops of essential oil for a natural fragrance.
Mix well and store the mixture in an airtight container.
Take a makeup brush and dip it in the powder mixture. Tap off the excess powder.
Using your brush, apply this powder to your roots and the oily part of your hair. Don't rub this powder on your scalp.
Brush your hair from root to tip. Within a few minutes, your hair will be oil-free and ready to go!
Note: To prevent hair and scalp issues, use dry shampoo after dyeing your hair. It ensures even distribution of the color. Make sure to wash your hair with a mild clarifying shampoo before 1–2 days of dyeing. It removes buildup that prevents your hair from taking up the dye color.
What Are the Pros and Cons of Using Dry Shampoo on Hair?
Here are some pros and cons of using dry shampoo on hair.
Pros:
You can wash your hair infrequently. It saves water and time.
You don't have to worry about the color in your hair fading away. Dry shampoo minimizes this.
You can keep your hair hydrated and healthy by reducing constant shampooing.
Your hair gets texture and volume as dry shampoo absorbs excess oil and grease.
Cons:
Dry shampoo can cause dullness to your hair, as its powder coats the hair strand, reducing shine.
It can interfere with hair coloring by altering the hair tone or stopping dye penetration into the hair shaft.
It contains sulfates, which can make your hair brittle, especially if you are blonde or have dry hair.
Alternatives to Dry Shampoo
Some alternatives to dry shampoo are:
Hand sanitizer – Hand sanitizers became an ordinary and portable disinfectant during and after the pandemic. But did you know you can use hand sanitizers on your hair as well to remove oil and dirt by rubbing a few drops on your hair? But use them in moderation as the alcohol in them can make your hair dry and frizzy.
Paper towels – Using a few paper towels on your hair can make a difference. Part your hair in sections and run paper towels on the scalp to get rid of excess oil.
Can You Use Dry Shampoo on Color-Treated Hair?
Yes, you can use dry shampoo on color-treated hair. According to experts, dry shampoo doesn't ruin your color-treated hair. It can even extend the color of your hair.
Regular hair washes can fade your hair color. However, dry shampoo minimizes water washes and keeps your hair color intact for a long time.
General Queries
How long can I leave the dry shampoo on my hair?
You should not leave dry shampoo on your hair for more than 2–3 days. Experts recommend using dry shampoo only twice a week and not more. Overusing or leaving it for a longer duration can clog scalp pores and cause inflammation.
Therefore, have regular hair washes to get rid of the residue from your hair and maintain beautiful and healthy hair. 
What dry shampoo ingredients should I avoid?
Avoid the following dry shampoo ingredients:
• Butane, propane, and isobutane
• Siloxane, silicones, and octamethylcyclotetrasiloxane
• Phenoxyethanol
• Cetrimonium chloride
• Paraben
• Sulfates
Who can use dry shampoo?
Researchers claim that dry shampoo is for people who have undergone harsh styling procedures and chemical treatments. It provides mild cleansing and good conditioning. (5)
Can dry shampoo be used every day?
No, you cannot use dry shampoo every day. When dry shampoo is used frequently or incorrectly, it can leave behind residue on the scalp, clog hair follicles, and cause dandruff.
It can make your locks dry and brittle due to the lack of hydration; your scalp needs natural oils to stay healthy.
Experts recommend responsible usage of dry shampoo. Make sure to observe your scalp for any signs of irritation, inflammation, or dandruff.
Final Word
It is not advisable to mix dry shampoo with hair dyes as it does not give the color you want for your hair and causes weakness and damage to your hair.
Although there are pros to using dry shampoo, there are also cons. Therefore, make sure to do your research before using it.