Beetroot (Beta vulgaris L.) is quite an underrated vegetable when it comes to using it for the hair and skin. This commonly eaten vegetable has a rich content of biologically active substances, (1) including betanin, antioxidants, phenolic compounds, fiber, vitamins, and minerals.
Beetroot is full of minerals such as potassium, sodium, iron, copper, magnesium, calcium, phosphorus, and zinc and contains vitamins that are beneficial for the hair and skin, such as retinol, ascorbic acid, and B-complex. (2)
It is rich in natural sugars and an excellent source of iron and fiber, which are essential for different body functions. It contains high amounts of magnesium and iron, which helps to convert blood sugar to glycogen and ensures a smooth supply of oxygen in the blood, respectively. (2)
Beetroot can be consumed as a salad; its juice can be used in masks for the hair and skin and also in powder form for the hair.
Benefits of Beetroot For Hair  
Here are the benefits of using beetroot for hair.
1. Makes hair smooth and shiny
The high amounts of silica in beetroot are needed to utilize calcium in the body properly, which is essential for healthy skin, hair, nails, and bones. (3)
Silica also helps to moisturize the scalp and make your hair smooth and shiny. The more silica in the hair fiber, the lesser the rate of hair fall and the more shine and luster. (4)
2. Adds natural color to the hair
The bright-red color of beetroot is due to its high amounts of betanins. Beets are full of antioxidants and betacyanins (red-violet pigments) and betaxanthins (yellow-orange pigments). (5)
Beets also contain betalain pigments, which are rich sources of antioxidants that help get rid of free radicals in the scalp. (6)
There is a massive demand for natural hair colorants in the hair dye industry that is currently full of chemical-laced products with many side effects. Beetroot is rich in natural pigments including betacyanin, which was earlier used (7) as a hair dye to get a reddish tint in the hair. (8)
How to color:
Mix 1 tablespoon of beet juice with 2 tablespoons of carrier oil such as jojoba or coconut oil.
Apply the mixture to your hair and cover your head with a shower cap.
Let it stay on your head for one hour before rinsing it off with tap water.
3. Boosts blood circulation for hair growth
Beetroot juice is rich in nitrate (NO3), which, when converted to the bioactive form nitric oxide (NO), can help improve blood circulation to the scalp and hair. (9)
When blood circulation to the scalp is good, hair follicles get a rich supply of oxygen and nutrient. (9) This results in thicker, healthier, and faster-growing strands in comparison to poor blood circulation. (9)
4. Reduces dandruff
A scalp disorder such as dandruff can make you uncomfortable as it causes itching, flakiness, and dry skin. Dandruff is caused by the fungus Malassezia furfur, which can be countered by beetroot due to its antifungal properties. (1)
Beetroot is also abundant in enzymes and anti-inflammatory agents that help in reducing flakes and eliminating dandruff. The high quantity of silica in beetroot helps moisturize your scalp and keeps the hair follicles nourished. (3)(4)
5. Stimulates hair growth
Consuming raw or cooked beetroot can help in hair growth. It works effectively against DHT, which interferes with the hair growth cycle, shrinking and shortening the hair. Beetroot reduces DHT levels in the scalp naturally. (10)
In addition, beetroot contains essential vitamins and minerals (1) that help in hair growth. (11)
6. May prevent premature hair graying and hair loss
Beetroot is replete with antioxidants that are useful against free radical activity and UV damage, which harm human cells and hair follicles. (6)
Scientific studies show that oxidative stress can cause hair graying and hair loss. The latest research on the role and prevention of oxidative stress can give insight into interventions that lead to the reversal of hair graying and age-related alopecia. (12)
Beetroot is full of minerals including sodium, potassium, calcium, magnesium, and phosphorus, which prevent the hair from falling out quickly. (13)
How to Use Beetroot for Hair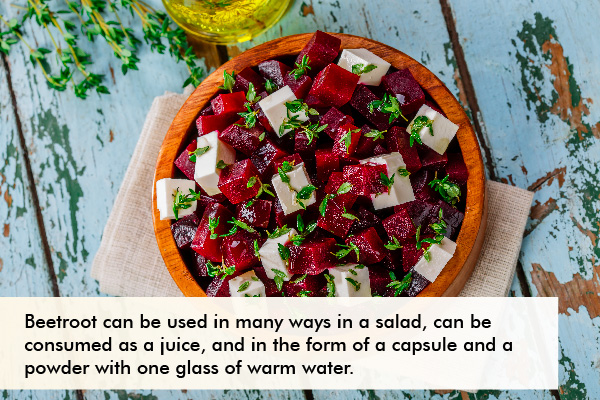 There are many ways to use beetroot.
1. Beetroot salad
Take 1–2 raw beetroots. Wash and cut them into small pieces.
Add some of your favorite salad vegetables.
Squeeze half a lemon on it and add some salt and sugar.
Eat this dish before or along with your food as a salad.
2. Beetroot juice
Consuming beetroot juice helps to increase the levels of nitric oxide (NO), which helps to increase blood flow to your hair follicles. (14)
Take 1 cup of beetroot juice.
Add orange or pomegranate juice to it.
Drink this mixture preferably along with your breakfast.
3. Beetroot capsule
Take 1 capsule of beetroot.
Swallow it with water post meals twice a day. (15)
4. Beetroot powder
Add it to 1 glass of warm water with/without honey.
Consume this drink preferably after meals twice a day.
General Queries Related to Beetroot for Hair
Is eating raw beetroot healthy for the body?
Can I use boiled beetroot water for my hair?
Beetroot is one of the best home remedies for a flaky and itchy scalp. Boil 1–2 beets in water and use the concentrated juice to massage your scalp gently.
You can also add 2–3 tablespoons of beetroot juice to a bowl and add 1 teaspoon each of vinegar and ginger juice. Apply this mixture to the scalp. (3)
Who should avoid beetroot?
If you have problems with your gallbladder or kidney stones, avoid consuming beetroot as it contains high amounts of oxalate, which increases the chances of getting kidney stones.
Is it okay to eat beetroot every day?
Beetroot should not be eaten every day as it can put you at risk of getting kidney stones. It is an extremely healthy vegetable that is full of micronutrients for healthy skin and hair, but overeating beetroot can be harmful due to its high oxalate content. (17)
Does beetroot make your hair red?
Yes. Enjoy a free hair coloring session using a homemade hair dye with beetroot juice. Apart from giving you a reddish-purple hair tint, beetroot also promotes hair growth. (7)
Final Word
Beetroot is abundant in antioxidants, vitamins, minerals, and dietary fiber, but it is not so popular among other vegetables for skin and hair use.
You can use beetroot in various ways to nourish and color your hair by applying it as a hair pack. It is a safe and natural alternative to hair colorants compared to the toxic ones sold on the market.