Fruits and vegetables contain valuable benefits for health and for the skin and hair.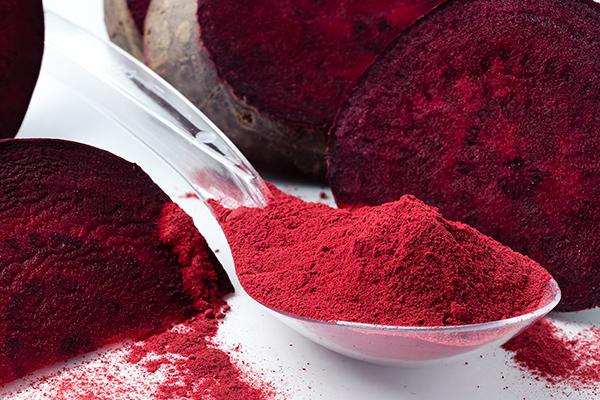 Beetroot is one underrated vegetable when it comes to beauty. This root vegetable is actually a boon for you because it is rich in vitamins, minerals, and anti-inflammatory properties that soothe and improve blood circulation to the skin and scalp, tighten the scalp's pores, and reduce hair loss.
Beetroot powder is a beetroot preparation that is abundant in phytochemicals (chemicals produced by plants that have beneficial properties). (1)(2)
Beetroot powder enhances hair growth as it contains multiple biologically active components including betalains (betacyanins and betaxanthins), flavonoids, polyphenols, and saponins. It is also filled with several minerals including potassium, (3) which promote hair growth.
Beetroot powder comes in three variations and is loaded with antioxidants and phenolics in contrast to fresh beet. (1)
Benefits of Beetroot Powder for Hair Growth
Here are the benefits of using beetroot powder.
1. Improves blood circulation
The antioxidants present in beetroot improve blood circulation and nourish the hair follicles, and its carotenoids activate the growth of hair follicle stem cells. The carotenoids in red beetroot are β-carotene and lutein, which are strong antioxidants. (4)
Beetroot powder improves blood flow (5) and lets your hair grow abundantly. Also, it nourishes the hair follicles and tightens the scalp. The carotenoids in it aid in cell regrowth, combat hair thinning, and improve hair's overall texture.
The strong antioxidants and carotenoids in beetroot feed your hair follicles with vitamins and minerals, thus controlling hair fall. Since beetroot is high in calcium, potassium, iron, and nutrients, (3)(6) it strengthens your tresses and repairs damaged hair.
How to use:
Combine beetroot powder with coconut oil and onion juice in a 1:1:1 ratio.
Apply the mixture to your scalp and hair length and leave it on for 30 minutes.
Wash it off with shampoo and conditioner.
Use it twice a week for best results.
2. Reduces scalp dryness
Scalp dryness triggers hair loss. If you have this problem, it means your scalp does not produce enough oil for the skin to be lubricated; this, in turn, makes your hair fragile and damages the hair follicle.
To combat this problem, use beetroot powder; it will help in exfoliating damaged cells. It has natural antipruritic elements, which reduce itching and thus help in dealing with scalp dryness. (4)
How to use:
Combine ½ cup of beetroot powder, ½ cup of neem powder, and enough water to make a paste.
Apply this paste to your hair and scalp and leave it on for 30 minutes.
Wash it off with shampoo.
This remedy will help treat an itchy scalp and dandruff and make your hair soft and manageable.
3. Boosts hair health
Beetroot contains a healthy dose of vitamins and minerals including vitamins A and C, iron, magnesium, folate, and potassium. The hair follicles require these vitamins and minerals to create healthy hair strands and accelerate their growth.
If you are deficient in vitamins, your hair health (7) will deteriorate.
4. Reduces dandruff
Dandruff is caused by a dry scalp and fungal infections. Beetroot contains many vitamins and minerals that improve blood circulation to the scalp and moisten it, thus reducing inflammation. These compounds include calcium, phosphorous, potassium, and vitamins B and C.
The antioxidant and antimicrobial properties of beetroot work against dandruff, and it also has silica (4) which moisturizes the scalp and eliminates dandruff. (8)(9)
A beetroot powder hair mask can reduce dandruff and itchiness and soothe the scalp.
How to use:
Blend 2 tablespoons of beetroot powder with two tablespoons of neem powder and water.
Apply it to your scalp and leave it on for 30 minutes.
Wash it off with shampoo.
5. Reduces hair loss
Hair loss is a common problem that you can alleviate by using beetroot powder. This vegetable powder contains phosphorous, iron, and potassium, which improves hair growth. (2)
The carotenoids in beetroot powder improve blood flow to the scalp and nourish the follicles, consequently strengthening the hair and eventually reducing hair fall. The carotenoids present in beetroot powder also decrease stress on hair which eventually leads to hair fall.
Red beetroot contains betanin, a nitrogen-containing pigment that acts as an antioxidant. (10) It helps curb oxidative stress that causes free radical formation that leads to skin aging, and on the scalp, the hair is also impacted by emergcapoaence, a kind of oxidative stress that leads to hair loss. (11)
How to use:
Blend ½ cup of beetroot powder, ½ cup of coffee powder, and enough water to make a smooth paste.
Apply the paste to your hair from the roots to tips.
Leave the mask on for 15 minutes and rinse it off with water thereafter.
General Queries Related to Beetroot Powder for Hair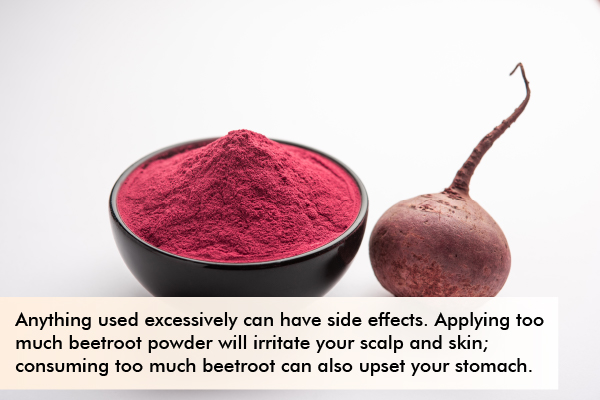 Does beetroot powder cause side effects?
Yes, anything used excessively can have side effects. Applying too much beetroot powder will irritate your scalp and skin. Consuming too much beetroot can irritate your stomach, too.
Can I consume beetroot powder every day?
Yes, you can make it a part of your daily routine. However, when applying a beetroot mask to your hair and skin, restrict yourself to twice or thrice a week.
Who should not consume beetroot powder?
Pregnant women should avoid beetroot as the betaine in beetroot can cause pregnancy complications. Additionally, if you already have a medical history of gastrointestinal troubles, consuming beetroot will aggravate the condition. (4)
Is beetroot powder easy to consume?
You can drink beetroot juice, but it isn't easy to drink it daily. Hence, beetroot powder is the best bet. The powder is versatile, and you can easily incorporate it into your diet, especially if you are not fond of it.
Final Word
Beetroot is a superfood that comes loaded with benefits. It reduces hair breakage, nourishes the hair follicles, reduces dandruff, delays premature aging of hair, improves hydration, and helps maintain hair.
Don't forget to add this amazing vegetable to your diet for maximum benefits.