Your hair is essential in framing your looks, and people form opinions about you based on your overall personality. So, you must have a dedicated hair care regimen to take care of your locks and boost your confidence.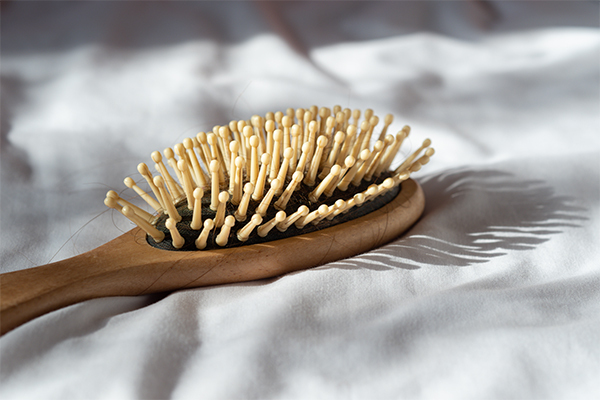 Hair loss and hair thinning have become significant problems for many, and most people are looking for tips to control their hair loss and improve their hair quality.
Hair loss is related to stress, but genetics and aging are the main reasons your hair strands become loose and fall. Some other reasons for hair fall are applying hazardous hair treatments, dyeing, styling, heat treatments, chronic nutritional deficiency, etc.
Fortunately, there are remedies that can help in controlling hair fall.
Home Remedies for Hair Fall
Here are 9 home remedies to save your tresses from unnecessary hair fall:
1. Do a hot oil massage
To get uber-soft and manageable tresses, have a hot oil massage twice a week or more.
Take some warm coconut oil or almond oil and apply it gently to your scalp and hair with your fingertips. This will enhance blood flow to your hair follicles and strengthen your hair roots while nourishing your scalp. (1)
How to use:
Heat some oil of your choice slightly to a lukewarm state.
Gently massage the oil into your hair and scalp exerting light pressure with your fingers.
Leave it on your head for at least one hour.
Wash your hair with a mild shampoo that suits your hair type.
Repeat the process twice or thrice a week.
2. Apply onion juice
The sulfur in onions helps reduce hair fall and improve hair growth by enhancing collagen production in the body. Onion is best known for healing as it has antibacterial, antioxidant, and nourishing powers.
Onions are blessed with high amounts of minerals and vitamins including vitamins C and B6, calcium, potassium, magnesium, and germanium. Onions contain a high amount of sulfur, a mineral found in every cell of the body, especially in the nails and hair. (2)
How to use:
In a bowl, combine 2 tablespoons of onion juice, 2 tablespoons of coconut oil, and 5 drops of rosemary essential oil. 
Apply this mixture to your scalp and gently massage for 5–10 minutes.
Leave it on for 30 minutes.
Wash your hair with a mild shampoo.
3. Use coconut oil
Coconut oil stimulates hair growth and keeps the scalp smooth, soft, and healthy. This oil has antibacterial and antifungal effects, which fight against scalp disorders such as dandruff and seborrhea.
Coconut oil is also rich in vitamins and essential fatty acids, which boost hair strength and nourish the scalp. It also helps to reduce sebum and product buildup in the hair follicles. (3)
How to use:
Warm a little coconut oil and gently massage it on your scalp and hair.
Leave it for 1 hour.
Wash it off with natural shampoo and conditioner.
Repeat the process twice or thrice a week for good results.
4. Try curry leaves
Curry leaves are abundant in beta-carotene and proteins that help reduce hair fall and improve hair growth. They also contain many amino acids and antioxidants that fortify the hair follicles and moisturize the scalp.
Moreover, curry leaves help to remove dead follicles and fight against dandruff. (3)
How to use:
In a pan, heat 4–5 tablespoons of coconut oil.
Add 10–12 curry leaves to the hot oil and wait until it crackles.
Once the curry leaves turn dark brown, turn off the heat and wait till the oil becomes lukewarm.
Strain out the oil and discard the curry leaves.
Gently apply this lukewarm oil to your scalp and hair with your fingertips.
Leave it on overnight and wash your hair with a mild shampoo the next day.
Repeat the process twice or thrice a week for good results.
5. Prepare a fenugreek seed mask
Fenugreek seeds contain numerous micronutrients including vitamin B, antioxidants, and essential ingredients beneficial for your hair. These seeds also contain various active ingredients such as saponins, alkaloids, flavonoids, and fiber.
Fenugreek blocks the activity of dihydrotestosterone (DHT) and promotes blood supply to the hair follicles. When DHT binds to the hair follicles, it causes hair fall that leads to male- or female-pattern baldness. (4)
How to use:
Soak 1 cup of fenugreek seeds in water for a whole night.
The following day, grind it into a paste, and apply it to your hair and scalp.
Cover your head with a shower cap.
After 40 minutes, wash it off with plain water.
Use this remedy two to three times a week for effective results.
6. Apply green tea
The role of green tea polyphenols on hair growth and follicle health is gaining more attention nowadays. (5) Green tea is packed with natural catechins that help in reducing DHT formation that causes hair fall.
Green tea also fights depression and stress, which are emerging as primary reasons for hair fall.
How to use:
Mix 2 tablespoons of green tea with 2 tablespoons of coconut oil.
Apply the mixture to your scalp and hair for 5–10 minutes.
Leave it on for 30 minutes.
Wash your hair with tap water.
Repeat this process twice a week for good results.
7. Make use of hibiscus
Hibiscus flowers and leaves are full of flavonoids and amino acids that help in hair growth.
Flavonoids boost blood circulation in the hair follicles and transform dormant follicles into active hair follicles, thus resulting in new hair growth. Amino acids activate keratin production in the hair follicles, thus triggering healthy hair growth. (6)
How to use:
Take a bunch of hibiscus petals and leaves and blend them into a smooth paste. You can also use hibiscus powder; simply grind the flowers and petals to form a powder. (6)
Heat 4 tablespoons of coconut oil in a saucepan and add the hibiscus paste or powder.
Boil the mixture till you see some powdery particles floating to the bottom of the pan.
Close the lid and keep it aside to bring it to average temperature.
After this add a cup of yogurt and make a paste.
Apply this mask and leave it for an hour.
Finally, wash off the mask with lukewarm water and shampoo your hair using a mild cleanser.
8. Follow a nutritious diet
Consuming a diet that is low on nutrition can disturb your hair follicle health and hair growth.
Fortunately, people facing hair loss due to a nutritional deficiency can reverse the problem with a nutritious diet or supplementation after consulting their doctor.
Some nutrients needed for healthy hair growth are iron, zinc, niacin, fatty acids, selenium, and vitamins A, D, and E, among others. You will reduce hair fall if you're not getting adequate amounts of these nutrients in your body.
While nutrients are necessary for hair growth, it is noteworthy that an overdose of nutrients may also result in hair fall, including high intakes of vitamins A and E and selenium. (7)
9. Avoid stress
Excessive stress can also result in hair fall that can last for even several months. You can avoid hair fall by minimizing stress with exercise, meditation, yoga, and massages. (8)
What Are the Causes of Hair Fall?
 You may be experiencing hair fall due to the following:
Hairstyles: Tight hairstyles such as ponytails, braids, cornrows, and dreadlocks, which entail pulling at the hair roots, can lead to hair fall.
Scalp infections: Itchy scalps can be another reason for hair fall. It may be due to dandruff and ringworm, a fungus causing red patches on the scalp, leading to hair loss.
Poor diet: Hair loss can occur due to a diet lacking essential nutrients for growth. Proteins, vitamins, and minerals such as iron are vital for overall health and specifically for healthy hair.
Stress: Excessive stress in the body can lead to hair fall and stop further hair growth, resulting in noticeable hair fall.
Medication: Another reason for hair fall is the side effects of drugs. If you think your medications are causing hair fall problems, check with your doctor about it. Please do not stop taking the medicine, as that may create significant health risks.
Water: Most water supplies are contaminated and may contain chemical compounds that can harm your hair and cause hair loss such as magnesium and copper. (9) Check the source and quality of water in your home and avoid washing your hair with hard water.
Tips to Prevent Hair Fall
Brush your hair gently and not in a rough way.
Stop smoking.
Eat a healthy and nutritious diet.
Before using any hair supplements, check with your physician whether they are safe and effective.
Avoid using curling irons, flat irons, and straighteners on your hair. (10)
General Queries Related to Hair Loss
Do I need to see a dermatologist about hair loss?
Dermatologists are specialized doctors who treat skin, hair, and nail issues. They are experts and have all the essential tools to detect and treat the root cause of a person's hair fall.
The sooner you get to the root of your hair fall, the better the chances of controlling your hair loss. (11)
What are some effective products and treatments for hair loss?
Some effective treatments include minoxidil, which can help control hair fall, especially in people with hereditary hair fall. Using an at-home laser is also an effective treatment for hereditary hair loss.
Again, it is essential to know the root cause of hair loss to treat it effectively. (11)
Are there any risks of applying onion juice to the hair?
Many people have an allergy to onion juice and should avoid putting it on their skin and eye areas as it is caustic and can irritate them. Always do a patch test before applying remedies containing onion juice; if you experience redness and itching, do not use the remedy.
Final Word
Losing some hair daily is not an issue, as each hair follicle grows and falls off according to its life cycle. Hence, hair shedding of 50–100 hair strands per day is normal.
Losing more than this number can be due to several reasons. You can try the above home remedies to control hair loss and also consult a dermatologist for help.