If you want to nourish your hair from within, you must turn to nature to pamper your tresses with pure and clean ingredients. Onion juice and curry leaves are great examples of such ingredients that can give your hair a complete makeover.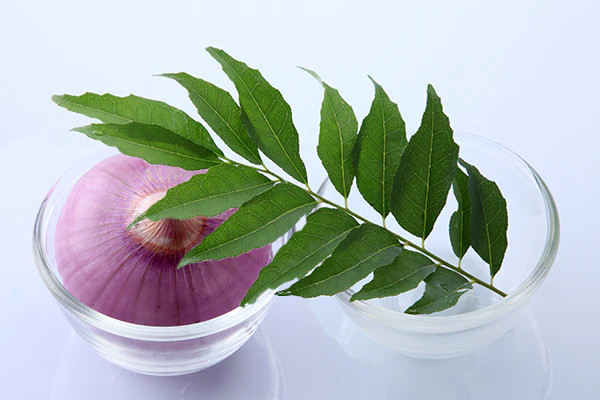 Curry leaves from the curry plant (Murraya koenigii) have been known for their culinary use and recently for their medicinal use. Curry leaves have been studied and used to treat diseases such as diabetes, cancer, and heart disease.
In some studies, the consumption of curry leaves was shown to normalize cholesterol levels and improve glycemic status in people. There are also studies revealing that curry leaves protect the body against oxidative stress, which is the reason behind many disorders. (1)
Onions are present in almost every home and are used to treat a variety of disorders. They contain an antioxidant enzyme called catalase, which helps retain the hair's natural color.
A deficiency in catalase can lead to premature graying of hair. When hair becomes prematurely gray, it becomes weak and tends to break, causing hair loss. This hair problem can be avoided after regular use of onion juice as it provides catalase to the hair follicles. (2)
Why to Use Onion Juice and Curry Leaves for Hair?
Curry leaves have been used by people in India, Sri Lanka, and other South Asian countries to improve hair growth and quality.
Research has also confirmed that boiling fresh curry leaves with coconut oil until it is reduced to a black residue produces a herbal hair tonic that works wonders to retain normal hair tone and improve hair growth. (3)
Onion juice has proven its ability in improving hair regrowth and quality because it is rich in sulfur, stimulating inactive hair follicles and promoting hair growth. Sulfur is needed to form the hair-building protein keratin, which strengthens the hair and improves its elasticity.
Mixing 2 tablespoons of onion juice and 2 tablespoons of coconut oil and applying the mixture to the hair scalp has been shown helpful in hair regrowth. (2)
Ways to Use Curry Leaves and Onion Juice on Hair
Here are some ways you can use these curry leaves and onion juice to improve the condition of your hair:
a. Curry leaves, onion juice, and coconut oil
Add 4 tablespoons of coconut oil to a pan and place it on low flame until warm.
Turn off the heat and add 10 curry leaves and 2 tablespoons of onion juice to the oil.
Let it sit for 15–20 minutes to let the mixture cool down.
Apply the mixture to your hair and scalp and massage well in circular motions. Leave it on your hair for 45 minutes.
Shampoo and condition your hair with a good-quality shampoo and conditioner.
Use this hair oil twice a week to see desired results.
b. Curry leaves and yogurt
Take ½ cup of yogurt in a bowl, add ¼ cup of curry leaves, and blend them to make a paste.
Apply this hair mask to the scalp and hair and leave it on for 30 minutes.
Wash it off with a good-quality shampoo and conditioner.
Use this hair mask regularly 2–3 times weekly to get desired results.
Benefits of Curry Leaves for the Hair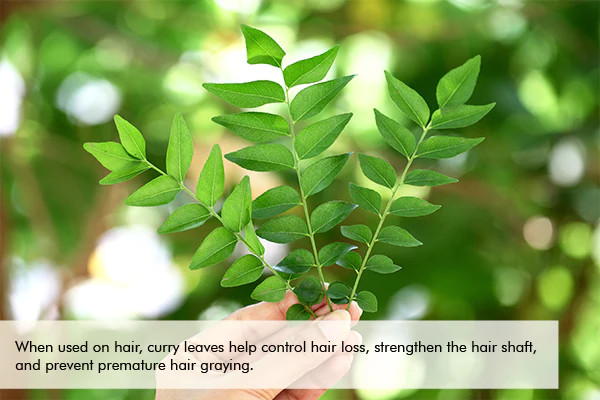 Curry leaves provide the following effects when used on the scalp and hair:
1. Helps control hair loss
It is natural for a person to lose up to 100 strands of hair a day as it is part of the body's regeneration process. However, if you are losing more than a hundred strands a day, it should ring an alarm, and you should take steps to stop it.
That's where our "hero" ingredient, curry leaves, can help out.
First, it is a natural ingredient with no side effects. Second, curry leaves are rich in antioxidants that provide strength to the hair follicles and help control hair loss. (1)
2. Strengthens the hair shaft
Curry leaves are rich in flavonoids, vitamins, terpenoids, and nicotinic acid, among other beneficial compounds, which are needed for hair growth and controlling hair loss.
The vitamin B and beta-carotene in curry leaves help improve the hair shaft's quality and make the hair healthy and shiny. (3)
Regularly applying curry leaves and coconut oil or onion juice can help strengthen the hair fibers.
3. Prevents premature graying of hair
When your hair turns gray due to aging or genetics, the natural pigment of the hair is lost forever and can't be restored. However, if your hair has grown gray due to pollution, chronic diseases, smoking, or a stressful event in your life, it is possible to reverse it by using natural ingredients such as curry leaves.
The dark color in your hair is due to melanin, and during oxidative stress, the amount of melanin reduces, leading to silvery or white hair.
Curry leaves promote the natural production of melanin in the hair as it works against oxidative stress and prevents premature graying of the hair. (4)
Benefits of Onion Juice for the Hair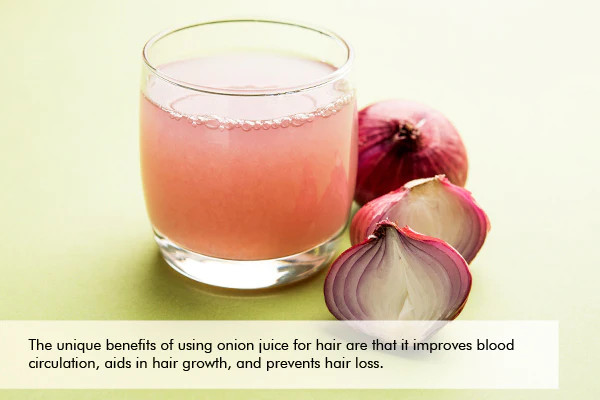 Onion juice is a rich source of vitamins, minerals, and essential oils that can fight against many bacteria, fungi, and other scalp issues. It helps in improving the hair texture, color, and hair growth as well.
Here are some amazing benefits of using onion juice for hair:
1. Improves blood circulation
Applying onion juice to the scalp enhances blood circulation in the area and increases nutrient and oxygen supply to the hair follicles.
Providing hair follicles with good nutrition is essential to having a good amount and rate of healthy hair growth.
2. Aids in hair growth
Onion juice is rich in sulfur, which is needed for stimulating inactive hair follicles, resulting in hair regrowth.
Regular application of onion juice along with coconut oil and curry leaves can result in good hair growth and add volume to your hair. (2)
3. Prevents hair loss
Onions possess anti-inflammatory and antioxidant properties as it has high quercetin content. Quercetin helps fight free radicals, air pollutants, and toxins that cause damage to the hair cells resulting in hair loss. (5)
General Queries on Benefits of Using Onion Juice and Curry Leaves on Hair
How can I make a curry leaf hair oil?
Add 10–12 curry leaves to 4 tablespoons of coconut oil or olive oil and boil on a low flame to make a curry leaf hair oil. Once cooled, you can apply it to your scalp and hair.
Can curry leaves repair frizzy, damaged hair?
Frizzy, rough, or unruly hair might be due to a lack of moisture and dryness of the scalp. Use curry leaves, which are rich in vitamin B, flavonoids, terpenoids, etc., to restore your hair and prevent hair breakage and fall.
How can I store curry leaves to use in hair packs and oils?
You can pick curry leaves and store them in an airtight container in the refrigerator to make them last for at least 10 days.
If the curry leaves are wilting, spread them out on a plate and leave them to dry in the sun. The dried leaves can be used in preparing food, making curry leaf hair oil, and preparing hair masks (powder form).
Final Word
The goodness of onion juice and curry leaves have been popularly exploited to treat many health problems, including hair fall and breakage.
Curry leaves and onion juice are so versatile that they can be used in different types of hair masks and oils. So go ahead and try these beneficial natural ingredients to add shine and health to your tresses.