Everybody loves to dance in the rain, with rainwater dripping from head to toe. But once the rain is over, the question "Does rainwater damage hair?" crosses the mind.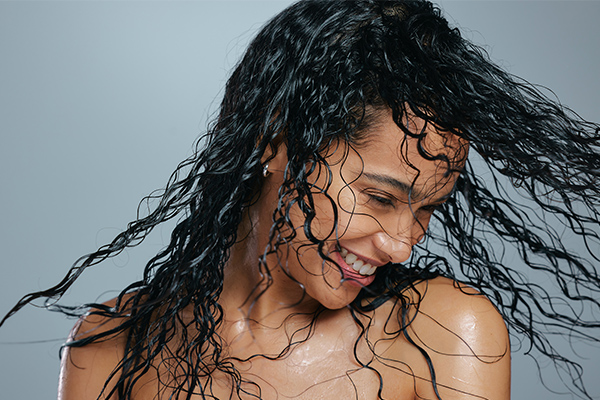 Experts conclude rainwater is naturally soft and free from pollution and, (1) thus, good for the hair.
You must have heard your parents or grandparents talk about the purity and cleanliness of rainwater. It is also distilled water. (2) These are true! Rainwater contains no harsh chemicals or minerals. (3) In fact, its acidity balances the pH of the hair, which can help boost hair growth.
It was said that the first rain could cure many hair- and skin-related ailments and was excellent for the skin and hair in many ways. However, the rise in pollution, chemicals, and climate change has ruined it.
So, the next question that comes to mind is, "Is rainwater pure in current times?" The answer is that pollutants in the air, such as smoke, dust, and more, mix with rain, making rainwater impure.
However, remember that the quality of rainwater is influenced by the area it falls on. (4)
Nowadays, the air contains pollutants that make rainwater acidic, containing heavy metals such as lead (Pb). (5) When rain falls, it brings along these pollutants that can damage the hair. This rainwater that contains heavy metals results in a phenomenon called acid rain. (6)
Thus, according to the experts, rainwater can be good for the hair, but in some areas, rainwater may contain heavy metals and is not suitable for the hair.
Read on to learn more about rainwater.
Perks of Rainwater
The following are the perks of rainwater.
1. Rainwater is soft water
Rainwater is naturally soft water (4) and does not contain chemicals or minerals that can damage and dry out hair.
On the other hand, tap water is hard water that contains high amounts of chlorine, magnesium, calcium, and other minerals that can make the hair brittle, frizzy, and dull.
Many believe soft water controls hair damage (7) and keeps hair shiny and hydrated.
2. Rainwater helps with hair cleansing
Rainwater removes dirt or sweat accumulation and detergent buildup from the scalp pores, which may clog the follicles and thin out the hair strands.
3. Rainwater provides hair nourishment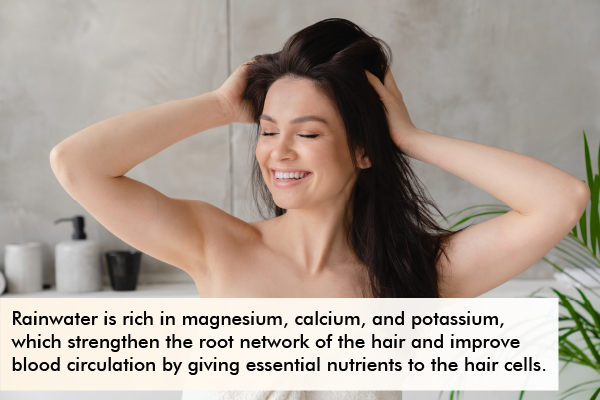 Rainwater is rich in magnesium, calcium, and potassium, (8) which strengthen the root network of the hair and improve blood circulation by delivering essential nutrients to the hair cells supporting hair growth.
4. Rainwater defines curls
Rainwater defines curls by reducing frizz and adding moisture.
Unlike other hair types, curly hair is prone to dryness. Therefore, it needs maximum hydration.
Rainwater provides hydration without weighing the hair down or reducing its elasticity, thus maintaining its bounce and shape. (9)
How to Identify Polluted Rainwater?
The normal rainwater pH tends to be around 5.6, when the pH falls below 5.6 it gives rise to acid rain. (10)
The sources of acidity in rain can stem from anthropogenic or natural activities. Anthropogenic sources include burning of fossil fuels, automobile emissions, and industrial activities, etc. which are the main contributors of acid rain in urban areas.
But urban areas are not the sole contributors to rainwater acidity, as organic emissions from forests, vegetation, and livestock manure are also responsible for the acidity of rainwater.
Dry periods (a period each year during which there is little to no precipitation) with prolonged drought during the southwest monsoons increase the chances of acid rain occurrence.
How Does Acid Rain Affect Hair?
Acid rain leads to acid burns on the scalp and ruins the hair, making it brittle and damaged. The hair loses luster and shine and becomes limp.
Here are the other effects of polluted rainwater on the hair.
1. Causes itchy hair and scalp
Rainwater contains sulfur compounds in some quantities due to the excessive pollution in the present times. (11)
And not washing your hair in time after enjoying the rain allows these sulfur contents to stay on your scalp and cause itchiness, irritation, and other issues while making the scalp vulnerable to other problems.
2. Causes hair damage, making the hair dry, dull, and knotted
Moisture from rainwater that lingers in the hair becomes a breeding ground for bacteria, which can weaken the hair roots.
The uneven drying of hair can also cause damage to the stands, making them dry, dull, and knotted.
3. Makes the hair rough and frizzy
In some cases, rainwater exposure causes hair damage. When your hair comes in contact with acid rain (containing nitric and sulfur), (12) it eliminates hair moisture and makes hair rough and frizzy.
4. Worsens dandruff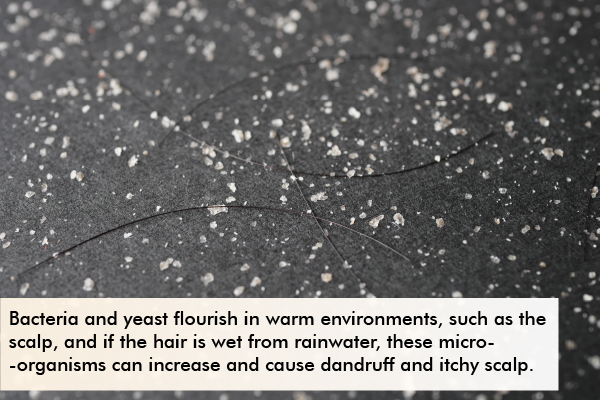 The longer your hair is wet, the more susceptible it is to yeast growth on the scalp. In fact, experts recommend not going to bed with damp hair.
Bacteria and yeast flourish in warm environments, such as the scalp, and if your hair is wet from rainwater, these microorganisms can proliferate and cause dandruff and itchy scalp.
How to Use Rainwater to Improve Hair Health
Follow these steps if you want to improve your hair healthy using rainwater:
1. Collecting rainwater
Set up a water collection system on your balcony or backyard to collect rainwater.
You can use buckets, tubs, barrels, or more advanced techniques such as downspouts and rain chains. Cover the container with a fine-mesh screen to keep the collected water clean and debris-free.
2. Filtering water
Rainwater is generally pure and clean; however, it is crucial to filter it before use to eliminate contaminants and impurities. You can use cheesecloth, a fine sieve, or a coffee filter to filter collected rainwater.
3. Boiling water
Boiling rainwater is an added precaution to ensure the safety of hair. Boil the water for at least 5 minutes and then let it cool down.
4. Rinsing hair
Use the boiled and cooled rainwater to wash your hair after shampooing and conditioning. Filtered rainwater acts as a mild pH balancer that enhances the scalp's overall health. It adds natural shine and makes the hair smooth.
So, give your hair a break from the usual hair washing once or twice a week, and try washing it with filtered rainwater. Rainwater has multiple purposes, from hydrating your scalp and misting and styling your curls to watering houseplants.
Note: Ensure your hair is product-free and clean before washing it with rainwater.
Myths and Facts Regarding Rainwater for the Hair
A myth surrounding rainwater is that it promotes hair growth as it contains minerals. However, the minerals in rainwater are filtered out during evaporation and condensation.
Therefore, rainwater is distilled water. It may be free from impurities but has no added minerals to boost hair growth.
General Queries
Can I use soap with rainwater to wash my hair?
Yes! You can use soap or mild shampoo and filtered rainwater for hair washing, just like your regular tap water.
Can rainwater make your scalp smell bad?
No, collecting rainwater, filtering it, and treating it will not cause any peculiar smell or worsen odors from bodily fluids.
Final Word
Rainwater has several benefits for the hair, from improving hair thickness to making the hair extra shiny and healthy.
However, sometimes, rainwater can be contaminated with pollutants and heavy metals, which can damage your hair. Therefore, if you want to use rainwater, filter it properly.