Oiling is important for the health of your hair and scalp. Aside from being a stress buster, regular oiling adds bounce, shine, and soft texture to your hair. It also protects and nourishes your scalp, provided you use the right hair care products. (1)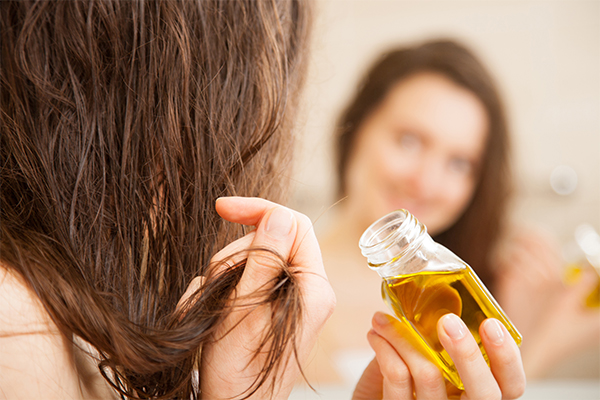 But the question here is, can you apply oil to wet hair after washing? Oiling is generally done before a hair wash, but a lot of people like to apply oil after a hair wash while the hair is wet.
It is okay to put oil on slightly moist hair as it adds shine to dull and frizzy hair. However, applying oil to wet hair, right after washing, can make your hair greasy.
Read further to know more about applying oil to wet hair after a shower.
What Is the Correct Way of Oil Application Post Shower?
To correctly oil your hair:
After a shower, gently dab your hair with a microfiber cloth to remove the excess water. Avoid vigorous dabbing, as it can cause friction, which can further lead to tangles and frizz.
Wrap your hair for 10–15 minutes.
Apply oil to your hair.
The application of oil to damp hair retains more moisture and adds softness and shine.
However, the amount of oil must be minute, around 0.5 ml to 0.2 ml, depending on the oil type. For fine hair, use a few drops only.
The oil should be applied mainly from the mid-length of the hair to the tips.
Note: One of the most common mistakes that people make is massaging their wet hair with oil. Wet hair is more likely to fall, break, or get damaged, even if you are gently pulling or tugging. (2)(3) So, avoid massaging wet hair with oil to prevent such problems.
Perks of Oil Application to Wet Hair
The following are the advantages of applying oil to your wet hair.
1. It increases hair elasticity
According to researchers, water holds onto the hair if you apply oil after a shower. Oil application to wet hair after a shower may increase its elasticity.
Oil helps in conditioning the hair and improving elasticity of the hair by retaining its moisture level, which may improve the breaking point and tensile strength of the hair, by causing less breakage and facilitating combing. (4)
2. It reduces the combing force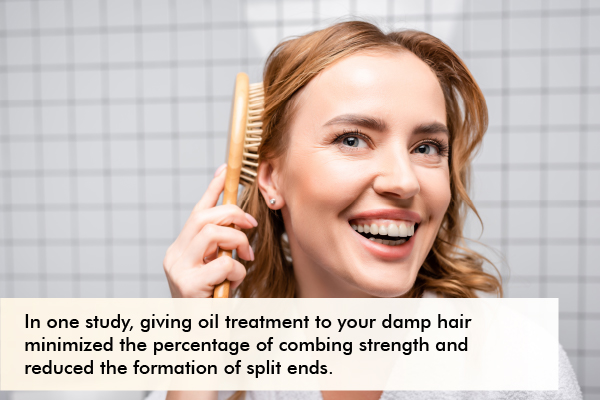 Combing your hair wet, unlike dry combing, exerts a force on the hair close to the scalp, making it prone to breakage and damage. (5)
A 2015 research study mentioned that giving oil treatment to wet hair can minimize the percentage of combing force and also helps in reducing the formation of split ends, after they checked the effectivity of oil on human hair. (6)
3. It makes your hair slippery smooth
Oil in water emulsion has a moist feel on wet human hair and reduces friction.
One study shared that when study participants with wet hair received a silicone oil treatment, more than 60% of them felt their hair to be smooth and slippery just like untreated hair. (7)
Note: The term "silicone oil" used above designates water-insoluble silicone polymers that enhance the appearance and feel of the hair after application. Silicone oil gives a lubricious and silky feel to the hair along with luster.
When thin films of silicone oil are applied to the hair strands, the films linger due to their water insolubility. You can use a shampoo or conditioner containing silicone oil and then rinse it off with water. (8)
Silicones work well for a short period by shielding your hair with a layer and keeping it hydrated. However, this shielding layer can prevent nourishing ingredients and moisture from entering deep into the hair follicle, causing buildup. Thus, when used over a long period, silicones can cause dull and dry hair.
4. It reduces frizz
Experts suggest using oil on wet hair if you have curly hair to make it bouncy and defined. Oil application protects your hair from frizz while providing nourishment.
Thus, applying oil after a shower is beneficial in getting rid of frizz from curly hair.
5. It leads to healthy detangled hair
Your hair retains moisture and nutrients when you apply oil to wet hair, making your hair full and healthy.
Oiling wet hair allows for easy detangling. The oil also acts as a leave-in conditioner and heat protectant before blow-drying. (1)
What Oils Are Best for Wet Hair and Are Less Greasy?
Argan oil has a very good water-holding potential and is considerably preferred by researchers. Topical application of argan oil results in a significant increase in hair elasticity. (1)
Moreover, coconut oil, when applied to the hair after a shower, forms a coating over the hair shaft and seals the cuticles, confining the moisture within. Hence, it promotes healthy hair by working as a leave-in conditioner. (1)
According to a survey done in Karnal City on Indian hair oil, the top oil preferences by Indians were argan oil, coconut oil, olive oil, and almond oil. (1)
Additional Tips to Keep Hair Healthy When Washing
These measures promote hair health when washing:
Keep your showers short – Get out of the shower as quickly as possible because the longer your hair is soaking wet, the more it is prone to damage due to its fragility. (9)
Curb the use of hot water – Washing your hair with hot water strips them of its natural oils, which are crucial for healthy hair growth.
Use minimal hair care products – Limit the use of hairstyling products such as mousses and hair sprays.
Apply shampoo to the scalp – The purpose of shampoo is to clean your hair and remove dead skin cells, dirt, and product buildup from the scalp.
Massage gently when shampooing – Massage your scalp gently in circular motions with your fingers when shampooing lathers. (10)
Use oil as a conditioner before showering – Oil massage is one of the best and most natural ways to moisturize and condition your hair before showering and prevent frizz. You can use some olive oil, almond oil, or coconut oil to massage your scalp and hair an hour before the shower. (1)
General Queries
Cold shower versus hot shower, which one is better for the hair?
Cold showers help close up the pores and cuticles in your scalp and lock in moisture, giving your hair shine and smoothness and reducing frizz. 
Hot showers may open up your pores and cuticles, thus enabling the easy removal of dirt, oil, and product buildup from your scalp. However, it also washes away all the natural hair oils, consequently reducing hair strength, causing breakage, and making your hair frizzy, brittle, and porous.
Therefore, cold showers are better for the hair.
Is it okay to wash my hair every day?
According to experts, washing your hair daily is not okay as it leads to two main dermatological problems:
• Washing your hair daily can make your hair dry and brittle.
• Shampooing your hair daily can cause loss of cuticle oil.
Final Word
Hair washing is fun, but washing it every day requires a lot of care. Applying lightweight oil to your hair is a good practice as the oil conditions and moisturizes your hair, making it free from frizz and tangles.