Many people go to the salon to get blonde hair, but instead of getting the right shade of blonde, their hair became yellow or even orange. This result is very common when bleaching dark hair.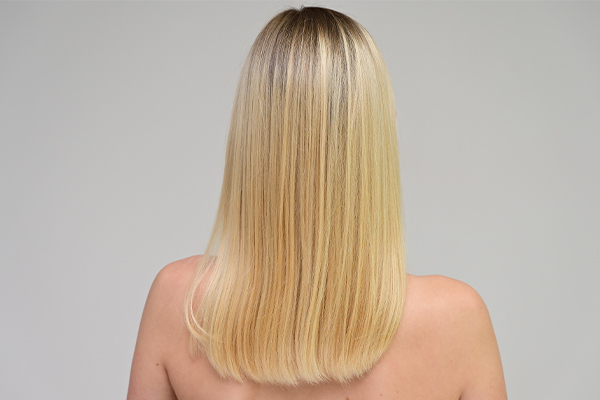 The good news is there are several solutions you can try to remove that brassy tone and enjoy your new hair color.
Read further to know about the most effective ways to get rid of the yellow tone from your bleached hair naturally. You'll also learn what hair bleaching is, how hair turns yellow, and more.
What Is Hair Bleaching?
In ancient Greece, hair bleaching was done by rinsing the hair with a potassium solution and rubbing a kind of ointment made of yellow flower pollens and petals. (1)
Nowadays, hair bleaching is popular among the elderly and the youth. The former use it to hide their gray hair, and the latter use it to get a new fashionable hair shade.
Hair bleaching is the practice of lightening the hair color mainly for cosmetic purposes using bleaching agents. To achieve a light shade, there are two steps you need to follow – bleaching with hydrogen peroxide and ammonium, and potassium persulphate, and then dyeing is done. (2)
How You Can Get Rid of Yellow From Bleached Hair Naturally?
If your hair turned yellow after bleaching, you can apply the following on your hair: the red petals of hibiscus, purple shampoo, henna, and apple cider vinegar.
Then, you can prevent that brassy tone from returning by making some changes to your hair care routine.
1. Red petals of hibiscus
The red petals of hibiscus are used for dyeing hair and have a richness of flavonoids (that boost healthy hair) from the group of anthocyanidins (antioxidants that keep yellow hair away).
The hibiscus petals help alleviate the orangish and yellowish tone of improperly bleached hair. (3)
How to apply:
Wash 8–10 petals of red hibiscus thoroughly.
Grind the petals and add water to get a smooth paste.
Evenly spread this paste on your hair and scalp.
Let it set for at least an hour.
Wash it off using a mild shampoo or just water.
You can add this to your hair care routine and use it twice a week.
Note: Instead of adding water, you can make a hair mask using aloe vera, curry leaves, hair oil, and fenugreek seeds.
2. Purple shampoo
Being on the opposite end of the color wheel, purple has the potential to neutralize yellow and breathe fresh life into your blonde hair that has lost its shine. It can effectively erase the yellow from your strands.
How to apply:
Wet your hair with warm water.
Take the purple shampoo and massage it from root to tip.
If you are a natural blonde, let it sit for 2–3 minutes. If you have brassy color-treated hair, leave it for at least 15 minutes. For yellow hair, leave it for at least 30 minutes.
Use cool water to wash the shampoo off, and then apply your preferred conditioner.
You can use this shampoo at least once a week to maintain your hair color.
3. Henna powder
Henna is a natural organic substance and is the most prominent vegetable hair dye. It gives a reddish-orange shade to your hair. It is also mixed with other dyes in a few commercial products. (2)
The hair discoloration (which may be an intentional cosmetic change or due to metal or chemical exposure) (4) can be reduced by coating your hair with neutral henna powder. Thus, henna fights off the yellow tone from your bleached hair.
How to apply:
Mix ½ cup of henna and ½ cup of water in a bowl.
Apply the mixture to your hair.
Let it sit for at least 2 hours.
Wash your hair with cool water and then shampoo and condition as usual.
4. Apple cider vinegar
Apple cider vinegar (ACV) is a good option for getting rid of residues from any other hair products on the hair shaft and scalp. It can also condition your hair, making it shiny, silky, and soft. It does all these due to its acetic acid content. (5)
According to experts, ACV can restore balance to the hair by lowering the pH. As a result, it can draw out the yellow or orange tones, although there's no research to prove its effectiveness.
How to apply:
Take 4 tbsp of ACV and dilute it with 2 tbsp of water in a jug.
Pour this mixture into your hair.
Leave it for at least 15 minutes.
Wash it off with cool/lukewarm water.
Note: Do not use ACV on your hair more than thrice a month as it can make your hair dry.
What Causes Bleached Hair to Turn Yellow?
Here are the following causes of yellowing of bleached hair:
When the concentration of hydrogen peroxide increases at the time of bleaching, the hair brightens up to yellow. (6)
People have often complained about damaged hair while swimming in the chlorinated water of swimming pools. Blonde hair gets even more yellower when it is exposed to the full UV spectrum. (7)
Tap water contains a lot of minerals and metals, and because blonde hair is very porous, it absorbs these metals and minerals, leading to a slight yellow tint.
How to Prevent Orange and Yellow Hair
Factors like loss of hair color and color buildup lead to yellow and orange hair. You can prevent this by:
Preventing your hair from sun and UV exposure
Avoiding getting your hair wet with salt water (seawater)
Keeping away from products filled with silicone and parabens
Reducing the frequency of coloring your hair
Using water softeners if your place has hard water
Using color-protecting shampoo and conditioners if you color your hair frequently
Can Hair Bleaching Damage Your Hair?
Hair bleaching can damage your hair. In one study, researchers observed an apparent fracturing and breaking of the bleached hair from the leading edge of the cuticle scales.
When re-treatment was done to the bleached hair, the cuticles not only lifted but were eliminated from the surface of the hair. The reason was that bleached hair fibers have a poor sensorial profile, high porosity, and low tensile strength. (2)
Final Word
If you have yellow- or orange-toned hair from bleaching, it can affect how your hair looks. You should remove these tones to keep your hair beautiful.
Try the remedies above to get rid of the yellow and orange tones from bleached hair and prevent the problem from reoccurring. You can achieve this with simple prevention techniques and home remedies.