From making poker straight hair to beach waves and beautiful curls, heating hair tools are used for every style. Hair straighteners, curling irons, and blow-dryers (1) are tools that influence every red carpet look and are present in every fashion-forward girl's closet.
But beyond styling the hair, these gadgets are counted among the biggest offenders when it comes to hair damage. Using them too much can leave your tresses dry, dull, and prone to split ends.
You must note that the general formula of "everything in moderation" is applicable to using hot tools as well, where you shouldn't use them too often or for too long on a high heat setting. (2)
How Does Heat Damage Your Hair?
Heat from using the following heating tools can damage the hair in many ways.
1. Blow-dryers
Excessive heat from a hair dryer (3) may lead to cuticle damage.
Coming in contact with the extreme heat from the dryer can be too much for the hair to manage and can result in the destruction of the outer surface of the hair. Breaking of the cuticles exposes the lipids and protein that make up the hair strands, causing hair to break and fall off.
Moreover, using a blow-dryer on the highest setting can injure the scalp and affect the strands too.
You must choose medium airflow and medium heat airflow to lessen the dryer's harmful effects. Also, buy a high-end blow-dryer made with negative ions that smooth out the hair. (2)
2. Flat irons
According to the American Academy of Dermatology, temporary straightening of hair (1) using a flat iron is achieved by using heated tongs to the hair length. The heat breaks and then changes the bond of hydrogen in the inner core of the hair fiber.
The objective of straightening is to alter the inner hair parts, but that damages the outer protective cuticle in the process, resulting in weathering and eventual breakage and loss of hair.
Flat irons are composed of two flat panels that, when pressed and heated together around the hair, break the bonds of hydrogen in the cortex that preserve the natural shape of the hair, enabling you to style your locks as you want.
3. Curlers
Curlers use heat to form curls in the hair. The heat breaks the protein in hair, leading to hair damage. (4) This is why it is necessary to use a high-quality curler to eliminate damage. Curling irons may also reach high temperatures, making them another threat to the hair fiber.
One research looked at curling iron temperatures that range from 110°C to 120°C. (5) When the time of curling was extended, distortion to the cuticles was observed because of the quick moisture expansion, which was steam trapped in the hair fiber, and when the water vapor escaped, ripples and bulges were created along the edges of the cuticles.
You must note that the use of the flat iron and dryer dehydrates the hair. (6)
How to Use Heat Tools Without Causing Hair Damage?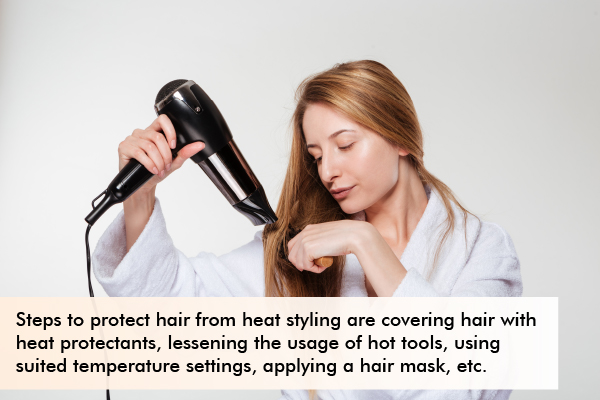 Use the following preventative and precautionary steps to protect your hair from the damage caused by heat styling.
1. Shampoo with protein/keratin shampoo
Styling the hair regularly can destroy the outer layer of hair called the cuticle, making it turn dry and brittle, leading to hair breakage and fall. (1)
This is why it is necessary to reinforce weakened strands using conditioner and shampoo laced with protein, also known as keratin, to fill in gaps in the cuticle layer and make hair less apt to split and tear.
2. Protect hair with heat protectants
Always use a heat protectant to protect your tresses when you style your hair with hot tools. (7) These heat protectants work like sunscreen and reduce the damage to hair from straightening, curling, and blow-drying.
3. Use cold and warm water to wash hair
Use both cold and warm water to wash your hair. Lukewarm water helps the conditioner to seep into your hair, and cold water locks in the nutrients and moisture from the conditioner.
Hot water may be damaging to your hair and rob all of its moisture, so avoid it.
4. Lessen the usage of hot tools
On some days, keep the blow dryer aside and let your hair air-dry. You can also towel-dry your hair with a microfiber towel, but don't rub it vigorously on your hair.
If your hair is unmanageable without any blow-drying, use the cool blast option available.
5. Use the appropriate temperature setting
Your type of hair and desired results must dictate the temperature at which your heat styling tools are set:
410–450°F (210–232°C) for people with stubborn and thick hair that takes a long time to style at lower temperatures.
370–410°F for coarse or textured hair. Make sure you set a base by brushing and blow-drying before heat styling it.
350–370°F for generally hydrated hair and naturally wavy. Prefer a tool with a smoothing material to eliminate frizz.
330–350°F for normal hair that is not too thick or too fine and not too curly or wavy and easy to manage.
250–300°F for fragile and fine hair that does not need much heat to transform. (6)
6. Apply a hair mask
Because of excessive heat styling, your hair needs proper nourishment. Applying a mask to your hair at least once a week is advisable.
A hair mask can decrease the tangling of hair, making it easy and smooth. It can also replenish the hair's natural moisture that is lost when heat styling.
7. Get a regular trim
Excessive heat leads to split ends, making the hair rough, frizzy, and easy to break. Schedule monthly hair appointments for hair trimming to get rid of split ends before they travel to the shafts and cause further hair loss.
8. Select tourmaline plates and ionic tools
Tourmaline plates and ionic tools are preferable when it comes to heat styling tools.
Ionic hair tools exude negative ions, which can cancel out positive ions that are responsible for opening the cuticles and thus can re-seal cuticles.
Thus, the necessary moisture your hair requires to stay hydrated and healthy is locked in, while extra moisture from humidity is blocked out. This feature makes ionic tools a go-to gadget for promoting hair shine and fighting frizz.
Also, negative ions neutralize the electric charge that causes hair static. Moreover, decrease your usage of hair blow-dryers as they break up water molecules, causing them to evaporate more rapidly, resulting in dry and parched hair.
General Queries Related to Heat Tools and Hair Damage
How to repair hair damage due to excessive usage of hot tools?
Use hair protectants to prevent heat damage, especially if you style regularly. If your hair easily breaks off or feels like straw, then it's time to put the brakes on straighteners, curlers, etc.
Start by using a clarifying shampoo to eliminate any buildup, and then apply a hair mask or deep conditioner. Choose sulfate-free conditioner and shampoo for everyday use, and look for ingredients such as antioxidants, natural extracts, silk amino acids, or keratin on the product label.
You may add a leave-on conditioner to your everyday routine, which additionally protects and restores your hair.
Do I put heat protectants on dry or wet hair?
If you are trying to blow dry wet hair, apply a heat protectant on wet hair. However, it is highly advised not to style your hair when it is wet as it is at its weakest.
When hair is dry, you may spray a heat protectant and then get to straightening or curling your hair.
How long do the effects of heat protectants last?
Heat protectants such as serums or sprays last for four hours from the time you apply them to your hair. You may spray on or apply the product using your fingers to your hair and then use hot tools.
If the heat styling session takes a long time, you may pause and apply heat protectant again to your hair.
Which are better to use, hot rollers or a curling iron?
Hot rollers are a good option, but it varies on the style you are aiming at. Hot rollers are good for huge bouncy curls.
Curling your hair with a curling iron only once in a while might not damage your hair, but if you do it often, it might be harmful.
Final Word
With several heat styling tools at everybody's disposal nowadays, there is no doubt that hair damage due to heat is a huge issue for several people.
This article presented helpful advice on using heat protectants and hair masks to lessen the effects of heat damage on the hair. Follow the measures mentioned above and you can surely prevent and control hair damage due to the usage of hot tools.