Hair graying can happen at any age. It remains one of the most frustrating parts of the aging process and can profoundly affect the self-esteem of an individual.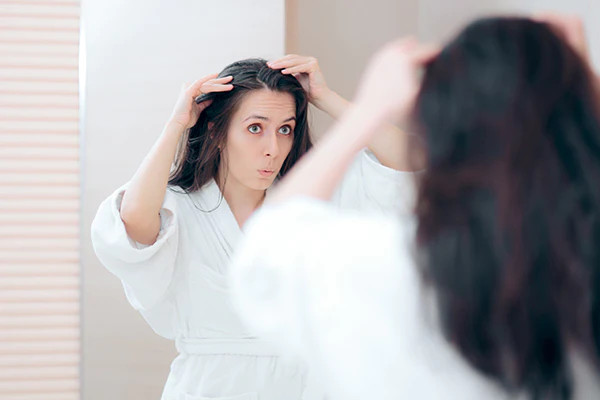 Once hair graying has occurred, can it be reversed with the use of onion juice as a hair and scalp remedy?
The answer to this question is a straightforward no if aging or genetics is the reason behind your hair graying. The reason is, with aging and genetics, the pigment cells (melanocytes) within the hair follicles are dying, and there is no way to bring them back to life.
However, if your hair graying is due to a medical problem or occurs after a significant life event, there is some hope of restoring the natural pigment of your hair.
Onions are abundant in sulfur, which promotes collagen synthesis, the production of healthy cells, and hair growth. Onion juice is also known to promote blood circulation and is rich in antioxidants that may help reverse premature hair graying.
Moreover, this powerhouse vegetable can fight free radicals, air pollutants, and toxins, which are known to cause damage to the hair cells that results in hair breakage and loss. (1)
Onions exhibit anti-inflammatory and antioxidant properties because it is rich in quercetin, which enhances melanin production in the hair follicle and thus can help in the premature graying of hair. (2)
Does Science Back the Use of Onion Juice for Gray Hair?
Onions are abundant in catalase (3) and quercetin, (4)(5) which are needed for the reversal of premature graying of hair.
Note, though, that if your hair has turned gray due to aging or genetics, it is impossible to reverse it.
If it turned gray due to diseases, pollution, smoking, or a stressful event, then using onion juice may help reverse it. Still, more scientific evidence is needed to establish this claim.
The Science Behind Gray Hair
You may blame your job or poor lifestyle for your graying hair, but your genes determine when you get gray hair. So, if your parents went gray in their 30s, you might also experience the same thing.
The pigment responsible for the rich dark color of your hair is melanin, produced by the hair follicles. With aging, the melanin cells start dying, and the new hair strands growing out are lighter in color, such as shades of gray, silver, and white.
When the follicles don't make melanin anymore, there won't be any dark hair color. (6)
Hair Benefits of Using Onion Juice
Rejuvenates the hair follicles: Onion juice is rich in sulfur, which helps nourish the hair follicles and improve hair growth.
Improves blood supply: Applying onion juice to your hair and scalp increases blood supply to the hair follicles, which in turn helps in hair growth.
Reduces hair thinning and breakage: The sulfur in the onion juice helps prevent thinning and breakage of the hair.
Reduces dandruff: Onions exhibit antibacterial properties, which keep scalp disorders such as dandruff at bay.
Prevents premature graying of hair: Onion juice can help control and prevent premature graying of hair as it increases the presence of catalase in the scalp.
How to Make and Use Onion Juice
Peel 1–2 onions and dice them into pieces.
Blend these onion pieces and filter the juice with a muslin cloth to extract a clear liquid.
Using a cotton pad, apply this onion juice to your scalp and give it a good massage in circular motions.
Leave it on for 30–45 minutes, and then wash it off with a gentle shampoo.
Repeat this process twice a week to get results.
Note: Before using onion juice on your scalp, do a patch test first to check for allergies.
Causes of Graying Hair
1. Emotional stress
Stress and emotional factors play a role in premature hair graying.
One study conducted on young people in Turkey showed that oxidative stress, or an imbalance between free radicals and antioxidants in the body, was caused by emotional problems, alcohol intake, and acute diseases and was the reason behind hair graying in both female and male participants. (7)
2. UV rays and pollution
Ultraviolet rays (UV) and pollution have also been shown to be the cause of oxidative stress, which leads to the destruction of melanin-producing cells and an increase in hair graying.
In an experiment conducted on mice, UV radiation caused oxidative damage to the hair follicles, resulting in hair graying. (6)
3. Vitamin B12 deficiency
A deficiency in vitamin B12 is known to cause premature graying of hair.
In an experiment to relate vitamin B12 deficiency to hair graying, it was found that 55% of the patients with anemia developed hair graying before the age of 50 in comparison to 30% of the participants in the control group.
In addition, a decrease in thyroid hormones was one of the reasons behind premature hair graying. Thyroid hormones (T3 and T4) act on the hair follicles to increase melanin production. (8)
4. Medications
Chemotherapy and antimalarial medicines can cause premature graying of the hair. These drugs work by inhibiting the tyrosine kinase C-kit in the melanin cells, reducing the amount of melanin in the hair.
Chloroquine tablets used to cure and treat malaria and liver infection are also known to inhibit the production of melanin. (6)
5. Smoking
Lighting up a cigarette affects every body part, including your hair. One study concluded that smokers would be 2½ times more likely to turn gray before age 30 than nonsmokers. (9)
6. Nutritional deficiency
Nutritional deficiency can be one of the causes of going gray early. The good news is this type of premature hair graying is reversible as protein-energy malnutrition and chronic protein loss can be treated.
A study showed that premature graying of hair was also caused by a deficiency in copper and iron in the body. Another study also pointed out that there were low levels of calcium, ferritin, and vitamin D3 in people with premature hair graying. (6)
General Queries Related to Onion Juice
Will the concentrated onion juice on the hair produce an allergic reaction?
If you are allergic to onions and have sensitive skin, then applying diluted onion juice to the hair is recommended. You can mix onion juice with coconut oil, olive oil, yogurt, etc., and use it on the scalp and hair.
Can I keep onion juice overnight on my hair?
Onions are rich in sulfur, can produce skin irritation, and have a pungent odor; it is best to leave them on your hair for a maximum of 30–45 minutes.
Final Word
No one likes to experience premature graying of hair.
But if environmental conditions, smoking, medications for chronic diseases, and vitamin B12 deficiencies have caused it, then you can try onion juice to reverse it. Douse it regularly to see favorable results.