Onions are chock-full of sulfur, which stimulates hair growth. The sulfur in onions promotes collagen production, which leads to healthy hair growth.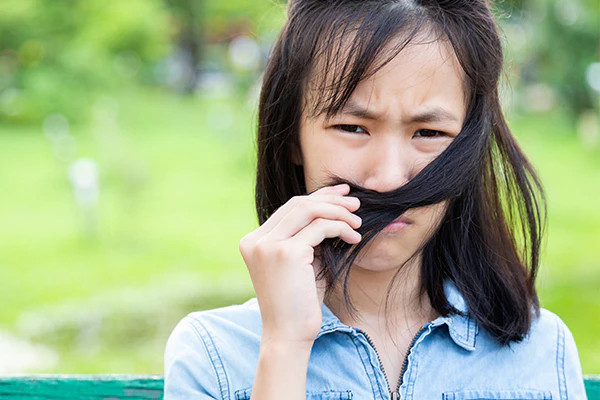 However, the annoying thing about using onion juice is that it leaves a pungent smell on the hair, and washing it off can be a real challenge.
When onions are sliced, the tissue is damaged, and chemical reactions produce the pungent sulfurous odor. (1)
If you're a big fan of using onion juice on your scalp and hair to improve the growth of your strands but are bothered by its pungent smell, then keep reading to discover how to get rid of onion juice smell from your hair and hands.
How to Get Rid of Onion Juice Smell From the Hair
Applying onion juice is one of the best solutions for your hair problems.
However, if it is not adequately washed off from the hair and scalp, it can cause buildup, resulting in the growth of bacteria and fungi, and the sulfurous odor lingers.
Here are some ways in which you can remove onion smell properly from your scalp and hair:
1. Use a citrus-based oil
Every home has a few lemons available, and as citrus fruits have a robust dominating smell, you can add a few drops to the hair to remove the onion smell.
For example, you can apply citrus-based shampoos to your hair to remove the pungent smell of onion juice.
Or you can mix a few drops of citrus essential oil with a few drops of coconut oil and apply the oil blend to your hair after washing it with a good-quality shampoo to eliminate the pungent onion smell. (2)
2. Wash it off with a clarifying shampoo
Use a clarifying shampoo to wash your hair as it not only helps remove the pungent smell of the onions, but it also contains powerful ingredients to get rid of bacteria, thus keeping the scalp clean.
Antibacterial shampoos such as ketoconazole- and zinc-based shampoos containing salicylic acid also help remove the onion smell from hair.
It is important to apply conditioner after washing your hair with clarifying shampoo to avoid dryness. (3)
3. Use a citrus-based shampoo
If your hair stinks of onions, use strong-smelling citrus-based shampoos or add a few drops of citrus essential oils such as lemon, orange, or grape to eliminate the smell.
Citrus fruits contain low-acidic compounds that help break the odor molecules, but they are not so strong to burn or damage your skin or spoil your hair. This remains the top reason many big brands include citrus-based flavors and oils in their products.
4. Apply aloe vera gel
Aloe vera is well known for its moisturizing properties, and it contains vitamins C, E, and B12 and other minerals. (4) It is an effective hair conditioner that can make the hair silky and shiny.
Moreover, the enzymes in aloe vera help remove the cells that cause the foul onion smell. Thus if you want to remove the sulfurous odor from your hair, extract the gel from the plant and apply it to your hair.
5. Use herbal shikakai shampoo
There are an overwhelming number of shampoos containing chemical-based compounds on the market that damage your hair texture and ruin it over time.
If you want to treat your hair naturally and also remove the smell after the application of onion juice, then homemade shikakai cleansers will work for you.
These cleansers eliminate the odor and keep your scalp and hair clean. Additionally, they maintain the scalp's pH and improve the overall condition of your scalp and hair.
6. Wash your hair with apple cider vinegar
Use apple cider vinegar as a rinse to eliminate the smell of onions from your hair if it does not go away even after washing your hair with shampoo and conditioner.
The mild acidity of ACV helps to remove dirt and impurities from the scalp and hair follicles.
Dilute 2 tablespoons of ACV in 1 cup of water, and apply the mixture to your hair. Leave it on for a few hours and rinse it off with mild shampoo to reduce the pungent smell.
7. Mix a few drops of essential oils into your shampoo
If you have applied onion juice to your hair and are bothered by its lingering smell, some essential oils such as rosemary oil, tea tree oil, or peppermint oil might help.
These oils not only remove the pungent onion smell from the hair but also nourish the scalp and hair and promote hair growth.
All you need to do is add a few drops of any of these essential oils to your shampoo and wash your hair.
You can also use a few drops of these essential oils to oil your hair; just make sure to mix them with a carrier oil such as coconut oil to avoid scalp irritation. (2)
8. Rinse your hair with homemade herbal water
A smelly hair or scalp can be an enormous turnoff, especially when you're in the company of family and friends. Try washing it off with herbal-infused water to eliminate the annoying odor of onion juice from your hair.
You can prepare the herbal water by boiling herbal ingredients such as aloe vera, rosemary, peppermint, or tulsi leaves. Use this water mixture to rinse your hair after using your usual shampoo and conditioner.
Does Science Back the Use of Onion Juice on Hair?
A study to determine if onion juice is effective in curing patchy alopecia was conducted. There were two groups: one group used onion juice twice daily on their scalp for 2 months and the other group used only tap water.
After using it for 2 weeks, the group who used onion juice observed that coarse hair was appearing on their scalp. At 8 weeks, 87% of the participants who used onion juice had hair regrowth, in comparison to 13% of the participants who only used tap water.
The study concluded that alopecia areata can be cured with the use of onion juice.
How to Extract Onion Juice?
Wash and pat 6–7 medium-sized onions dry.
Blend them to make onion paste.
Pass the onion paste through a sieve to extract the onion juice.
Store the onion juice in an airtight container for future use.
How to Apply Onion Juice to the Hair?
Apply onion juice directly to your scalp using your fingers or a hair spray.
General Queries Related to Onion Juice
For how long does the onion smell stay on the hair after onion juice is applied?
The onion smell usually stays from 4 hours to one day after you have shampooed.
How often should I wash my hair to remove the onion smell?
It is suggested to wash your hair twice a week to fully remove the odor from your hair. And leave your hair free without tying it.
Will applying the lemon and citrus oils damage my hair?
As citrus contains low-acidic compounds and other essential oils, lemon and citrus oils do not damage the hair or scalp.
Final Word
Onion juice helps to boost hair growth and increase the overall health of the scalp. However, its lingering smell is annoying; thus, many people are hesitant to try it.
But by following the tips and solutions above, you can quickly get rid of the onion smell from your hair and keep using onion juice to strengthen your hair strands.