Yes, conditioners are a highly recommended hair care product, especially if your hair is dry and thin. Hair that lacks moisture and volume is a major issue for many people.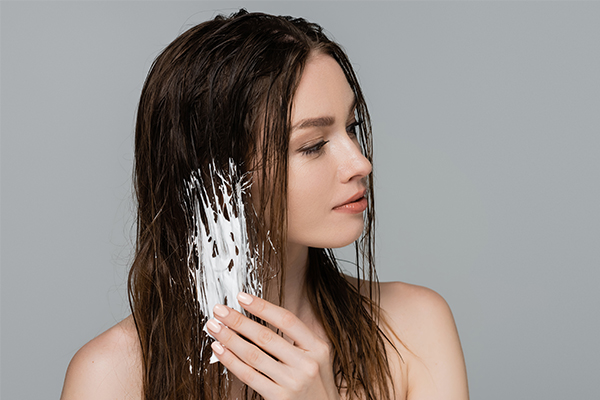 Having dry, thin hair can make your face look lifeless; the good news is you only need a good conditioner to give it some oomph again.
Researchers have found that hair conditioners are one of many hair care products that enhance the hair's physical and visual qualities.
Because they contain molecules that build up on the damaged cuticle scales and fill the cracks and fissures, they are ideal for dry and damaged hair and can make thinning hair look better. As a result, there is less resistance when strands slide past one another.
In a nutshell, conditioners make the hair soft, glossy, and shiny; they also lessen frizz and make the hair easy to manage and comb. (1)
When faced with hair problems, most people immediately reach for their wallet to pay for a pricey hair treatment or mask, but simply using a good-quality and suitable conditioner can do wonders for your dry and fine hair if you've been struggling with dryness and thinness.
Learn more by reading on!
How Can Conditioner Help Dry and Thin Hair?
In one study, a specific kind of conditioner, or hair glaze or thickener conditioner, has been shown to increase hair diameter by coating the hair shaft, (2) making conditioners beneficial for dry and fine hair.
The conditioner contains "conditioning agents," defined as additives that improve the hair's feel, look, fullness, lubricity, reflection, and overall manageability. (3)
Because of its many benefits, including reduced friction, detangled hair, reduced frizz, and enhanced combability, (2) the conditioner is recommended for dry, fine hair. (4) The conditioner can also make hair thick by promoting hair growth. (5)
Hair Conditioner Benefits for Dry and Thin Hair
Incorporating conditioners into your hair care routine can offer the following benefits.
1. Nourishes and lubricates the hair strands
You can find cationic surfactants, silicones, oils, and emollients in most conditioners. When used together, these ingredients restore moisture to the hair. (5)
Use a leave-in conditioner to prevent moisture loss and revive dry hair. The moisture content of your hair can be increased and maintained with regular deep-conditioning treatments.
Conditioners work by reducing the hydrophilicity of the hair fiber by lubricating the cuticle and counteracting the negative electrical charge of the hair follicle.
The responsible substances for lubrication and anti-static properties include polymers, oils, waxes, hydrolyzed amino acids, and cationic molecules. Thus, conditioners are helpful because they make the hair less stiff.
Leave-in conditioners' lubricating ingredients make the hair soft, and their added moisture keeps it that way. (4)
2. Makes hair denser
Researchers have found that using conditioners can lead to thicker hair. (3)
Conditioning the hair regularly is the foundation of a hair care routine. By adding a protective layer back to the cuticle, conditioners help the hair to continue growing and resist breakage. (5)
3. Increases the luster and silkiness of hair
Conditioners encourage the hair's cuticles to lie flat against the surface, protecting the hair color and adding shine and smoothness at the same time.
The purpose of hair conditioners is to make your hair more manageable, less prone to static electricity, and shinier. (3) The cuticle is smoothed out more completely using a deep conditioner, leading to a higher shine. (6)
4. Benefits chemically treated and damaged hair
Conditioners are beneficial for chemically treated and damaged hair because they help smooth out the strands and repair the damage.
Hair conditioners are used to restore the hair's natural condition after being damaged by thermal styling tools, such as blow-dryers and straightening irons, and by chemical processes, such as coloring and perming.
Studies have shown that using a conditioner with keratin active technology and surface repairing and protecting silicon technology can improve chemically damaged and heat-damaged hair. (4)
Hair dyes, bleach, and rough brushing are all examples of chemical and mechanical damage that can be mitigated with the help of a conditioner. Moreover, it aids in reducing frizz. (4) Curls become smoother and less frizzy.
Studies have also shown that conditioners help tame flyaways. (4) Additionally, a low-pH conditioner eliminates static electricity, tames frizz, and seals the cuticle. (7)
5. Detangles hair strands
Experts have found that dry and damaged hair is more prone to tangling because the cuticles don't lie flat, making it easier for hair strands to snag and entangle.
Researchers have found that conditioners aid in detangling the hair. (8) Conditioning makes the hair more manageable and less challenging to detangle. (9)
How to Apply Hair Conditioners
Wash your hair with shampoo and remove the excess water by squeezing it. A towel will also work for this purpose.
Apply a small amount of conditioner to the strands. Avoid getting conditioner on your scalp by focusing on the strands. If your hair is short, apply it by pulling it away from your scalp. A wide-toothed comb can be used to distribute the conditioner through your hair.
Leave it on for 2–3 minutes.
Rinse the conditioner off.
If you want your hair to be silky and frizz-free, you shouldn't skip conditioning after shampooing.
Different Types of Hair Conditioners
A conditioner can be one of four varieties:
General Queries Related to Using Hair Conditioner on Dry and Thin Hair
Are there side effects from using shampoos and conditioners?
Shampoo and conditioner allergies are highly unusual. An elevated pH level (above 5.5) has been linked to potential scalp irritation. If the wrong shampoo is used regularly on a certain hair type and if no conditioners are used to protect and restore the hair, the hair shaft can become damaged.
However, researchers found that shampoos should be first given in a small pouch/bottle for testing efficacy along with the procedure given for testing on the pouch for closed observation of any allergic ingredients. (3)
Regular use of shampoos and conditioners is considered safe, with only a few reports of adverse events such as contact dermatitis. Some shampoos have been linked to an increase in the severity of eczema in children. (6)
How come my hair is thinning?
Many medical conditions, infections, toxic substances, and hormonal imbalances can contribute to hair thinning. (11)
The role of stress and genetics also play very important roles. Thus, clinicians should also inquire about stress levels that may contribute to hair loss. Moreover, if a patient has a family history of baldness, they may have a genetic predisposition to losing their hair (androgenetic alopecia) too. (12)
Final Word
Conditioners are recommended for people with dry and thin hair because they help hydrate, moisturize, smoothen, provide shine, and add volume to hair. They also reduce frizz and detangle hair.
You can try natural and vegan shampoos and conditioners for better results.