Leave-in conditioner is a game-changing product for anyone who wants healthy, hydrated, and completely manageable hair.
In terms of hair care, prevention is better than repair. One of the best ways to maintain healthy hair is to use a leave-in conditioner for dry hair once a day. Dry hair is more prone to breakage, frizz, and split ends, so adding extra moisture can help.
However, some leave-in conditioners are designed to be used only on damp hair and not on dry hair.
Researchers and professionals claim that a leave-in conditioner can be used on dry hair. (1)(2) Leave-in conditioners are great because they keep your hair hydrated, (3) repair dry and damaged hair, (4)(5) lubricate the hair, (6) and make detangling a breeze. (2)
Leave-in conditioners work great for both regular and damaged hair; they are even better since they don't require a final shampoo.
Keep on reading to learn more about the advantages of using a leave-in conditioner, as well as a detailed tutorial on how to apply one.
What Happens When You Apply Leave-In Conditioners to Dry Hair?
Dry, particularly dry (dehydrated) hair with texture, can benefit from a leave-in conditioner. Leave-in conditioners are a type of lightweight hair conditioner designed to be applied to dry hair between washes to restore the hair's moisture and improve its manageability. (1)
Setting lotions, mousse, or leave-on products are recommended by researchers (2) for use on dry hair and then left in place without rinsing. Using it on dry (non-wet) hair will not cause damage.
Benefits of Using Leave-In Conditioners on Dry Hair
Using a leave-in conditioner adds moisture to your hair, which benefits the hair's overall health. The advantages of using leave-in conditioners are as follows.
1. Replenish dry hair with moisture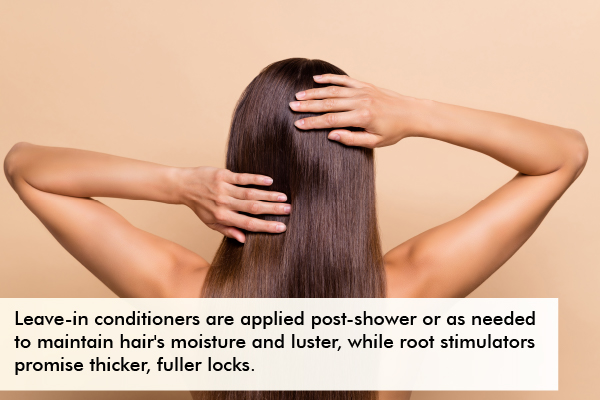 Leave-in conditioners are applied after taking a shower or as needed to maintain the hair's luster, moisture, and hydration by sealing moisture from the air. (5)
Moreover, leave-in conditioners with root stimulators promise thicker, fuller locks. (3)
2. Moisturize dry hair
Vitamins, silicon, alcohol, and many other ingredients go into making leave-in conditioners. These ingredients lubricate the hair's surface and make hair soft. (6)
3. Aid in the repair of damaged hair
Sunscreen in hair care products is beneficial it shields the scalp and hair from the damaging ultraviolet rays and delays aging. (4)
Additionally, sunscreens formulated as leave-in conditioners can add moisture to the fiber and make the hair more manageable. (4)
4. Detangle hair
The solvent systems used in leave-in conditioners are either water or an alcohol-water mixture. (2)
These components do not form rigid bonds but improve combing and style retention by increasing the interfiber forces and acting as detanglers.
5. Reduce static in hair
Leave-in conditioners are packed with natural oils, vitamins, nutrients, antioxidants, and botanical extracts that make the hair more manageable. (2) The hair is protected from split ends, frizz, breakage, and dryness, thanks to the oils' ability to hydrate the roots deeply.
In addition, leave-in conditioners instantly tame frizz and puffiness and smoothen the hair by sealing in moisture.
How to Use Leave-In Conditioners on Dry Hair?
Shampoo your hair and rinse it thoroughly.
Pat your hair dry with a towel.
Apply a leave-in conditioner to the ends of your wet hair for best results.
Give it some time to work its magic on your hair.
Detangle and distribute your hair uniformly by brushing it with a wide-toothed comb.
Let your hair air-dry and style as you like it!
When Should You Use Leave-In Conditioners?
Use a leave-in conditioner after washing and conditioning your hair.
You can apply a leave-in conditioner to wet hair and skip the washing step.
Use a leave-in conditioner on your hair before bed; your strands will drink it while you sleep.
Leave-in conditioners can also be heat protectants before blow-drying or employing other heat styling methods.
Read the label to find out if your leave-in conditioner can be used on dry natural hair.
General Queries Related to Leave-In Conditioners for Dry Hair
Should you apply a leave-in conditioner to your hair daily?
Until the next time you wash your hair, your leave-in conditioner will remain in your hair. (3) It would help if you use it every other time you wash your hair, as recommended by the experts.
Will using a leave-in conditioner stimulate hair growth?
A recent study found that using leave-in conditioners led to thicker, longer hair. (3) Leave-in conditioners aid hair growth because they repair and protect the hair strands.
Two things are essential for rapid and healthy hair growth: stimulating your scalp to produce more hair and protecting the hair you already have from damage.
Final Word
Hair of any texture can benefit from leave-in conditioners as they protect your hair from drying out, smooth and detangle it, and add shine.
After washing your hair, apply a leave-in conditioner to keep your strands soft and manageable until your next wash. Leave-in conditioners would be beneficial if your hair is dry.