When embracing your natural hair, it's critical to learn as much information as possible to care for it properly. Understanding your hair's porosity is crucial when planning a proper hair care regimen.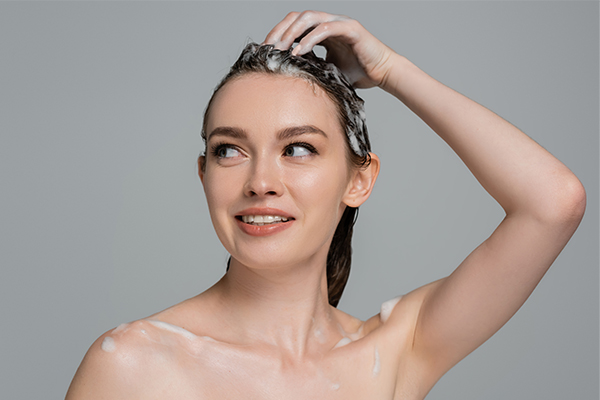 One of the three porosity types is low-porosity hair, which means the hair lacks moisture because it is not easily absorbed. The good news is you can easily care for your low-porosity hair by making some necessary changes to your hair care regimen.
The cuticles of your hair play an important role in its ability to absorb moisture. (1) Hair cuticles that are tightly overlapping due to their low porosity delay the hair's ability to absorb moisture and make the hair unmanageable.
Low-porosity hair is hydrophobic, which repels water from its surface and does not allow strands to lose or absorb water.
Researchers claim that the abundance of fatty acids that bind the cuticle cells is responsible for low-porosity hair's hydrophobic (repulsive to moisture) properties. (2)
How to Wash Low-Porosity Hair
Follow these steps to properly wash low-porosity hair.
1. Use oil to deep condition before washing hair
Oils can be an excellent choice for deep conditioning low-porosity hair. Use a hair-penetrating oil on your hair, such as coconut oil and olive oil.
Coconut oil can penetrate the hair shaft, preventing protein loss. (3)(4) Olive oil acts as an emollient, sealing the cuticle and trapping moisture inside. (4)
Applying oil to your hair for several hours before washing it can add softness, lubrication, and weight to it. For low-porosity hair, use an oil prewash treatment with a light touch.
How to apply:
Heat the oil in the microwave. Make sure not to overheat the oil. Test it on your skin first before application.
Massage the hot oil into your scalp and then apply it to the rest of your hair.
Wrap your hair in a towel and leave it on for 20 minutes.
Rinse or shampoo your hair.
2. Wet your hair thoroughly using lukewarm water
Lukewarm water opens the cuticle layer, allowing external water absorption while preventing internal water loss. (5) It deep cleanses your hair and scalp, removing dirt, residue, or buildup that is tightly packed between the cuticles and pores.
This is similar to washing your face with warm water, which opens up the pores, allowing deeply embedded oil and dirt to be removed.
However, warm water causes frizz and hair dryness, so it should ideally only be used when cleansing the hair.
3. Cleanse your low-porosity hair with shampoo containing honey extract and glycerin
Use a good-quality shampoo to remove excess oil and dirt from your hair. (6) The best shampoo for low-porosity hair is free of alcohol, sulfates, and silicones. No-residue shampoos are gentle and can be used daily.
Once a week, use a clarifying shampoo (deep-cleaning shampoos) to cleanse the scalp without stripping the essential nutrients. (6)
Product buildup is more likely in low-porosity hair, making it more difficult for the hair strand to absorb moisture. Weekly use of a clarifying shampoo will aid in removing such buildup.
Shampoos containing honey extract (which has a hydrating property) (7) and glycerin (a humectant that moisturizes and penetrates deeply) (8) are preferable because these ingredients easily penetrate the hair cuticle.
How to shampoo your hair:
Wet your hair with warm to lukewarm water.
Gently massage the shampoo into the hair.
Rinse thoroughly.
4. Use a leave-in conditioner
A leave-in conditioner adds lubrication, weight, flexibility, and softness to low-porosity hair.
The hair shaft is negatively charged, and conditioners act by neutralizing the negative electrical charge of the hair fiber by adding positive charges, which in turn seal the hair cuticle with moisture. As a result, your hair looks healthy and can be easily managed.
Low-porosity hair has difficulty retaining moisture, so applying conditioner is a must because it helps to keep the moisture in the strands. (9)
Leave-in conditioner can be used alone or mixed into a gel, such as a homemade flaxseed gel, to reap additional benefits and improve its distribution on the scalp.
Conditioners benefit low-porosity hair in many ways:
How to condition low-porosity hair:
Apply a leave-in conditioner to dripping wet hair, or apply it and quickly wash it off in the shower. 
You can also spray conditioner from a spray bottle for good coverage and dilution.
Tips for deep conditioning low-porosity hair:
Low-porosity hair does not absorb as much conditioner as porous hair. So, use a deep or regular conditioner with a few drops of oil if your hair needs an intense burst of softness, detangling, or hydration.
Add heat or steam to the treatment; it only needs to be slightly warmer than your body temperature.
Leave it on for 5 minutes if your hair is easily overconditioned or becomes too soft, and 10–30 minutes if you want a more intense effect.
5. Moisturize using a banana and coconut hair mask
Bananas make hair more manageable and shinier, prevent and control dandruff, and moisturize the scalp. Bananas are high in potassium, natural oils, carbohydrates, and vitamins, which soften and protect the natural elasticity of the hair, preventing split ends and breakage. (10)
Applying coconut milk to the scalp provides a cooling sensation. It hydrates your hair by providing natural moisture from the roots to the ends. Moreover, coconut milk is an excellent organic hair conditioner that will make your hair long and thick.
Ingredients:
1 teaspoon of coconut oil (use even less if you have delicate or short hair)
1 cup of coconut milk
One banana, ripe
Directions:
Mash the banana in a bowl. Mix in the coconut oil and milk.
Apply the mixture to clean, dry hair, covering the entire length of the hair.
Wrap your hair in a plastic shower cap for 30 minutes.
Rinse your hair thoroughly.
Wash it with a natural shampoo and apply conditioner.
Natural Ways to Wash Low-Porosity Hair Without Shampoo
1. Rinse your hair with aloe vera
Aloe vera is effective at locking in moisture and assisting active ingredients in reaching deeper tissues. Aloe vera is also excellent at calming your scalp.
How to use:
Mix 1 part aloe vera juice with 1 part water.
If desired, add a small squirt of glycerin.
Use a cup or a squeeze bottle to apply the mixture to your hair and scalp and leave it on for a minute or two.
Rinse it off with tap water.
Note: The reason for diluting aloe vera with water is to keep the pH around 5, as aloe vera juices can be quite acidic, which is harsh on your hair and may irritate your scalp and eyes.
2. Wash your hair with honey
Honey is excellent for hair conditioning because it locks in moisture and provides shine to the hair.
How to use:
Combine 5 ml of bee's honey and 4 cups of warm water. Use this solution as a hair rinse to add luster to hair.
Alternatively:
Combine 10 mL of olive oil and 5 mL of bee's honey.
Apply the mixture to your hair.
After 15 minutes, wash your hair. (11)
Warm honey (do not let it boil; it will harden when cool) can be mixed into conditioner, warm water, or warm herbal tea.
3. Wash your hair with yogurt
If your hair is easily weighed down, stick to nonfat plain (unflavored, unsweetened) yogurt.
Yogurt contains lactic acid, which hydrates hair, and some proteins that are small enough to be "active" in your hair.
ALSO READ:
What Are the Characteristics and Disadvantages of Low-Porosity Hair?
Characteristics
Low-porosity hair repels water, requiring you to wash your hair more thoroughly.
It takes longer for low-porosity hair to dry.
Hair care products frequently build up on low-porosity hair, making it heavy.
Disadvantages
Greasy hair
Scalp itching
Dry hair
Slow hair growth
Dos and Don'ts for Low-Porosity Hair
Avoid using products containing silicone, such as dimethicone, amodimethicone, and cyclomethicone, as water is not soluble in silicones. They will form a coat on the hair, preventing water from entering the hair shaft (silicone is hydrophobic). (12)
Use a leave-in conditioner that contains plant oils rather than chemicals. The former prevents product accumulation.
Avoid excessive blow-drying or heat styling.
Avoid coloring or bleaching your hair regularly.
Leave your hair open while sleeping. Sleep with a satin cap on.
Use a water softener or a filter if your area has hard water. (13)
Schedule a hair spa appointment at least once a month. If not, a steamer can be used at home.
General Queries Related to Low-Porosity Hair
Are rice water and hibiscus beneficial for low-porosity hair?
Yes, rice water and hibiscus are beneficial for low-porosity hair because they penetrate deeply and moisturize the scalp, promoting hair growth and increasing hair strength. Hibiscus nourishes the hair and protects its natural moisture content. (14)
What is the difference between hair with low, high, and medium porosity?
Low-porosity hair has a tight cuticle that makes it difficult for moisture to penetrate and leave.
High-porosity hair has much looser cuticles that let moisture in but also let it out. This makes retaining hydration difficult for this type.
Medium-porosity hair falls somewhere in the middle. The cuticles are looser than those in low-porosity hair but less open than those in high-porosity hair. This means that moisture penetrates relatively easily but does not evaporate too quickly.
How do I test my hair porosity at home?
You can test the porosity of your hair at home in a simple way. You only need a glass of water (preferably transparent) and a strand of hair. Try this after washing products and buildup from your strands to obtain the most accurate reading.
Begin by combing your hair to release shedding strands, and then take those stands and drop them into your glass of water. Hair with a low porosity floats. Hair with medium porosity floats briefly before slowly sinking. Hair with high porosity sinks right away.
Final Word
Oil and moisture have a difficult time penetrating low-porosity hair. Washing low-porosity hair with natural humectants and applying masks help to retain moisturizers and give low-porosity hair a smooth, shiny appearance.
Washing the hair with the right ingredients is essential for low-porosity hair. Therefore, it is highly advised to use dermatologist-recommended products in your hair care routine if you have low-porosity hair.