One ingredient that has been dominating the beauty industry for ages is glycerin. This popular ingredient is used extensively in making various cosmetics and hair care products. It acts as a natural humectant that draws moisture to your hair and scalp, and that's why it is considered a good hair conditioner. (1)
While getting the job done, it is also quite economical. Thus, it has been used in cosmetics products for a long time.
Do you know how exactly glycerin works on your hair? If not, read on to learn more about this wonderful ingredient and its hair benefits.
What Is Glycerin?
Glycerin is a sugar alcohol that is found in both plant and animal sources. It is released after a chemical reaction occurs to separate the glycerol molecule and the attached fatty acid molecules. (2)
Glycerin is a clear and almost colorless liquid that is used in cosmetics. Glycerin of high purity bearing is specifically used for pharmaceutical and food purposes.
Moreover, glycerin is almost nontoxic. At usual temperatures, it appears as a viscous liquid up to 100% concentration. (3)
Glycerin is mostly used in manufacturing drugs, though used in small amounts only as it provides lubrication and smoothness to any substance. It also acts as a humectant and provides moisture-retaining ability to the product. (2)
Benefits of Glycerin for Hair
Here are some of the things glycerin can do to your hair.
1. Acts as a natural hair conditioner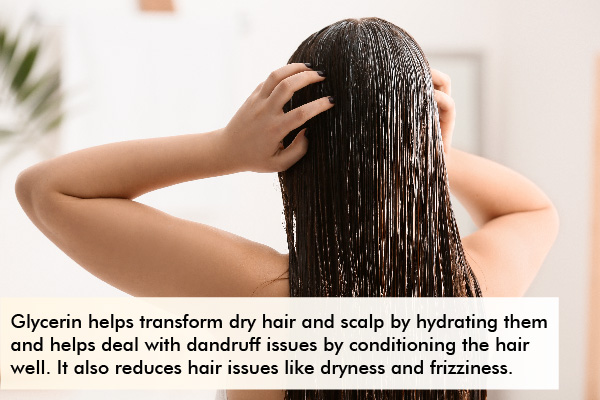 People use hair conditioners for better hair manageability, easy combability, and antistatic properties. Most hair conditioners include glycerin as one of their components due to its humectant properties.
Glycerin helps transform dry hair and scalp by hydrating them. It also helps in dealing with dandruff issues by conditioning the hair well. It also reduces hair issues such as dryness, frizziness, and breakage. (4)
2. Treats dry scalp
Glycerin draws water from the atmosphere into the scalp and thus helps to hydrate and boost scalp health. Glycerin helps moisture penetrate the scalp which rebuilds and boosts scalp health.
A dry scalp is more prone to issues like itching and flakiness, and thus using oils with glycerin can help relieve them as well as disorders like acute scalp pruritus. (5)
3. Prevents dandruff and scalp infections
Glycerin acts as an antibacterial agent. (6)
An effective moisturizing lotion always has a high concentration of glycerine and other beneficial skin agents that works against infections and dandruff on the scalp. (7)
4. Repairs hair damage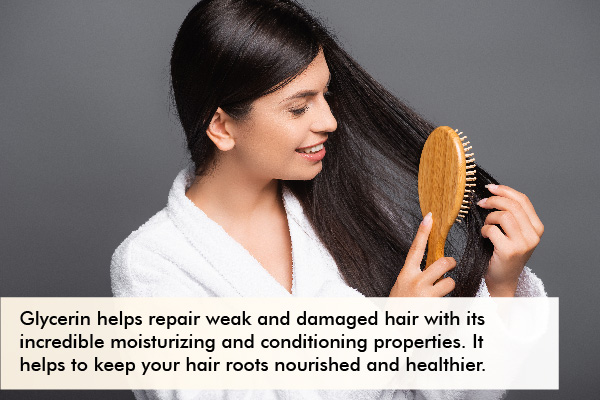 Air and water pollution, heat from styling tools, and harmful chemicals present in various hair care products can cause major harm to your hair.
Glycerin helps in repairing weak and damaged hair with its incredible moisturizing and conditioning properties. It helps to keep your hair roots nourished and healthy.
5. Stimulates hair growth
Glycerin also improves hair strength by increasing the moisture content in your hair roots. (8) It nourishes, strengthens, and rejuvenates the hair.
Moreover, glycerin contributes to hair regrowth by making the scalp environment optimal for hair growth. (9)
Note: Glycerin can hydrate, fortify, and smoothen your hair and also balance its pH level. It is recommended to conduct a patch test before using glycerin over your hair as you may be allergic to it.
Different Ways to Use Glycerin on Your Hair
Here are some ways to make glycerin a part of your hair care routine.
1. Glycerin + coconut mask for deep nourishment and augmented strength
Coconut oil boosts hair strength by providing deep nourishment. It is rich in vitamins and essential fatty acids needed for hair growth. (10)
How to use:
Combine 1 tablespoon of glycerin and 1 tablespoon of coconut oil in a bowl.
Apply the mixture to your scalp and hair, from roots to tips. Leave it on for an hour.
Gently wash your hair with a natural shampoo.
Repeat the same procedure twice a week.
2. Glycerin + rose water spray for healthy hair and scalp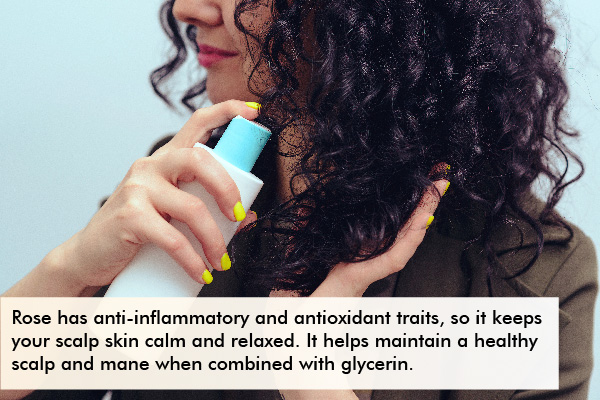 Rose water has anti-inflammatory and antioxidant properties that help in making your scalp calm and relaxed. (11) It also helps to fight against stress, (12) thus slowing down the scalp aging process.
Roe water not only promotes hair growth but also keeps the scalp healthy when applied along with glycerin.
How to use:
Take ¼ cup of glycerin, ¼ cup of distilled water, and ¼ cup of rose water in a bowl.
Add 2–3 drops of essential oil (rosemary oil or peppermint oil).
Mix all the ingredients well in the bowl.
Store the mixture in a spray bottle.
Apply it on damp hair in the shower and wash it off after a few minutes.
Repeat the process twice a week for best results.
3. Aloe vera + glycerin mask for shiny, moisturized hair and a healthy scalp
Aloe vera is rich in several amino acids, nutrients, and enzymes that make your hair shaft healthy in every way. (13) Mixing aloe vera and glycerin provides amazing results for moisturizing and nourishing your hair with vital nutrients.
How to use:
Mix 2–3 tablespoons of glycerin with fresh aloe vera gel.
Apply this mask to your scalp and hair and leave it on for around 30 minutes.
Rinse your hair with lukewarm water.
Repeat the process twice a week for optimum results.
Is Using Glycerin on the Hair Supported by Science?
Yes, research done on glycerin showed that it is effective for all hair types.
A small study demonstrated that glycerin is a humectant that attracts, binds, and retains moisture. It can easily absorb excessive moisture. (6)
Several other studies also found that glycerin is safe for external use and is an essential component of many cosmetic products. (1)
Things to Consider When Using Glycerin on Hair
When applying glycerin to hair, it should be combined with oils, water, or other serums to avoid excessive greasiness on the hair.
Glycerin carries heat; thus, it should not be applied to the hair when using heating tools such as curling irons or blow-dryers.
It should be noted that glycerin should not be used all the time.
Is Glycerin Safe for All Hair Types?
Glycerin seems safe for all hair types but also can be specifically used for thick, coarse, dehydrated hair. Glycerin is especially well absorbed by coarse or curly hair.
When the hair is more porous, it has a better absorption capacity for glycerin, which improves hydration in the strands.
General Queries Related to Glycerin for Hair
Can I use glycerin overnight?
Yes. Glycerin can be left overnight on your hair for deep moisturization. (4)
How does glycerin affect my hair?
Glycerin is a humectant that keeps your hair hydrated and healthy by absorbing moisture from the air into it. It is an important component of many hair care products and skin care cosmetics.
Additionally, it is colorless and odorless, so there is no issue with its smell and appearance. (3)
Is glycerin beneficial for low-porosity hair?
Less porous hair needs extra moisture, and glycerin can provide the same. It is one of the best ingredients for hydrating hair.
Final Word
Glycerin is used for various skin and hair issues due to its hydrating and nourishing properties. But it also has some chemicals that can damage your hair when used in inadequate quantities.
Try the above homemade masks and oils with glycerin, which will improve the overall health of your hair and also provide effective treatments for your dry scalp and dandruff as well.