Most people spend a lot of time worrying about their hair type, whether it's too thin, too thick, dull, or frizzy. But they neglect the place from where it grows out – the scalp. If the scalp is not clean and healthy, more bothersome issues can result, such as itching, rashes, bumps, dandruff, and hair fall.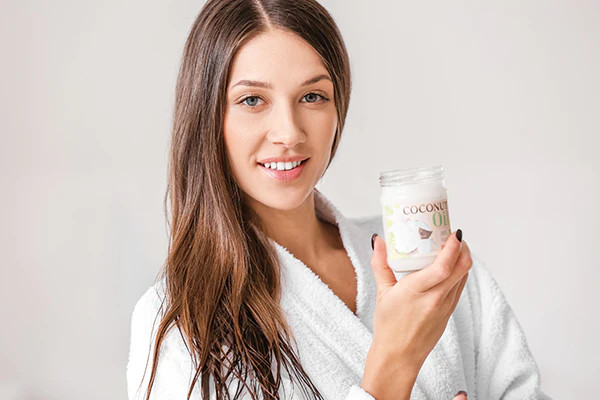 Coconut oil has many natural properties that are helpful for the hair and scalp. It has a 100% fat content, with 90% of it being saturated fat. Moreover, 47% of the fatty acids in coconut oil are lauric acid, which has antimicrobial properties. It kills bacteria in the hair scalp and prevents them from causing further damage. (1)
Scalp Problems That Improve With Coconut Oil
Here are the three common scalp diseases that may benefit from the application of coconut oil:
1. Psoriasis
Psoriasis is an autoimmune condition that is usually managed with medicines and at-home treatments that moisturize the skin and relieve the symptoms of itching, dry skin, and scaling.
When pure coconut oil is extracted and applied to the scalp, it can help improve the scalp condition of people with psoriasis. A study in 2018 concluded that coconut oil has anti-inflammatory effects, which could help protect the skin and scalp from chronic inflammatory diseases such as psoriasis.
Virgin coconut oil is an emollient and an effective moisturizer that can keep the skin hydrated and can reduce psoriasis symptoms such as redness and flaking. (2)
It is necessary to soften the skin for the psoriasis medicines to work well. Scalp psoriasis has the hardest scales and is not easy to treat or see due to the presence of hair. Coconut oil helps soften and loosen the scales on the scalp.
How to use:
Take some drops of coconut oil and spread it all over your scalp, especially the scaly areas.
Use your fingers to gently work the oil into the scales.
Cover your scalp and hair in a shower cap or towel. Keep it on your head for an hour or overnight.
Apply a gentle/anti-dandruff/tar shampoo to the hair, and leave it on for 5 minutes, and then wash it off thoroughly.
Try removing some of the scales now; it is easier to loosen and remove the scales while the scalp is damp and the scales are soft and loose.
2. Scalp eczema (seborrheic dermatitis)
Suffering from eczema can be a horrible experience as it causes dryness, itchiness, and inflammation.
Eczema can affect your scalp, which is known as seborrheic dermatitis. When a baby has scaly, flaky skin on the scalp, it is called a cradle cap.
Symptoms:
You may experience some of these symptoms if you have scalp eczema:
Red and flaky skin
Scaly skin
Greasy feel on the scalp
Itching or burning feeling
Oozing lesions
Change in skin color after healing (3)
Reports show that applying virgin coconut oil to the scalp has helped improve the hydration of the skin of those suffering from this condition. (4)
The high amount of lauric acid in coconut oil is key to lowering the population of bacteria and fungi on the skin and reducing the risk of infection due to scratching the affected skin. (5) Lauric acid is also highly absorbable and thus keeps the skin well moisturized. (5)
Moreover, this wonder oil also exhibits anti-inflammatory properties that help reduce the discomfort associated with eczema feel. Applying virgin coconut oil to the skin has been shown to reduce the inflammation and pain caused by eczema. (6)
How to use:
Take a few drops of high-quality coconut oil and rub them on your hands.
Massage the coconut oil on your scalp and hair.
Leave the coconut oil on your hair overnight for best results.
Note: Do not stop using your eczema medication, and if you're allergic to coconuts, don't use coconut oil on your skin.
3. Dandruff
Coconut oil has been used as a natural treatment for thousands of years to get rid of stubborn scalp dandruff. Dandruff can develop due to several conditions, such as eczema, yeast infection, psoriasis, dermatitis, and dry skin, among others.
Itching and flaking are the most common symptoms of dandruff, which can worsen if neglected. But don't fret because coconut oil can help prevent dandruff flakes from appearing on your scalp. (7)
Use high-quality coconut oil or a combination of coconut oil and onion juice, yogurt, camphor, or tea tree oil on your scalp to get rid of pesky dandruff.
Direct application:
Take a few drops of coconut oil and apply them to your scalp.
Spread it all over the scalp, especially on the crown of your head.
Gently massage it well into the scalp using your fingers for 3–5 minutes.
Keep it overnight or wash it off after 1 hour.
Coconut oil with onion juice:
Thoroughly mix 1 teaspoon of onion juice and ½ cup of coconut oil.
Gently massage the mixture on your entire scalp. Leave it on for 30–60 minutes.
Do this everyday for 2 weeks until the dandruff symptoms disappear.
You may continue using onion juice and coconut oil even after your dandruff has resolved as onion juice is rich in sulfur, which helps the hair grow well.
Note: For dandruff prevention and promotion of healthy hair growth, you can use these coconut oil remedies as a pre-wash. Let the coconut oil or coconut oil mixture stay in your hair for 15–20 minutes before washing it off thoroughly with your shampoo and conditioner. Oil your hair after washing it if your scalp and hair still feel dry and flaky.
General Queries Related to Coconut Oil
Will coconut oil help get rid of dandruff?
When coconut oil is directly applied to the scalp, it helps prevent dandruff. The moisturizing properties of coconut oil reduce the scalp's itching, flaking, and dryness.
Can I oil my hair with coconut oil every day?
Coconut oil is a very rich oil as it is high in lauric acid and quickly penetrates the scalp, and helps to reduce the protein loss in hair. It's a fantastic hair conditioner, especially if your hair is dry and has dandruff.
How many times in a week should I put coconut oil in my hair?
You may apply coconut oil to your hair 2–3 times a week. To achieve the best results, leave the oil in your hair overnight.
Final Word
Coconut oil is a lifesaver for your scalp and hair as it is a good moisturizer, has antimicrobial properties, and is rich in antioxidants.
Use coconut oil to get rid of your scalp problems, and use it in combination with other ingredients to strengthen your hair and grow it out longer.