If you're losing hair when you shampoo, don't panic because it is a normal process of the hair cycle, (1) and losing around 80–100 strands a day is considered normal.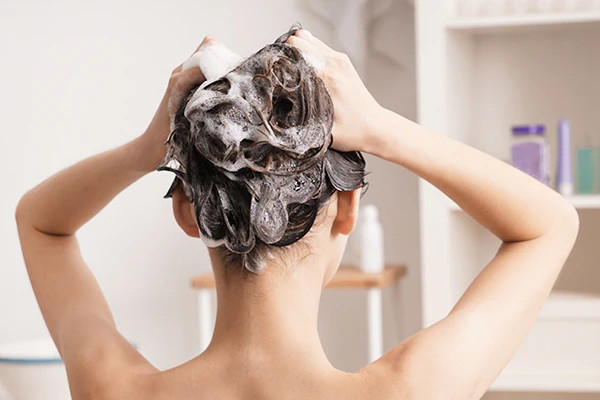 However, if clumps of hair are falling out into your shower drain, it is a concerning thing, and you should consult a physician about it. (2)
Why Do You Lose Hair When You Shampoo?
You lose hair when you shampoo because the loose hair and dead hair cells that are ready to fall out are removed from your scalp while washing your hair.
Thus, as you wash your hair to get rid of the buildup of dirt and hair oils, serums, and masks, which can otherwise cause itching, redness, and flaking, it is normal to experience some hair fall. (3)
How Much Hair Loss Is Normal
Normal hair loss is when you lose 80–100 hairs a day. It can be more with shampooing and other hair care rituals.
Hair growth happens at a rate of 0.35 mm a day or 0.5 inches a month or 6 inches a year. According to research, healthy men and women have around 80,000–120,000 hairs on their scalp. (4)
How to Reduce Hair Fall When Shampooing
Reduce hair fall when you shampoo by following these tips:
1. Massage gently
While applying shampoo to your hair and scalp, massage it gently in circular motions you're your fingertips, not your fingernails, for a few minutes. Be gentle when washing your hair to mitigate the amount of hair fall. (5)
2. Select the right shampoo
Shampoos can have around 30 different ingredients, including harmful chemicals that can damage your hair and scalp. Examples of these ingredients are sodium lauryl sulfate, sodium laureth sulfate, parabens, and fragrance.
Carefully select a shampoo that does not contain these harmful ingredients and contains natural ingredients that are good for your hair, such as onion juice and coconut oil. (5)
3. Don't skip out on conditioner
Many people think applying conditioner is an extra step and unnecessary after shampooing.
However, without a good conditioner, your hair might become tangled, brittle, and more prone to hair fall. To beat such problems, buy a conditioner that hydrates and strengthens your hair after every hair wash. (6)
4. Avoid hot water to wash your hair
A hot shower might be tempting after a long day of work, but it can cause adverse effects on your hair and scalp. Some of the harsh effects of hot water on your hair are:
It strips your hair's natural oils, especially if the water temperature is high.
It causes scalp inflammation leading to dandruff.
It weakens the hair roots and makes your hair frizzy.
It prompts hair breakage. (7)
5. Gently pat your hair dry after shampooing
After washing your hair, remove the excess water gently by wrapping a towel on your head and keeping it on for several minutes. Never rub your hair with a towel as it can cause hair breakage. (7)
6. Don't brush your hair when wet
You should never brush your hair when wet because it is at its weakest point. Instead, brush it gently when it is mildly dry and after applying conditioner on towel-dried hair (6) when the hair is soft and less prone to breakage.
Research suggests that combing completely wet or even dry hair can result in hair damage. Combing wet hair is associated with long segment breaks, whereas combing dry hair is associated with short segment breaks. (8)
7. Use hair serums to hydrate your hair
Apply hair serums to preserve the moisture in your hair after every wash. It will also help in detangling your hair quickly.
Never apply hair serums on the scalp, but only on the hair, as it will lead to scalp buildup. (9)
8. Brush with a wide-tooth comb
A wide-tooth comb is the best tool to remove hair tangles and knots and to reduce hair breakage. Always wait for your hair to get a little bit dry after a wash before combing it out.
9. Never tie wet hair
Wet hair is very fragile, and elastic hair ties can put undue stress on it, causing breakage. So, don't tie it when it is wet; instead, wait for it to dry to do a ponytail. (10)
What Is the Hair Growth Cycle?
The hair growth cycle refers to the three phases that the hair follicles pass through, namely, the anagen, catagen, and telogen phases.
Anagen or growth phase – This phase lasts for 2–6 years when primary hair growth occurs. During this phase, 85%–90% of the hair follicles are in the growth phase.
Catagen phase – During this phase, follicular regression happens in the hair follicle.
Telogen phase – In this phase, the hair is resting, and it lasts for 3 months.
At the end of these three phases, the inactive or dead hair is shed. It is common for the scalp to shed 100 hairs daily, but it can be more with shampooing and oiling.
The hair follicles that deviate from this normal process end up in conditions such as alopecia or telogen effluvium. (11)
How to Prevent Excessive Hair Fall
Protect your hair from too much hair fall by doing the following:
1. Take biotin supplements
Uncontrolled hair fall is one of the common complaints nowadays. It can be due to many factors, including stress and hormonal imbalance.
One of the ways to control the incidence of hair loss is to consume biotin supplements. These supplements are rich in vitamin B7, which transforms nutrients into energy. It nudges keratin production in hair and increases the growth rate of the hair follicles.
Taking these supplements can help people to cope with biotin deficiency. (12)
2. Follow a nourishing diet
Consuming nourishing meals that include eggs; nuts such as almonds, peanuts, and walnuts; vegetables such as cauliflower, mushrooms, soybean, and legumes; and fruits such as bananas and raspberries can work wonders for your hair.
3. Drink water
Hydration is the key to advancing hair growth. The hair shaft comprises one-quarter of water, so drinking at least 8 glasses of water a day keeps your hair and scalp hydrated and promotes the healthy development of your strands. (13)
4. Eat food rich in vitamin A
Vitamin A is good for the health and adds sheen to your hair. It encourages healthy sebum production and increases blood circulation to help the hair follicles stay active. (14)
5. Use anti-hair fall creams
Anti-hair fall creams can offer viable outcomes if used wisely. They usually contain herbal concentrates such as coconut oil, neem, aloe vera, and other natural ingredients that hydrate and help stop hair fall. (15)
General Queries on Why Do You Lose Your Hair When You Shampoo
Should I ignore excessive hair fall after shampooing?
No, you should not ignore excessive hair fall after shampooing and you should get the help of a doctor.
Losing around 100 hairs a day is normal, but excessive hair fall is a sign from the body that something is wrong and needs immediate attention.
What causes hair to fall after brushing it?
Hair falls after brushing if you are not using a wide-tooth comb or if you are using excessive force when combing out your hair.
Does frequent shampooing cause hair loss?
No, it's not true that frequent shampooing causes hair loss. In fact, shampooing less frequently leads to hair loss.
However, if you are experiencing a lot of hair fall after shampooing, then it's time to change your shampoo, and always use a conditioner after a shampoo wash.
Final Word
Losing some hair after you shampoo is considered normal, but losing a lot of hair can mean that you have an underlying problem that needs to be addressed.
Various factors such as stress, hormonal imbalance, diseases, and chemical products debilitate the hair roots and weaken your hair shaft, leading to excessive hair fall.
Consume a nourishing diet and follow the above-mentioned hair care tips to reduce hair fall after shampooing.