Hair toners act immediately and, according to the experts, must be left on your hair for 15–20 minutes on average.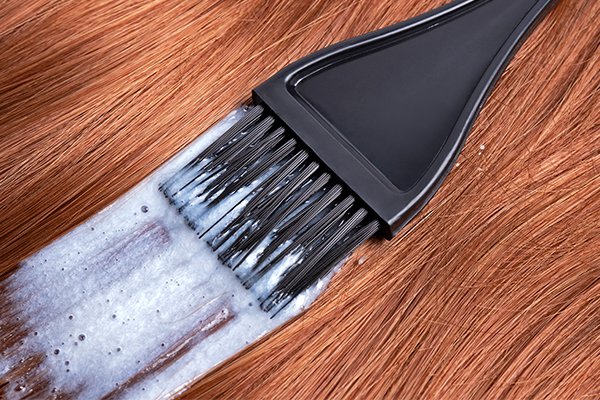 Bleach is needed to lighten hair color, (1) but bleaching is harmful to the hair. For this reason, hair toners are used as they change the hair color, but they don't turn it lighter or darker.
Toners are used after bleaching your hair (a process of lightening your natural hair color) to give it a more natural look. (2) You must get the correct toner if you want to switch your hair color to a lighter tone or blonde.
Before applying a toner, understand what it is and how long you should leave it on your hair for a harmless result.
Read further to learn more about hair toners in depth.
How Long Should You Leave Toners in Your Hair?
The duration of leaving toners in your hair depends on your hair color and whether you get it done at home or by experts. For a lighter hair shade, leave the toner for a shorter duration.
The time also varies on your hair condition, preferred color, and product. Generally, toners take 5–45 minutes to process, and not more.
Toners are different from hair dyes. Toners act immediately and should be left for about 20 minutes. On the other hand, hair dyes require 45 minutes of exposure time.
Moreover, toners neutralize brassy tones as soon as applied. This reaction stops after 20 minutes. Thus, 15–20 minutes is a sufficient time of leaving toners in your hair.
The following table shows the duration of leaving toners in your hair depending on your hair color.
| | |
| --- | --- |
| Bleached hair | Leave the toner for at least 40 minutes to allow pigments to deposit successfully. |
| White hair | Leave the toner for at least 5–10 minutes. |
| Yellow and orange hair | Leave the toner for at least 40 minutes, and not more, to avoid overtoning. |
| Brassy hair | Leave the toner for 15–35 minutes to eliminate brassy tones. Brassy hair is of three types: yellow, orange, and red. |
| Blonde hair | Leave the toner for 5–20 minutes. |
Types of Hair Toners
A hair toner is a product that neutralizes unwanted hair tones and restores the hair's pH balance after coloring or bleaching it. Toners are crucial in getting the desired hair shade and toning down bleached hair. (3)
There are three types of hair toners: demipermanent, permanent, and semipermanent.
Demipermanent toners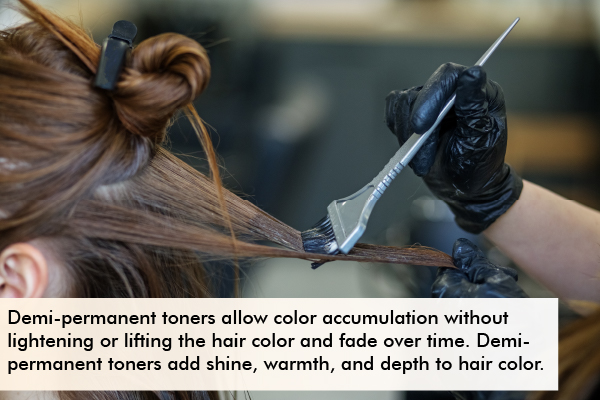 Demipermanent toners are gentle toners that allow color accumulation without lightening or lifting the hair color, and they fade over time.
After shampooing, apply a demipermanent toner to damp hair for approximately 10–20 minutes.
Demipermanent toners add shine, warmth, and depth to your hair color.
Permanent toners
Permanent toners last longer than demipermanent toners and are more damaging due to the ammonia and peroxide in them. They can lift and deposit color simultaneously. They are applied to dry hair for 30–45 minutes.
Permanent toners change your hair color dramatically and cover grey hair.
Semipermanent toners
Semipermanent toners are gentler and deposit color temporarily without peroxide or ammonia. Apply a semipermanent toner to dry or damp hair for 5–15 minutes.
Semipermanent toners are suitable for experimenting with hair color, and they provide an enhanced and refreshed hair color.
How Long You Should Leave Hair Toners in Your Hair?
It is not always necessary to leave hair toner for 20 minutes. You can also leave it for more or less time based on your hair type, porosity, resistance, color variation, and expected result.
Here are some tips for adjusting the timing of toning:
For highly porous hair that absorbs products quickly, leave the toner for less than 20 minutes. Highly porous hair can overtone easily and turn dark or dull. To prevent such an outcome, check your hair every 5 minutes and wash it right when your notice the desired tone.
For resistant hair that doesn't absorb products easily, leave the toner for more than 20 minutes. Resistant hair can easily undertone and end up looking brassy or too light. To prevent such an outcome, apply heat, such as a hooded or blow dryer, to your hair while toning and leave it for at least 30 minutes.
For uneven-colored hair that may have some lighter and darker parts, apply toner to different hair sections selectively. Uneven-colored hair may give inconsistent or patchy tones. To prevent this, target the lightest part of your hair with toner and leave it for less time than that on darker regions. For different hair sections, use different levels of toner.
What Are the Benefits of Hair Toning?
Hair toning offers these perks:
It prevents the color from fading and keeps it refreshed.
It amplifies tone and eliminates unwanted ones.
It adds smoothness and luster to your hair.
It enhances hair color complexity and proportions.
It brings about pastel shades and conceals grays.
It creates a protective barrier to balance hair porosity and strengthen the hair.
What Toner Color Should You Use for Your Hair?
Different toners are used for different hair colors.
| | |
| --- | --- |
| Hair Color | Toner |
| Light-blonde hair | Purple-based toner |
| Medium-blonde to light-brown hair | Blue-based toner |
| Medium-brown to dark-brown hair | Green-based toner |
Should You Apply Toner to Dry or Wet Hair?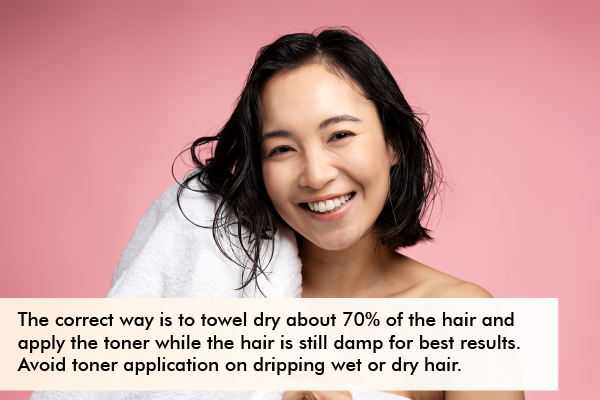 The correct way is to towel dry about 70% of your hair and apply the toner while your hair is still a bit damp for best results. Avoid toner application on dripping wet or dry hair.
The high porosity of damp hair allows adequate and equal distribution of the toner. Therefore, apply it to damp hair.
Steps to Make DIY Hair Toner
Follow these steps to make a hair toner at home.
1. Green tea toner for hair
Green tea is a popular beverage and is excellent for hair care. Green tea can stimulate hair growth in the scalp's dermal papilla cells. (4) It makes an ideal toner for the hair as its green color is not intense.
Depending on your hair color, you can also go for oolong or black tea.
How to make:
Boil 2 cups of water.
Brew 3 green tea bags in it until the shade turns green.
Transfer the tea to a toner bottle.
How to apply:
Damp your hair a little.
Gently apply the green tea toner on your hair evenly.
Let it sit for at least 30 minutes.
After getting your desired hair color, rinse it off with lukewarm water.
2. Indigo toner for hair
An indicant substance in the Indigofera tinctoria plant produces the dark indigo color. It enhances hair color and adds shine.
Indigofera tinctoria is also known as true indigo. It belongs to a plant species from the bean family, an authentic source of indigo dye.
This homemade indigo hair toner is an excellent solution for evening out brassy-orange hair tones. (5)
How to make:
In a container, put 1 tbsp of indigo powder and 4 tbsp of white conditioner.
Mix them thoroughly.
How to apply:
Evenly apply the mixture to your hair.
Keep it on until you acquire the desired hair color.
Rinse it off using lukewarm water and sulfate-free shampoo.
Note: Always do a patch test before applying anything new to ensure your skin doesn't become itchy, red, or irritated. If it does, seek a dermatologist's attention immediately. Irritation can also be due to an allergic reaction.
Final Word
Toners offer several benefits to your hair and should be left for at most 15–20 minutes or a maximum of 45 minutes if the brand mentions it on the label.
Remember to choose the appropriate toner color for your desired finish. Always do a patch test before applying a toner, and follow the directions mentioned on the package carefully.