Coloring your hair from time to time is a fun and exciting way of self-expression. It adds multiple shades to your look.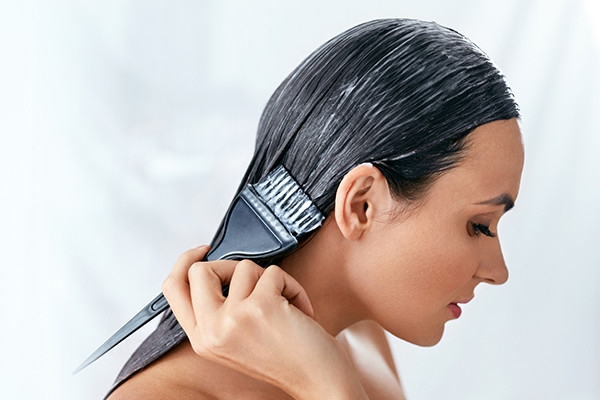 However, coloring can have some effects on your hair. Constant exposure to hair colors made with harmful chemicals can damage your hair.
Don't worry! You don't have to stop coloring or experimenting with your hair. There's a solution for you!
A 2023 research reported that applying semipermanent dye on the hair causes minimum damage and also nourishes your hair. (1) It is a dream come true for all the newbies in the hair dye world as it is a fun and safe way to check out different shades until you find your favorite.
Furthermore, applying semipermanent dye is time saving, easy, and economical.
Read further to know more about semipermanent hair dye.
What Is Semipermanent Hair Dye?
Unlike permanent hair dye, semipermanent dye is trouble-free and you don't have to make a long-term commitment to it.
The color wears off in just about 3 weeks as it does not contain active chemicals such as ammonia or peroxide. Without these active ingredients, the color will not penetrate the cuticle and change its structure for long-lasting color.
Permanent hair dyes rely on oxidative reactions, whereas semipermanent dyes typically rely on nonoxidative processes. The latter is composed of water-soluble acidic and basic dyes bearing azo or anthraquinone groups. (2) They are considered gentle as they do not penetrate the hair cortex and are deposited on the hair surface.
Some examples of semipermanent hair color are hair glazes and glosses.
Does Semipermanent Hair Dye Damage Hair? The Science Behind Hair Damage
There might be minimal hair damage when using semipermanent hair dye. (1)
1. It contains low levels of harmful chemicals
A 2023 research reported that semipermanent hair dye contains no or negligible amounts of harsh chemicals, ammonia, or hydrogen peroxide. (1)
Hydrogen peroxide can affect the proper functioning of the cells that color your hair. It can make your hair turn gray or white. It also causes inflammation and disrupts hair growth. (3)
Ammonia, on the other hand, forces the cuticle (outer layer of the hair shaft, which is the visible part of the hair that sticks out of the skin) (4)) to open and settle the hair dye molecules into the hair.
Since semipermanent hair dye has low levels of chemicals, it may cause minimal damage to the hair.
2. It penetrates the hair and scalp partially
According to a 2023 research, the color particles in semipermanent hair dyes are tiny enough to go through the outer layer (cuticle) and stick to the inner layer (cortex).
Therefore, a semipermanent dye can penetrate your hair shaft partially. (1) This partial penetration may cause damage to the hair shaft.
3. It may cause an allergic reaction
A 2023 research reported that there may be a toxic compound such as para-phenylenediamine (PPD) or other agents present in semipermanent dye. (1)
PPD is one of the most common and well-known components of hair dyes and causes allergic contact dermatitis (a chemical-induced inflammatory disease).
There are about 1000 hair dye formulations that contain PPD. It is a permanent hair dye component in East Asia, North America, and Europe. PPD-containing dyes are known to cause cancer and mutagenicity (change in the structure or amount of the genetic material of cells). (5)
A semipermanent dye may contain PPD, which may cause hair damage.
According to the above-mentioned scientific evidence, it may be concluded that semipermanent hair dye causes little or no damage.
How to Use Semipermanent Hair Color?
You can apply semipermanent hair color in the following ways:
Wash your hair with shampoo and towel-dry it.
Make sure your hair is damp for an even application of color.
Wear gloves and part your hair in sections.
Apply semipermanent hair dye from hair roots to tips.
Let it sit on your hair for 10–40 minutes.
Wash it off with water. (6)
Pros and Cons of Semipermanent Hair Dyes
The pros and cons of semipermanent hair dye are as follows.
Pros:
Semipermanent hair dye is temporary and does not require long-term commitment, so you can try out different colors.
It can be used as a color enhancer to your natural hair color. It can also add depth and dimension to your hair.
It can be applied to all hair types and textures.
It adds shine and gloss to toned-down hair. (7)
It is suitable for damaged and fragile hair as it is chemically milder. (7)
If you have fine or a little gray hair, permanent hair color can be harsh on your hair and scalp. A semipermanent color is preferable. (7)
In semipermanent hair coloring, only small amounts of dye enter the hair shaft and can be removed by washing. (8)
Cons:
Some Effective Tips for Semipermanent Hair Color Application
To correctly apply semipermanent hair dye, follow these tips:
Pick a color that suits your natural hair color and skin tone.
To avoid any allergic reactions, do a strand test before its application.
To protect your hair cuticles and scalp, avoid shampooing your hair 24 hours before application.
For better color absorption, remove any product buildup using a mild clarifying shampoo.
Apply color evenly and thoroughly to avoid uneven or patchy results.
Do not leave the color longer than the recommended time, and carefully follow the instructions on the package.
Use cold water, as hot water can result in fast color fading.
To keep your hair healthy and maintain its color, use a color-safe shampoo and a conditioner.
Avoid exposure to the sun, chlorine, and heat styling tools to prevent hair damage and color fading.
Refresh your color every few weeks with a touch-up or a new application.
Note: The duration for leaving the color behind depends on your hair's porosity. If your hair porosity is high, your hair color will fade away quickly. Also, use a shampoo and a conditioner that is gentle on your hair and doesn't wash off the color quickly.
General Queries
What are the different types of semipermanent hair color?
Semipermanent hair dye is of two types – synthetic and natural.
Synthetic semipermanent hair dyes contain nitro benzenes or nitro amines and are preformed dyes. Garnier Herbal Shine and Ion Color Brilliance Bright semipermanent hair colors are some common synthetic semipermanent hair dyes. (7)
Henna (or mehendi) is one of the most common examples of natural semipermanent hair dye. Another example is indigo, which is available as a green powder. When mixed with henna, you get superior color results.
Another semipermanent hair dye available in India that is prescribed by dermatologists is Vegetal Bio color. It is made with a combination of natural dyes (indigo, henna, coffee, catechu, and manjistha). (7)
How can you remove dark-green semipermanent hair dye?
Here are two ways of removing color from semipermanent hair dye.
Vitamin C:
1. Mix ½ or 1 teaspoon of vitamin C (according to your hair length or volume) with shampoo, water, or a hair mask.
2. Apply the mixture to your damp hair and wrap it.
3. Let it sit for at least 30–60 minutes and wash it off with a shampoo.
Green or chamomile tea:
1. Boil water in a pan.
2. Add 1 tbsp of green/chamomile tea and let it simmer for 1–2 minutes.
3. Let it cool, and pour it into a spray bottle.
4. Spray it on your hair and leave it for at least 30 minutes.
5. Wash and condition your hair.
Does semipermanent hair dye wash out entirely?
Yes, semipermanent hair dye washes out completely with shampoo. It may take multiple washes, but the color fades a little with every wash.
Final Word
By keeping all the pros and cons of using hair dyes in mind, you can make an informed decision on which dye you want to buy.
Semipermanent hair dye is a great way to have fun with numerous colors and add highlights. It also lasts longer than most temporary hair colors but not longer than permanent hair colors. And there is minimal damage to the hair when using semipermanent hair dye.
Thus, you can make the best out of semipermanent hair dye as you don't have to stick with the same color for a long time, and you can change your hair color as you wish.