Did you know heat styling tools, chemical treatments, friction, and bleaching can damage your hair? The list goes on. (1)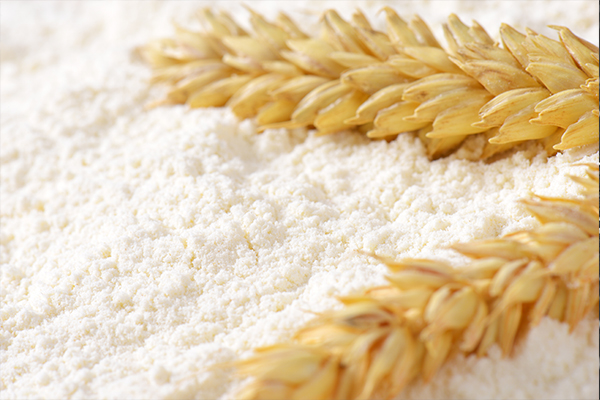 Whatever the reason for the damage, the hair needs strength and hydration to return to its original glory.
Wheat protein is one such product that not only will hydrate your hair but also will repair hair damage (1)(2) prevent breakage, promote shine, (3) and enhance overall hair appearance.
Wheat protein is gaining popularity as a strengthening ingredient in conditioners and shampoos.
People with color-treated, dry, damaged, or curly hair can use it. It is suitable for people with thin hair as well. It is a topical treatment, but people with gluten or wheat sensitivity must avoid it.
Continue reading to learn more about wheat protein and its benefits for the hair.
What Is Wheat Protein?
Wheat protein is a by-product of wheat starch obtained from wheat flour. It contains glutenin and gliadin. (1)
Breaking down wheat protein into smaller proteins makes it more effective in beauty products. It is also referred to as hydrolyzed wheat protein.
Benefits of Wheat Protein for the Hair
The following are the benefits of wheat protein for the hair.
1. Repairs hair damage
Human hair contains disulfide bonds in high concentration, which can be damaged due to hair dyes, straighteners, bleach, and sunlight. (1)
A 2018 research reported wheat protein's ability to merge these broken bonds effectively and repair damaged hair. (1) A 2023 research also reported that wheat protein is a promising conditioning agent to heal damaged hair. (2) It makes the hair strong.
2. Hydrates the hair shaft
Hydrolyzed wheat protein can hydrate the hair shaft by passing through the hair cuticle. (The hair shaft is the visible part of the hair sticking out from the skin.) (4)
According to experts, using wheat protein with other hydrating products (deep conditioning to elevate hydration) can be beneficial as doing so locks in moisture.
3. Prevents hair breakage
Several factors result in hair breakage, but hair weakness and dryness are the most common.
Wheat protein fights these factors, hydrates the hair, and repairs broken or weakened hair bonds. Properly moisturized hair is strong and elastic, allowing stretching and trauma absorption without breakage and hair loss.
4. Boosts hair shine
Wheat protein doesn't just have molecular effects, but its effects are visible to the naked eye. It lubricates the hair to protect it from styling damage, adding shine and gloss. (3)
5. Improves overall hair appearance
Shiny, hydrated, bouncy, and strong hair looks the best. Wheat protein boosts hair shine, prevents breakage, and retains hair moisture, making the hair appear thick.
Wheat protein may not be directly involved in hair growth, but avoiding hair loss and breakage makes the hair appear thick and adds to the overall hair appearance.
How to Use Wheat Protein on Hair
You can use wheat protein on your hair in the following ways.
1. Use a wheat protein-containing shampoo or conditioner
Using a shampoo or conditioner that contains wheat protein is one of the easiest ways of incorporating wheat protein into your hair care routine. So, go for products with hydrolyzed wheat protein as the main ingredient.
Additionally, look for products that mix wheat protein with other ingredients that strengthen or moisturize the hair, such as argan oil, coconut oil, and aloe vera.
2. Use a wheat protein-containing hair mask or treatment
Applying a hair mask or treatment that employs wheat protein is an intensive way of using wheat protein on the hair, especially on damaged and dry hair.
Choose a product with a high concentration of hydrolyzed wheat protein. Apply it to your dry or damp hair and let it rest for 10–30 minutes. Wash it off with warm water. You can do this once a week or month based on your hair needs and condition.
3. Use a wheat protein DIY hair mask or treatment
DIY hair masks or treatments are customizable and natural ways of using wheat protein.
You can get hydrolyzed wheat protein powder at health food stores or online stores. You can mix wheat protein powder with water or other ingredients to make a hair mask or treatment.
For instance, mix 1 tbsp of hydrolyzed wheat protein with 1 cup water and 1 tsp honey to make a hydrating mask for your hair. Mix 1 tbsp of hydrolyzed wheat protein powder, 1 cup of water, and 1 tsp of apple cider vinegar for a simple clarifying treatment.
General Queries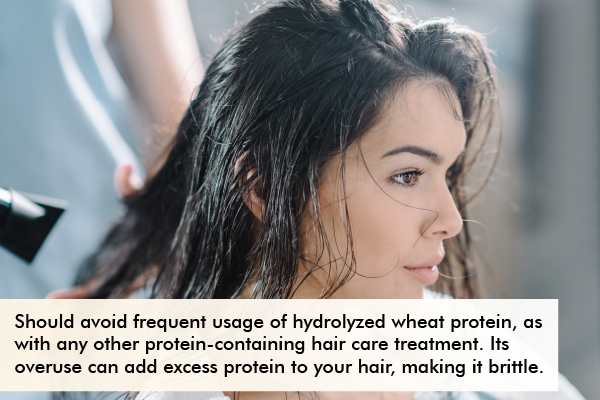 How often should I use a wheat protein hair treatment?
You should avoid frequent usage of hydrolyzed wheat protein, as with any other protein-containing hair care treatment. Its overuse can add excess protein to your hair, making it brittle.
You can treat your hair with wheat protein once every 4–6 weeks, followed by moisturizing and hydrating conditioners for added perks.
Is wheat protein vegan friendly or not?
Yes, wheat protein is vegan friendly, although it's not gluten-free. (Gluten is a protein in several grains, such as rye, barley, and wheat, and is common in cereal, pizza, pasta, and bread. It has no essential nutrients.)
Wheat protein is entirely plant-based protein. However, always check the product details to maintain the standard you want. 
Final Word
Wheat protein is derived from wheat germ. It is a natural ingredient that strengthens and hydrates the hair. It repairs damage from bleaching, heat, or chemical treatments and locks in moisture. It also adds shine, improves hair elasticity, and prevents breakage.
However, avoid using wheat protein frequently or in combination with other protein treatments as it can make your hair dry and brittle. It is suitable for color-treated, damaged, dry, or curly hair to add moisture to the hair and restore its protein content to achieve beautiful and healthy hair.