Hair smoothening, a famous salon treatment, gives you shiny, smooth, straight locks and eliminates unmanageable, unruly, and frizzy hair.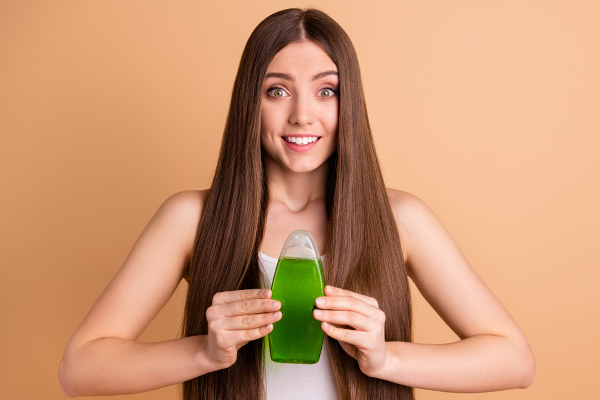 In this treatment, a chemical solution is applied to the hair strands, followed by hair drying and setting with a flat iron. It gives a sleek, hydrated, and smooth look that lasts for up to half a year.
Still, proper aftercare is essential after hair smoothening treatment. It prevents hair damage and maintains its effect.
Following simple steps post hair smoothening, such as using cold water, sulfate-free conditioner and shampoo, (1) wide-tooth comb, and hair serum, is crucial. (2) You should also avoid harsh products, heat styling tools, and chemical treatments that can ruin the texture and quality of your hair. (3)
Read further to know more about hair smoothing treatments.
How to Shower After Hair Smoothening?
After getting your hair smoothened out, do the following.
1. Wait for at least 2 days to wash your hair after hair smoothening
Waiting for at least 2 days after getting your hair smoothened is crucial as it takes time for the chemicals to set and bond with your hair cuticles. Washing your hair too early can wash away the chemicals and reduce the treatment's efficacy.
2. Use sulfate-free shampoo and conditioner along with cold water
Cold water is beneficial for retaining moisture and sealing the cuticles, as compared to hot water, which makes your hair brittle and dry by stripping away the natural oil of the scalp. (4)
Shampoo and conditioners free from sulfates are mild and gentle on the hair. Sulfates are harsh detergents that can damage your scalp and hair. (1)
Using a shampoo or conditioner containing sulfate after hair smoothening can wash away the chemicals and effectiveness of the treatment. So, shampoo and condition your hair every third day and gently rinse it off with cold water.
3. Gently comb with a wide-tooth comb
Use a wide-tooth comb to gently comb your hair after washing. Avoid using a hairbrush as it can pull your hair strand and cause breakage.
Gently and carefully detangle your hair from the ends, going all the way up. Avoid combing dry or wet hair as it creates static and frizz and is more prone to breakage respectively. Comb when it's still damp. (2)(5)(6)
Avoid blow-drying your hair with high heat or rubbing it with a towel, as this can lead to rough and damaged cuticles. (2)
4. Apply a serum or a leave-in conditioner to your damp hair
Apply a serum or leave-in conditioner after letting your hair air-dry or patting it with a soft towel. It detangles your hair and shields you from environmental factors such as rain, wind, pollution, and sun.
Go for a serum or a leave-in conditioner designed specifically to smooth out the hair and prevent frizz. It locks in moisture and keeps frizz and dryness away. (7)
What Should You Avoid Using After Three Days of Hair Smoothening?
For 3 days, avoid getting your hair sweaty, wet, or tucked behind your ears, tying up your hair, or using pins or clips as it can create bends or creases in your hair.
Avoid using blow-dryers, flat irons, or curling irons as they can cause damage after smoothening and cause dryness, frizz, and breakage.
Can I Apply Oil After Hair Smoothening?
Experts recommend oiling your hair at least one month after your hair smoothening treatment.
But, if you want the treatment to last, avoid oiling and go for a hair spa instead, and use a hair mask advised by the experts.
Steps Involved in the Hair Smoothening Process
Your stylist will thoroughly wash and condition your hair and blow-dry it to prepare for the treatment.
A straightening solution or a cream (8) is applied to your hair and left for at least 20–30 minutes. The cream helps in promoting bond breakage in the hair's keratin.
Your stylist will rinse off the application and blow-dry your hair.
Your hair is straightened using a straightener at high temperatures.
A neutralizing cream is applied for at least 20–30 minutes to seal the straightening effect.
Your hair is then again washed after 30 minutes.
How to Prepare Your Hair Before Hair Smoothening?
To prepare your hair for smoothening, here are some tips:
Do thorough research on the salon, stylist, products, and techniques they use.
Avoid any application of serums, sprays, oils, or gel before the treatment as it can interfere with the chemicals.
Get your hair trimmed to remove the damaged tips or split ends before treatment. It can give your hair a healthy and even look.
Can Hair Smoothening Be Done at Home Naturally?
Yes, using a rice hair mask and banana hair mask, you can do hair smoothening at home naturally.
A rice hair mask gives your hair a smooth texture and leaves it well conditioned as it is a rich source of protein. (9)
A banana hair mask nourishes your hair and prevents split ends and breakage as it is rich in carbohydrates, natural oils, vitamins, and potassium. (10)
Pros and Cons of Hair Smoothening
The pros and cons depend on your hair type, expectations, and conditions.
Pros:
Your hair appears smooth and straight naturally.
Your dull, lifeless hair becomes strong.
Your hair structure remains intact, as it aligns the hair and prevents alteration.
Hair loss and breakage reduce because the hair tangles less.
You don't have to use hair straighteners daily as it saves you time.
Your locks become shiny, lustrous, and manageable.
Cons:
You may experience hair loss, breakage, split ends, and damaged hair follicles.
Your hair may get exposed to harmful chemicals such as formaldehyde, causing irritation, allergic reaction, or cancer. (11) Formaldehyde levels exceeding 0.1 ppm may cause irritation of the eyes, lungs, and nose. It can also cause allergic dermatitis or skin sensitivity. (12)
The chemicals used in the treatment can make your hair brittle and dry over time as it strips away moisture and natural oils from the scalp.
Your natural or dyed hair color can fade due to the heat and chemicals from the treatment.
This treatment can be time-consuming and costly as it requires maintenance as well as several visits to the salon.
General Queries
How long does the smoothening treatment last?
The hair smoothening treatment lasts for around 2–5 months as it is a temporary procedure. It also depends on how you take care of your hair and hair growth. 
Can people with thin hair go for hair smoothening?
No, people with thin hair must not go for hair smoothening as it affects your hair. Experts also recommend avoiding products containing chemicals or styling tools.
Go for home remedies such as aloe vera if you want straight or thick hair. It is one of the ideal remedies for the hair. 
How should I sleep after smoothening?
The less friction on your hair, the better your hair. Lay with all your hair above your head on a silk pillow and sleep on your back for at least 3 days.
Final Word
Keeping your hair well moisturized and hydrated is crucial irrespective of the treatment. Not doing so can make your hair frizzy and dry and more prone to breakage and dullness.
So, go for hair care if you can give your hair a decent aftercare.