Aloe vera has been used for centuries by many people to improve their skin and hair. This medicinal plant is blessed with endless health benefits.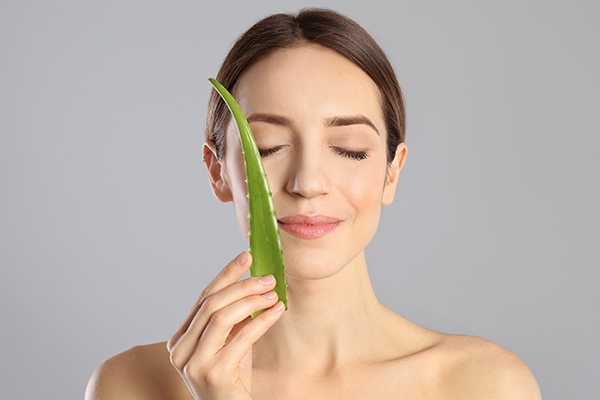 Although there is no conclusive research on the relationship between acne scars and aloe vera specifically, aloe vera is known to possess beneficial characteristics that aid in healing and repairing skin. Thus, it can also be used for healing acne scars as well.
Here are some science-backed data on aloe vera for fading acne scars.
Aloe Vera for Fading Acne Scars: Science-Backed Evidence
One study showed that aloe vera curbed inflammation, reduced scar tissue size, and increased the alignment and organization of the renewed scar tissue. (1)
Aloe vera contains compounds that possess soothing and healing properties. It also contains vitamins C, E, and vitamin B (B1, B2, B6). Another study has shown that aloesin, a component of aloe vera gel, (2) reduces the appearance of scar tissue by lightening hyperpigmentation.
Aloe gel is made up of 99% water with a pH of 4.5 and is a common ingredient used in various cosmetics, such as body lotions. This gel contains an emollient polysaccharide glucomannan.
Aloe vera gel effectively works against acne and inflammation. (3) However, more direct research studies are required.
How Does Aloe Vera Help in Fading Scars?
Aloe vera gel possesses various nutrients, vitamins, and antioxidants, which help in the natural healing and repair process, thereby calming the irritation. Moreover, the polysaccharides, gibberellins, and glycoproteins in aloe vera promote skin growth and repair and reduce the appearance of acne scars. (4)
Collagen is essential not only for skin health but also for overall body health for various reasons. Collagen is the main structural protein of the skin that provides strength, resiliency, and elasticity.
Enhancing collagen production helps to smoothen the skin's surface. Sometimes, collagen injections are used for filling and treating deeply pitted acne scars. (5) Applying aloe vera gel over the blemish during the skin-healing process after getting acne helps strengthen the collagen structure. (6)
Here are a few ways in which aloe vera can help in reducing acne scars after its application to the skin:
Improves immune response – Aloe vera has been shown to boost the immune response to inflammation, which can help reduce redness and scarring.
Boosts collagen and elastin production – Aloe vera applied to the skin can help stimulate collagen production.
Reduces inflammation – Aloe vera reduces inflammation in the site of scarring and acne. (7)
Ways to Use Aloe Vera on Acne Scars
1. Pure aloe vera gel
How to use:
Gently cleanse your face with a mild cleanser.
Rinse with lukewarm water and pat your skin dry.
Apply aloe vera gel or cream generously to your skin and let it dry.
Apply the moisturizer of your choice.
Strictly follow your skin care routine.
2. Aloe vera face masks
Aloe vera face masks effectively reduce inflammation linked to acne, kill bacteria, and prevent and lighten acne scars.
How to use:
Rinse-off aloe vera face mask: Wash your face carefully and apply the mask. Rinse your face after 10–15 minutes, and then follow the rest of your skin care routine.
Leave-on mask: Properly cleanse your face, and then apply the mask. Leave it on overnight and wash it off in the morning. A leave-on mask is a great choice when treating hyperpigmentation related to acne.
3. Aloe vera spray
Aloe vera spray is an antibacterial spray (8) that removes acne scars from the face. It effectively reduces dark spots, acne spots, and undesired blemishes.
Aside from treating acne and pimples, aloe vera spray can also stimulate the growth of healthy skin cells, resulting in smooth and clean skin.
How to use:
In a spray bottle, combine a few drops of water, 2–3 drops of essential oils, and 1 tablespoon of aloe vera gel. Shake the bottle well.
Spray the resultant mixture on your face, protecting your eyes.
For best results, use the spray regularly.
4. Aloe vera scrub
Aloe vera scrub is one of the best ways to fade acne scars and achieve blemish-free skin.
The ingredients used in this recipe are coconut oil (9) and sugar, which are natural exfoliators used for getting glowing skin. These ingredients are pretty skin-friendly and stimulate the healthy growth of skin cells.
How to use:
To a bowl, add ½ cup of coconut oil (10) and ½ cup of sugar, and mix them well. Add ½ cup of aloe vera gel to it and mix all the ingredients well.
Store the mixture in the fridge, and allow it to cool down for half an hour.
Gently scrub the cool mixture on your face, protecting your eye area.
Rinse your face with lukewarm water.
Repeat this regularly for best results.
5. Aloe vera and onion
Onion extract and aloe vera are popular ingredients in several skin-lightening products due to their content of tyrosinase inhibitors quercetin and aloin.
Onion extract and aloe vera gel can quickly heal acne scars and acne-induced hyperpigmentation.
A research study conducted in 2012 has shown that onion extract gel is relatively safe to use and can help improve the appearance of acne scars after just 4 weeks of once-a-day application. (11)
How to use:
Blend one whole onion.
Add fresh aloe vera gel to it and mix well.
Apply this mixture to the affected areas twice daily.
How Fast Does Aloe Vera Work in Fading Away Acne Scars?
The time required for healing scars can differ according to the extent of skin damage. Other factors affecting the duration of healing acne scars are the severity of the skin damage, shape and size of the lesion, age, genetics, and existing health conditions. (5)
With age, acne scars are more noticeable due to the loosening of skin collagen. Treatment for acne scars should be based on the acne type.
When acne breakouts infiltrate the skin in the deeper layers, they can damage the skin and the tissue beneath it. After the acne clears, the body starts repairing the damage.
While your body heals the acne scars, it produces collagen, a substance that supports the skin. The acne scar on your face can indicate whether your body is producing too much or too little collagen.
Depressed acne scars: When your body makes too little collagen, depressions or pits are created during the skin-healing process.
Raised acne scars: When your body produces excessive collagen, the acne scar appears as a raised scar. Therefore, it can take more time to recover based on the severity and type of scar you have. (12)
Experts claim that natural remedies may take more time in healing acne scars, and stubborn acne scars can even take 6–8 months to fade. If the spots are lighter, they will disappear within a month or two.
Recent scientific studies indicated that silicone gel with onion and aloe vera extract can help rapidly heal acne scars. Results showed that it took around 12 weeks for the formulation to heal acne scars. Furthermore, the silicone gel formulation with aloe vera and onion provided better results than silicone gel alone. (13)
General Queries Related to Aloe Vera for Acne Scars
Final Word
Acne scars usually become a major problem when the skin loses its collagen. The best way to treat acne scars is to choose the best suitable for a particular scar type.
Acne scarring is a common skin problem and a tricky issue even for professional dermatologists. Still, numerous proven natural remedies can help prevent and reduce acne scars to a great extent.
Aloe vera gel helps in collagen and elastin production. A strong collagen matrix under the skin supports proper healing and helps fade away acne scars.