If you want healthy, glowing skin like what your grandmothers had, you should know what their secret ingredients were. In contrast to today, there weren't many options for skin care back then. Instead, they used only all-natural ingredients to keep their skin healthy.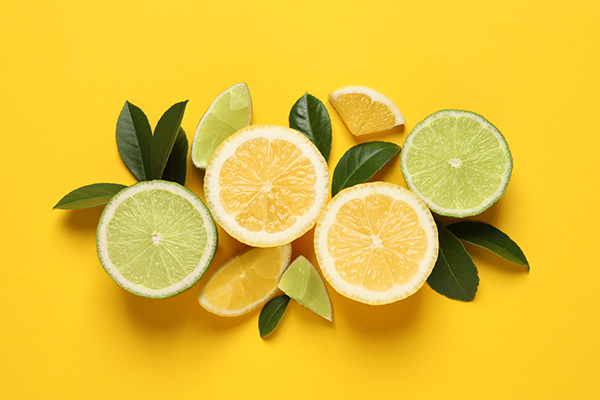 Do you find that your skin becomes excessively oily? If you want to fix this issue, grab a lemon. Lemons are a popular fruit because they are a high-yield crop. Moreover, their pulp is rich in beneficial substances such as fiber, vitamin C, vitamin B, flavonoids, limonin, and trace minerals.
The antioxidant properties of lemons are widespread. (1) In addition to providing astringent effects, lemons also exhibit antioxidant, antimicrobial, and anti-inflammatory activities. (1)(2) Thus, assuming they could effectively reduce oil production seems reasonable.
Caution: Citric acid present in lemon is the chemical responsible for lemons' sour and sharp flavor. (3) Applying lemon juice directly to acne scars can result in unpleasant reactions and side effects such as itching, heightened skin sensitivity, a burning or stinging sensation, and extreme dryness due to the presence of citric acid.
Do you want to know how to use lemons on your face without damaging your oily skin? Then read on to know more.
How Lemon Juice Helps Oily Skin
Researchers have discovered that lemon peel contains a high concentration of phytochemicals, making it a potent antibacterial and antioxidant. There is a solid astringent and antimicrobial property in lemon peel. (2)
Excessive sebum secretion promotes the growth of some skin flora including Pseudomonas and Micrococcus, which in turn cause purulent skin infections and may also play a role in predisposing the skin to other types of skin infections, such as acne.
Lemon juice has antibacterial and antifungal properties that help prevent infections and promote healthy skin. (2) According to another study, products made from lemon peels have the ability to clear up acne. (4)
Besides its pleasant scent, lemon (Citrus limonum) oil has been shown to hydrate the skin, repair sun damage, and restore the skin's natural pH balance. (5)
It's also good to know that the anti-inflammatory properties and effects of lemons on oily acne-prone skin are similar to those of other citrus fruits. (1)
DIY Home Remedies for Oily Skin Using Lemons
You can use lemons to treat skin issues at home in the following ways.
1. Coconut oil and lemon for clear and even skin
Face care with coconut oil and lemon helps fortify the skin's protective barrier, resulting in perpetually plump, supple, fresh, and radiant skin. When applied to the skin simultaneously, coconut oil and lemon juice produce a noticeable improvement right away.
Combining coconut oil and lemon juice is a natural way to improve the skin and hide any blemishes or uneven tone.
There is only one study on using coconut oil in the treatment of acne scars, but promising preliminary results were observed. In this clinical trial, virgin coconut oil was used for the treatment of inflammatory acne, and the number of papules, pustules, and skin sebum decreased significantly. (6)
How to use:
Apply 2–3 drops of coconut oil and 1–2 drops of lemon juice to your face and massage.
Give it 20–25 minutes to rest.
Use lukewarm water to rinse it off or a soft napkin dampened in warm water to wipe it away.
Tips and Precautions When Using Lemon Juice on Oily Skin
Human skin is slightly acidic, with a pH between 4.5 and 6.0, (7) whereas lemon juice is highly acidic, with a pH of only 2.35. (8) Lemon's high acidity, experts say, can alter the skin's natural pH, leading to a compromised skin barrier and symptoms of irritation, dryness, and dehydration.
Patch testing with lemon juice on a small area of your face is recommended before using it as a remedy.
Always dilute lemon juice with plain or rose water if you have sensitive skin.
After applying lemon to your skin, avoid direct sunlight for at least a few hours.
It's important to use freshly squeezed lemon juice because the vitamin C in lemons degrades over time.
Benefits of Using Lemon Juice on Oily Skin
Topical application of lemon juice provides the following benefits.
1. Boost collagen production
Vitamin C, abundant in lemons, has been shown to increase collagen production. (1)
Clinical trials have demonstrated that applying vitamin C directly to the skin stimulates collagen production in both younger and older humans. The increased collagen helps give the skin a more youthful appearance.
2. Lightens skin
Because of its high concentration of vitamin C, lemon extract is often used as a skin-lightening agent in products such as Skin Bright, (9) which helps reduce hyperpigmentation. (10)
3. Protects the skin from UV damage
The vitamin C in lemon pulp helps shield the skin from the harmful effects of ultraviolet radiation. (1) Vitamin C applied topically has been shown to protect the skin from UV-induced damage by lowering free radical formation. (11)
Moreover, vitamin C is a powerful antioxidant that helps eliminate oxidants such as those produced by pollution and sun exposure. (2)
4. Provides antifungal effects
The antifungal properties of lemon juice are helpful in treating fungal infections such as Candida rashes. (12)
General Queries Related to Using Lemon Juice on Face
Is rubbing lemon juice on my face beneficial?
Experts agree that when used sparingly, topical application of lemon juice can benefit facial skin and won't cause irritation. With its antiaging antioxidants, lemon juice is a quick fix for tired skin.
However, lemon juice alone should never be applied directly to the face, even if diluted.
How long should I leave lemon juice on my face?
Lemon juice can be left on the skin for up to 20 minutes without causing adverse effects. However, you should immediately wash your face if you experience stinging, burning, or redness.
Final Word
Using skin care products made with natural ingredients is always preferable to those made with potentially harmful chemicals.
When it comes to using natural ingredients for skin care, lemons are not outliers. They are effective antioxidant, antimicrobial, and antifungal agents that are beneficial for the treatment of oily and acne-prone skin. However, even natural ingredients have both benefits and drawbacks.
Using lemons too much or incorrectly may cause skin irritation and other sensitivities. See a doctor if your face becomes red or irritated after applying lemons.