The natural versus chemical skin care debate can be confusing as people try to make informed choices about what they put on their faces. For example, when consumers search for the "best" skin care products (1) to achieve flawless skin, they find conflicting advice between the scientific and lab-based (chemical) camp and the eco-friendly and plant-based (natural) camp.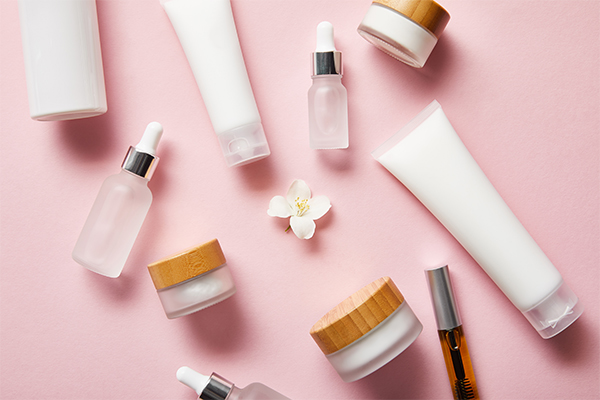 Researchers suggest that natural skin care is better than chemical skin care (2) as the latter can cause sensitivity and unwanted effects on the skin. (3) In contrast, natural skin care involving herbs (4) has no adverse side effects.
This article aims to clarify what type of skin care is best according to researchers' viewpoints.
Natural or Chemical Skin Care: The Debate Goes On
Due to the chemical ingredients in skin care products, (2) many consumers have switched to natural alternatives to avoid side effects.
Most people think that natural products are the best choice, but many still use chemical-based products because they work quickly and are affordable, even though they might have side effects. (2)
In 2018, the Journal of Emerging Technologies and Innovative Research polled 100 people, 50 of whom used chemical cosmetics and 50 of whom used natural ones. (2) The research found that chemical products often contain harmful chemicals that can cause skin allergies, irritation, and other side effects, making them unsuitable for individuals with sensitive skin.
The use of natural ingredients such as oils, plants, fruit extracts, and acids in skin care products defines natural skin care. These products treat and feed the skin well with powerful antioxidants that can slow aging and make you look younger.
Moreover, natural skin care products are thought to be easier to use than those with chemicals. (2)
Therefore, it can be concluded that natural skin care is a better option than chemical skin care.
Pros of Natural Skin Care Over Chemical Skin Care
The Natural Products Association (NPA) has set a new standard for products to be considered natural, stating that they must contain at least 95% ingredients sourced from nature. (3)
Even though they come from plants or other natural sources, natural products may not be organic because they can still be changed in a lab. These changes make the ingredient work better on the skin by helping it penetrate the epidermis, preventing it from breaking down, and making sure it works on the skin. (5)
1. Natural skin care is environment friendly and biodegradable
Numerous studies have demonstrated that the chemicals presently employed in skin care items harm the environment and pose a hazard. (6)
Natural skin care
However, researchers have found that natural skin care products, such as those made from herbal or natural ingredients, are gentle and biodegradable and exhibit low levels of toxicity when compared to synthetic or chemical skin care products. (3)
Chemical-based skin care
Chemical-based skin care products, such as those that contain petroleum and mineral oil, are nonbiodegradable and can lead to environmental pollution as they do not decompose and accumulate in the environment. (7)
Therefore, according to research, they can have a damaging effect on the environment.
Researchers have suggested specific measures to enhance the biodegradability of chemicals:
Replacing toxic chemicals with nontoxic ones can reduce their harmful impact.
Blending harmful chemicals with natural products can reduce the need for toxic chemicals.
Considering biodiversity when seeking "green" or natural alternatives can ensure that the ecosystem is not disrupted.
This three-step approach can aid in improving the biodegradability of chemicals. (6)
2. Natural skin care contributes to healthy skin
Natural skin care
According to research, natural skin care products help improve skin tone, texture, and appearance by providing essential nutrients for healthy skin. (3)
Herbal cosmetics are generally considered safer to use than those containing chemicals. (4) However, cosmetic products alone may not be enough to address skin conditions.
Active natural ingredients are often necessary to repair damage and slow the aging process of the skin. (3)
Chemical skin care
The use of hazardous ingredients in cosmetics is mainly due to chemical raw materials and the addition of banned or restricted substances. If unqualified chemicals are used, the products can cause skin irritation, erythema, and edema, damaging the skin and mucous membranes. In severe cases, they can even lead to teratogenesis and cancer. (8)
Chemical and synthetic ingredients commonly found in skin care and cosmetic products can result in unwanted side effects, especially in individuals with sensitive skin and allergies. (3)
The effects of skin care products that contain various chemical ingredients can vary based on skin type. While some chemicals may have positive effects, others can have adverse side effects. Avoiding chemical ingredients when purchasing skin care products is recommended, as these ingredients can be detrimental to health. Among them, parabens are the most commonly avoided ingredient, as they are typically used as preservatives to prevent the growth of bacteria, mold, and yeast in the product. Prolonged use of parabens can lead to breast cancer, so it is crucial to carefully examine the ingredients of the product before using it. (9)
3. Natural skin care is cruelty-free
The beauty and personal care industry is criticized for animal testing, especially regarding products labeled as "natural." However, it is essential to note that natural skin care products are cruelty-free, meaning they do not involve animal testing during their development.
Researchers have found that animal testing is necessary for hazard assessment to ensure that the chemicals used in certain products do not harm humans or the environment. (10)
For this reason, chemical-based skin care products are not cruelty-free. Therefore, by choosing cruelty-free skin care, you are opting for products made purely from natural ingredients that do not require animal testing.
Cons of Natural Skin Care Over Chemical Skin Care
1. Shelf life
Natural skin care
One study on plant-based ingredients in natural cosmetics and their impact on microbial growth found that natural cosmetics generally have limited or no preservatives, leading to a short shelf life. (2)
Chemical skin care
Preservatives are added to chemical-based products to prevent the growth of microbes, giving them a longer shelf life than natural products. (2)
2. Cost
A survey found that 87.1% of people think that chemical-based cosmetics are cheaper than natural ones. (2)
3. Allergic reactions
Additionally, natural and organic products can still cause allergic reactions and skin irritation, particularly when botanical extracts are used at higher concentrations. (11)
Also, some organic products may work better than chemical products when it comes to antiaging, brightening, toning, treating acne, or moisturizing.
How Long Does It Take to Switch to Natural Skin Care?
For those new to natural skin care products, allow your body a minimum of 3 weeks to eliminate the accumulated chemicals in your skin.
During this time, your pores will release oil and toxins while adapting to the new natural ingredients compatible with your body.
General Queries
What are the essential elements of an effective skin care routine?
The most important parts of a good skin care routine are protection, prevention, cleansing, and moisturizing. (12)
Is it possible for skin care to be entirely natural?
No, skin care cannot be entirely natural. According to research by The Derm Review, out of the top 100 best-selling skin care products, only 42 were genuinely natural. Most (58%) of the products contained at least one synthetic ingredient.
So, there is no way to know for sure that a natural skin care product doesn't have any chemical ingredient that is bad for your skin. (13)
Final Word
It is a fact that natural skin care products are superior to chemical-based ones because natural skin care products are less harmful and have fewer side effects.
They are made from ingredients derived from plants and herbs, while chemical-based skin care products contain toxic substances such as parabens and can cause allergic reactions on the skin.
Therefore, natural skin care products are safer and more beneficial for the skin than chemical-based ones.