Using a toner is an important part of a skin care routine since it helps reset the skin's pH balance after washing it with a face cleanser. Many people need clarification about applying toner on a wet or dry face, so today, that question will be addressed.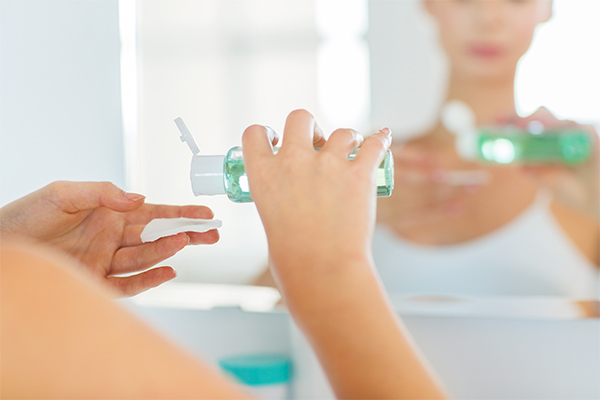 A toner must be used on skin that is not completely dry or entirely wet as slightly damp skin aids in the penetration of the ingredients into the skin. When your skin feels too dry after using a toner, you must restrict its use to once a day.
Scroll down to get more insights into using a toner.
What Is a Toner?
A toner is a water-based skin care product that contains essential oils and plant extracts and has different formulations to suit various skin types.
Toners have gained criticism due to their reputation for having a drying effect on the skin. Nowadays, toners are alcohol-free and water-based, so they work well to provide desired results without drying the skin as the earlier alcohol-based ones did.
Toners contain moisturizing, exfoliating, calming, and antioxidant ingredients such as witch hazel, a natural astringent and an anti-inflammatory agent that eliminates extra oil from the skin's surface. (1)
Toners such as the anti-sebum guava one have been proven suitable for everyday application to the skin. (2)
Why Is It Crucial to Apply a Toner?
Reasons to apply toner include:
Toners can help remove dirt, cosmetics, oil, and dust after cleansing your face. After washing your face, there can still be some leftover dirt that can cause acne on the skin, but a toner deeply cleanses the skin and can remove all the remaining debris, leaving your skin squeaky clean.
Toners can eliminate excess oil and shrink the pores – these effects are very beneficial for acne-prone skin. (2)(1)
Toners are water-based liquids with anti-inflammatory and calming properties that can aid in preventing breakouts and infections. They are vital in the prevention of skin infections.
Toners make your skin feel refreshed quickly.
Toners add a protective layer to the skin. It is a barrier against dust, dirt, sun, and pollution, among other skin stressors.
Toners usually contain ingredients that are used to treat a range of skin issues. They are a great product for acne-prone or oily skin. (3)
Types of Toner
Here are the different kinds of toners available for your skin woes.
1. Skin fresheners
Skin fresheners are a moderate type of toner and contain glycerin or humectant and water, which moisturize the skin's surface.
Rose water is a famous example of a skin freshener. It is great for dehydrated, regular, and sensitive skin.
2. Skin tonics
Skin tonics are potent and contain alcohol of up to 20%, a humectant, and a water ingredient. The best example of a skin tonic is orange flower water. Skin tonics work well for oily skin.
3. Acid toners
An acid toner is a strong type and typically contains beta–hydroxy acid or alpha-hydroxy acid.
Lactic, mandelic, and glycolic acids are the commonly used alpha-hydroxy acids and are ideal for exfoliating the skin's surface. Salicylic acid is a commonly used beta-hydroxy acid and is an excellent option for exfoliating the deep layers of the skin.
4. Astringents
Astringents are the most refreshing toners and might contain 20%–60% of alcohol, antiseptic, water ingredients, and a humectant. These toners might be irritating and damaging to the skin as they can eliminate extra protective lipids in the skin due to the high amount of alcohol in them. (3)
What Do Dermatologists and Scientists Say About Using Toners?
Dermatologists and beauty specialists advise that toners can be excellent additions to any skin care regimen, especially for those who suffer from clogged pores, oily skin, and blackheads.
Although most people usually associate toners as only essential for acne-prone people, they are actually used to address different skin care concerns. Some active ingredients that toners contain are exfoliants, retinoids, and antioxidants. Toners can help your skin look fresh, calm, bright, even-toned, and hydrated.
Many facial toners fall within the optimal pH range of 5–7 to aid in balancing the pH level of the skin. A balanced pH level supports healthy skin, making the skin breakout-free and glowing.
Washing the skin can disrupt the pH balance and make it more alkaline, so it is highly recommended to use a toner to rebalance the pH level. Toners possess a less acidic and neutral pH to balance the skin's pH level.
It is reported that skin with pH values below 5.0 is in good condition in comparison to skin with pH values above 5.0 in terms of the biophysical factors of moisturization, scaling, and barrier function.
One study assessed the effect of pH on the adhesion of skin microflora residents. Results showed that an acid skin pH (4–4.5) retains the bacterial flora on the skin, whereas an alkaline 8–9 pH encourages its removal from the skin. (4)
Small studies conducted in 2016 suggested that continuous application of toner versus spray water as a complement to cream application is effective for skin hydration. (5)
The Right Facial Toners for Various Skin Types
Here are the types of toner you should use according to your skin type.
Combination skin
If you have oily skin in a few parts and dry in other areas (combination skin), try a toner free of alcohol. This toner gently combats additional oil while offering a big boost of hydration.
In addition, you must check for a toner that contains vitamin C, rose water, (6) glycolic acid, or vitamin E as ingredients.
Oily skin
If your skin generates extra oil, look for toners that contain alpha-hydroxy acids (AHAs), poly-hydroxy acids (PHAs), or beta-hydroxy acids (BHAs), such as glycolic, salicylic, or lactic acids in lower amounts, as they exfoliate the skin, decrease the production of sebum, and clear your pores.
The right toner can aid in exfoliating your skin and tightening your pores, too.
Dry skin
To hydrate dry skin, choose toners that contain cucumber extract, (6) hyaluronic acid, glycerin, or vitamin E. Also, glycolic acid toners might aid in a dual action of exfoliation and hydration of the skin.
Sensitive skin
For sensitive skin, use a toner that contains natural ingredients, such as rose water, aloe vera, or chamomile. Beauty experts suggest avoiding alcohol-based toners for all skin types, and they are especially to be avoided if you have sensitive skin.
Also, it is good to see your beauty specialist and have them assess your specific type of skin and suggest the type of toner you should use. It is vital to remember that not all toners function similarly, as every person has a unique skin care requirement.
How to Apply Toner
It is necessary to apply a toner after washing your face and then use a moisturizer. It is an easy three-step process that will ensure that you make the most of your skin care products and achieve the skin of your dreams.
Step 1
Wash your face with a cleanser to eliminate oils and impurities from the skin. Pat your face dry with a light towel but allow it to be slightly damp before you apply toner.
Step 2
Using a cotton pad, evenly apply toner to your neck and face. You can follow it up by spritzing or misting a second toner layer onto your face for additional moisture.
Step 3
After the toner dries, apply a moisturizer to protect and hydrate your skin. You can also use a serum after, which should be a part of your regimen.
What Natural Ingredients Should I Look for When Buying Toner?
It is necessary to read the label of the toner and check for the ingredients that can make your skin look and feel fresh.
Here are some elements that should be in your toner to address your skin concerns:
Fig fruit extract: As per a research study conducted in 2014, the extract of fig fruit is very effective in boosting skin hydration, improving skin color, and preventing excess sebum secretion due to its antioxidant activity which was found to be 87%. (7)
Cucumber: It soothes and cools the skin, is high in vitamin C and antioxidants, and provides a healthy glow to the skin. (8)
Watermelon extract: It improves the skin's texture by nonabrasive exfoliation; it is a source of lycopene and vitamins A and C, which help regenerate the skin.
Algae extract: It offers clarity and suppleness to the epidermis. Algal mixtures enhance the firmness and hydration of the skin. (9)
Apple fruit extract: It gives skin-smoothing and antiaging effects. It is high in antioxidants that help maintain the skin's youthful elasticity and protect it from free radicals that cause premature aging as per a study conducted in the lab on Yeast cells. (10)
How to Make Skin Toners at Home
Here are some homemade skin toners you can prepare at home.
1. Green tea
Research has demonstrated that green tea-infused toners reduce facial sebum levels after 14–28 days of implementation. (11)
Green tea is rich in antioxidants, and if used as a toner, it can help restore your skin with nutrients that can impart glow and moisture to your skin. In addition to that, this herbal ingredient contains polyphenols that aid in eliminating extra oil from the skin. (11)
How to make it:
Prepare green tea and let it cool.
Store it in a spray bottle in the fridge.
Spray it regularly on your face as a toner.
2. Coconut water
Coconut water mixed with milk works great on blemishes and dry skin.
How to make it:
Take ½ cup of coconut milk and mix it with 1 cup of coconut water.
Store the prepared mixture in the refrigerator.
Dip a cotton ball in the mix and apply it to your face.
3. Aloe vera
Aloe vera has a soothing effect on inflamed and sensitive skin. (12)
How to make it:
Mix 2 tablespoons of aloe vera gel and 2–3 orange juice drops.
Store the mixture in a container.
Apply it to your face using a cotton pad.
4. Rose water and camphor toner
Rose water and camphor control sebum production in oily skin, decreasing the clogging of pores and acne breakouts and offering a soothing effect on the skin.
How to make it:
Take ¼ tablespoon of camphor in a bowl.
Add 200 ml of rose water to it and mix well. (13)
Store the mixture in a bottle in the fridge.
Apply it on your skin after washing it.
General Queries Related to Skin Toners
What are the side effects of using a toner for the skin?
Toners that contain alcohol can make your skin flaky and dry. When used in excess, it may irritate your skin, causing redness and edema.
Which face toner is better – synthetic or natural?
Earlier toners were loaded with alcohol to tighten the skin, reduce huge pores, and eliminate excess oil. But the alcohols in them, such as SD alcohol, isopropyl alcohol, benzyl alcohol, and ethyl alcohol, wreaked havoc on the skin by stripping its natural oils, misbalancing its natural pH, and causing skin irritation.
Also, the preservatives and chemical ingredients in the toners, such as phthalates, synthetic fragrances, parabens, and dyes, led to irritated and dry skin.
Thus, natural toners are better as they are water-based and mild and contain herbal ingredients that don't cause unpleasant reactions on the skin.
Are toners suitable for all skin types?
Yes, toners function for all types of skin. Those with dry skin must look for alcohol-free toners, as alcohol is a drying ingredient that strips the skin of its natural oils.
You may look for toners with hyaluronic acid, glycerin, aloe, or rose water, as these ingredients add moisture to the skin while balancing the pH.
Who must not use face toners?
Whether to use toners or not depends on your skin type.
For example, if you have oily skin, you must search for toners that decrease oil production, including hydroxy acids. If you have dry skin, then you may use toners that do not include alcohol, as alcohol may further dry out the skin.
Also, toners contain active ingredients, so it is good to do a patch test on your arm before applying it to your face.
When should I use a toner?
The best time to apply a toner is instantly after washing your face with a face wash.
Some cleansers and face washes don't cleanse the skin well and strip the skin of its natural oils. A balancing toner can help soothe the skin and eliminate cleanser residue, makeup, and dust.
You can follow this with a moisturizer, serum, and, if it is morning, a broad-spectrum sunscreen.
Which skin type suits toners the best?
The best candidates for toners are individuals with persistently dry skin, those that have excessive oil production, those who use many beauty products, and those who are prone to acne.
Final Word
Toners are used to improve any dust or impurities from your skin and also soothe irritated and tired skin by balancing skin pH levels, thus improving skin quality.
Herbal face toners are effective in providing calming, astringent, and smoothening effects to the skin. The formulation of DIY and herbal toners ensures easy application and no side effects on the skin compared to conventional toners.